What Blue Beetle Must Do To Avoid Flopping Like Shazam 2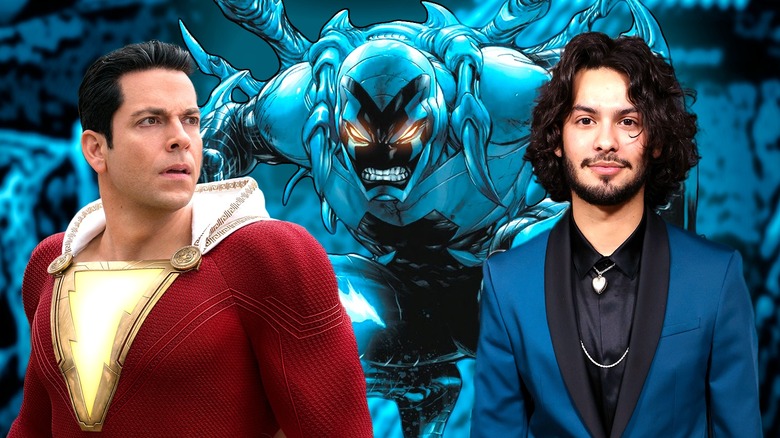 Static Media
It was a disappointing debut weekend for "Shazam! Fury of the Gods" at the box office. Director David F. Sandberg's second DCEU outing managed to rake in $30 million domestically, falling short of initial projections. While the sequel has its fans, the new "Shazam" isn't the same critical darling as its predecessor and word of mouth isn't too positive — it boasts a mediocre B+ CinemaScore. From a commercial and critical point of view, the current iteration of the "Shazam!" franchise is probably done, as Sandberg previously suggested that Zachary Levi's iteration of the character would return in James Gunn's rebooted DCU only if the sequel did well.
"Shazam! Fury of the Gods" is just the latest disappointment from the world of DC movies, which hasn't had much of a coherent trajectory in recent years. That should change with Gunn and Peter Safran's new regime, with the duo already highlighting their future plans, which will formally reboot with the upcoming first slate, titled "Gods and Monsters," kicking off with 2025's "Superman: Legacy." 
That means that this year's slate of DC films is, essentially, in purgatory. And before the Man of Steel's latest reboot, audiences will have to either embrace or ignore the Tom Cruise-approved "The Flash," James Wan's B-movie influenced "Aquaman" sequel, and — perhaps most importantly — "Blue Beetle."
While the "Flash" and "Aquaman" sequel will likely produce gains for Warner Bros. Discovery at the box office, "Blue Beetle" is a huge question mark waiting to be answered. As a mid-tier character, the film could have more in common with the "Shazam!" sequel than fans want. 
With the film set to release this August, Warner Bros. Discovery and Gunn have enough time to ensure that the flick doesn't flop like "Fury of the Gods."
What Blue Beetle can learn from Shazam's marketing
2019's "Shazam!" had a solid hook: what if a child became a superhero? It was a playful mix between "Big" and Superman, and audiences ran with the premise, making it a decent player at the 2019 box office with $363 million. It was a brand new, energetic take on the genre. 
The sequel failed to lean into the innocent, childlike glee that made the first film special. Trailers boasted just how devastatingly powerful the Daughter of Atlas were (Helen Mirren, Lucy Liu, Rachel Zegler), making the stakes far too high. The generic marketing failed to differentiate itself from recent successes like "Black Panther: Wakanda Forever."  Audiences know the Shazam fam can't save the world — they're teenagers — so why focus on that, when the compelling hook of a found family exploring their new powers is right there? Or, for that matter, going full-bonkers and having a green worm named Mister Mind as the main villain, as the first movie's post-credits scene teased? 
So, moving forward: When it comes time to market "Blue Beetle," DC needs to figure out exactly what story they're selling. It should be emphasized that the film is small-scale, meaning the stakes aren't world-ending. Audiences can find those stories in competing superhero films. What are modern superhero flicks missing? Heart and soul — something "Fury of the Gods" was supposed to have. With everything so interconnected, it's become difficult for superhero films from the last few years to show off their heroes as vulnerable people with their own struggles. Tease an intimate, engaging film about the Blue Beetle, that has him struggling with his newfound powers and familial obligations, and you can probably hook the moviegoers who skipped out on the Big Red Cheese.
Blue Beetle should be marketed with confidence, instead of insecurity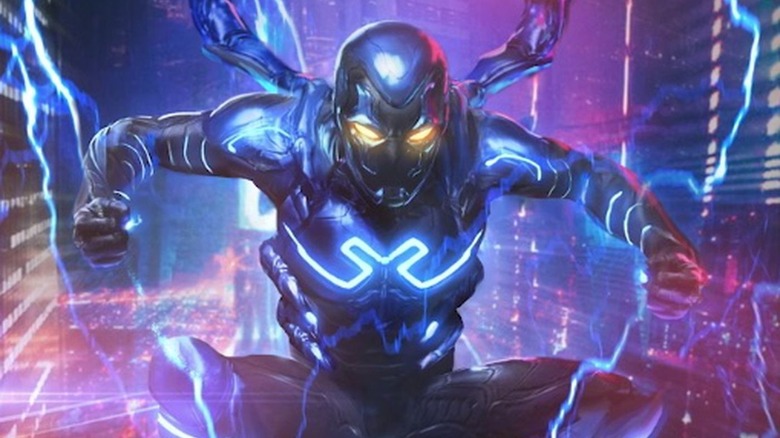 DC Entertainment
An argument can be made that DC squandered the "Fury of the Gods" marketing because it had no faith in the film. Casual audiences groaned at generic trailers filled with typical end-of-the-world spiels and pop-rack tracks. And hardcore audiences know that the DCEU is on track to be rebooted, so what's the point? Viewers don't feel inclined to show up to a cinematic universe project if the film doesn't have consequences. Some may argue Shazam as a character is divorced from the larger DCEU, but that's simply not the case, especially when marketing emphasizes interconnectivity.
When announcing the upcoming slate, Gunn made sure to say "The Flash" resets everything. Releasing a few months after the cinematic reset is "Blue Beetle," which doesn't have the curse of marketing itself as the next big, interconnected chapter of the old DCEU. Once again, as with Shazam, if "Blue Beetle" is a hit, he probably will have a place in the reboot. If not, he won't. 
Blue Beetle is a unique character for DC, analogous to Marvel's Iron Man in terms of power. However, his powers stem from a magical scarab, which get in the way of his personal life. On one hand, Jamie Reyes is a high schooler trying to get his life together, and on the other, he's been blessed with chaotic abilities. To succeed, the movie should truly disconnect his story from the existing franchise — don't even mention Superman or Batman in passing. DC must be confident in marketing "Blue Beetle" as a standalone flick — it's the only way it can divorce itself from the franchise's poor cultural reception. 
The good news? DC moved the film from HBO Max to theatrical, meaning it does have faith in the film.
Blue Beetle should lean hard on Xolo Maridueña as our next big superstar
David Livingston/Getty Images
To succeed, "Blue Beetle" needs to explicitly point out what makes it unique in a sea of superhero romps. Here's an easy and digestible pitch: "Blue Beetle" should focus on the coming-of-age factor of Jaime Reyes. Besides the "Spider-Man" films, there's no other movie franchise focusing on teenage superheroes. And when the first trailer comes out, a unique visual language needs to be presented that sets it apart from "Shazam!," because one of the biggest criticisms of the sequel was how generic it looked – something that doesn't fly anymore.
Most importantly: DC may not realize it, but they have an ace up their sleeve. 
Xolo Maridueña has the charm, charisma, and following to be our next big superstar. If "Spider-Man" made Tom Holland a household name, there's no reason why DC can't capitalize on the goodwill Maridueña has already cultivated. The actor spearheads "Cobra Kai," one of Netflix's biggest shows. As one of the most beloved actors in the "Karate Kid" legacy sequel series, Maridueña has already found a fanbase in both older and younger viewers. DC needs to bring the young star front and center as it builds up the film's hype, pitching him as the next big thing. Outside of trailers, marketing should focus on Maridueña as a personality. Have the star appear on various internet shows and platforms, like "Hot Ones" and "Buzzfeed's Thirst Tweets" series, to make him personable to younger audiences who may not be familiar with his "Cobra Kai" work. 
If Maridueña gets even more clout on social media, there's an extremely strong chance that younger audiences, particularly those under 18, could show up opening weekend just for him. 
Blue Beetle's superpower is its diversity
Jerod Harris/Getty & Ovidiu Hrubaru/Shutterstock
In marketing the film, DC needs to lean into how just monumental the film is for the Latino community. "Blue Beetle" is the first live-action superhero film where the hero, Xolo Maridueña's Jaime Reyes, is Mexican-American. Superhero flicks like "Black Panther" and "Shang-Chi" have shown that underrepresented communities in Hollywood will show up in droves if they're properly represented.
Recent box office triumphs like "Creed III" and "Scream VI" were successes in part due to Latino and Hispanic audiences. The boxing threequel had an opening weekend audience that comprised 28% Latinos. "Scream VI," which boasts two Mexican-American leads, boasted a diverse demographic opening weekend, including 38% of viewers being of Latino or Hispanic descent. When it comes to superheroes, Latino audiences have largely been ignored, especially on the live-action front (as the animated "Spider-Man: Into the Spider-Verse" had an Afro-Latino lead in Miles Morales). 
For DC, it's a no-brainer to market their mid-budget flick to Latino audiences. One simple approach: take a page from "Black Panther," "Shang-Chi," and "Into the Spider-Verse" and commission a culture-specific soundtrack for the film. Each of the three previous Marvel films boasted soundtracks that built hype within the communities they represented. Spanish-language music is the second most consumed in the world, behind English, according to a Billboard exec. Having a whole Spanish-oriented soundtrack that highlights Reyes' struggles, powers, and life is a great way to drum up hype. Meanwhile, DC should inform older Latino viewers that stars like George Lopez, Adriana Barraza, and Damián Alcázar are at the emotional heart of the film.
"Blue Beetle" still could be a surprise hit. As long as it leans into specificity, diversity, and freshness, the teen hero could easily have a place in James Gunn's new DCU.