Impractical Jokers' Vanilla Clown Wants To Make A Comeback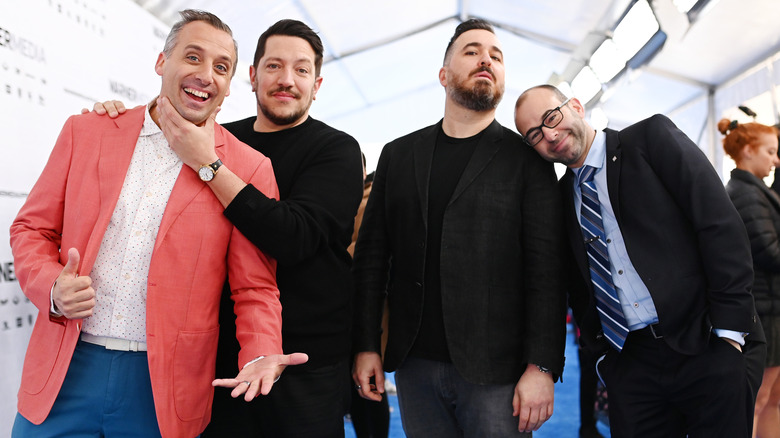 Mike Coppola/Getty Images for WarnerMedia
One of the stranger concoctions out of "Impractical Jokers" is Vanilla Clown. The TruTV series has come up with plenty of characters out of their various shenanigans, including Brian Quinn's always-reliable Tony Gunk and Joe Gatto's Captain Fatbelly. But Vanilla Clown is one of their most insane. The character made an appearance in "Impractical Jokers" Season 7, Episode 25 ("Pantsing with the Stars"). He wasn't played by any of the main cast — which also includes Sal Vulcano and James Murray — and it was a show-stopper to say the least. Quinn and Vulcano are pitching some ridiculous ideas for new school programs to unsuspecting victims who think they are there to give feedback on actual ideas when Daniel Green as Vanilla Clown enters. The pair describe him as a tool that will allow kids to learn while also being distracted. Enter Vanilla Clown, an unsightly pale-white clown who mostly just awkwardly (and terrifyingly) screams at the parents.
According to a chat with Gatto to promote the 200th episode of "Impractical Jokers," Vanilla Clown himself is asking to make a return appearance. In a fan Q&A for TruTV to celebrate the 200th episode of "Impractical Jokers," Gatto got a question from Vanilla Clown himself. "Dan, we'd love to have you at any time," Gatto teased, although there is a wrinkle.
Vanilla Clown left the show
The Vanilla Clown actor actually works for TruTV and served as a digital content coordinator for "Impractical Jokers: After Party" and "Impractical Jokers: Inside Jokes," two spin-offs of the popular prank show. When asked in the Q&A if the "sexy" Vanilla Clown would be making another appearance, Joe Gatto noted the question was from "Danny G" aka Daniel Green. It would actually mark a comeback for Green on the series, since he departed the show after playing Vanilla Clown.
In a 2020 TruTV behind-the-scenes featurette, Brian Quinn answered fan questions and revealed that Green, who has been with the show from the beginning, was moving on from his digital content creation role with the series. Green is actually the mastermind behind the fan Q&A videos and coordinated them for the jokers for years. In the featurette, Quinn even offers Green a personal standing ovation for all his work on "Impractical Jokers." Perhaps Vanilla Clown is the best way to bring Green back into the "Impractical Jokers" family.
Vanilla Clown's appearance was especially memorable when you consider that he appeared in the same episode as Randy Couture, a UFC fighter and star of the "Expendables" franchise. In the episode, Couture literally pantsed Vulcano repeatedly while a group interested in learning Krav Maga looked on in disbelief.