D&D: Honor Among Thieves' Sophia Lillis Played A NSFW-Named Rogue In Real Life
"Dungeons & Dragons: Honor Among Thieves" is rolling its way into theaters soon, with critics saying they love the movie, giving it as much advantage as a barbarian in rage. If that's not enough to get long-time players swarming cinemas, star Sophie Lillis recently revealed she's "one of us," playing the tabletop RPG during her formative high school years.
In an interview with Mama's Geeky, Lillis said she used to play a rogue, choosing the class because of its simplicity and stealthy nature. When co-star Justice Smith brought up her character's name, the actress had no choice but to reveal it to the outlet. "Vibe Boy Raider," Lillis said, "It was a boy who vibrates, and his catchphrase was, 'It's not a sex thing!' and that was the whole thing." She chalked the name up to typical teenager shenanigans, bringing Smith and the interviewer plenty of laughs.
Lillis' character name perfectly encapsulates the beauty of "D&D," allowing players to come up with whatever they want. "It was really fun figuring out the stats and have its own spell kind of thing," she continued. "At a certain level, he would learn how to do a different thing with the vibrating thing, like image projection and stuff like that. Vibrating through walls, I mean, that's cool, right?"
The cast of Honor Among Thieves played D&D together before filming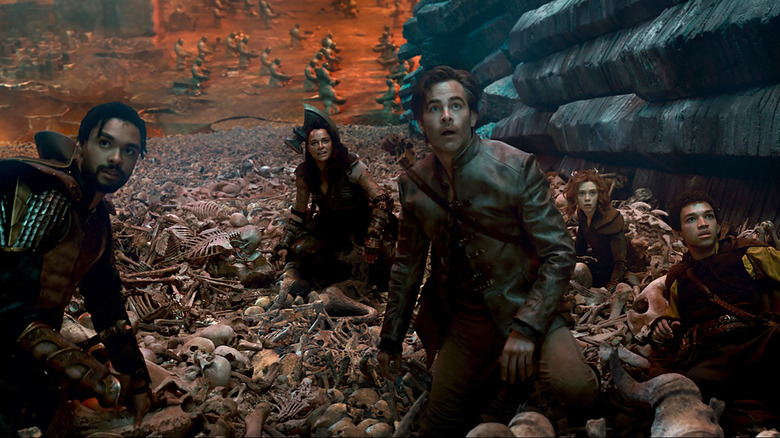 Paramount
If Sophia Lillis' wonderfully-named character wasn't enough to get "D&D" fans pumped for "Honor Among Thieves," knowing the cast played a campaign together surely is. "We played 'D&D' together right before we shot," she told MTV News at Comic-Con. "It was kind of like our way of introducing ourselves and having a little bit of an insight of how we were gonna play these characters. It was a lot of fun."
The campaign consisted of the entire "Honor Among Thieves" party: Lillis, Regé-Jean Page, Chris Pine, Michelle Rodriguez, and Justice Smith. However, Hugh Grant, unfortunately, didn't get the invite. A Dungeon Master from Wizards of the Coast ran their campaign as they played their characters from the movie. Surprisingly, Pine was the only cast member who hadn't played before, but he quickly developed an admiration for it. "I loved it," he exclaimed, relating it to his day job. "It's like acting. Pick a role, and then you go play the role with your friends and have a good time."
It seems the bonding experience paid off, as the cast constantly burst out in laughter throughout the interview. According to Page, the on-set vibes were just like that while filming "Honor Among Thieves," which comes through in the movie, further solidifying that "D&D" is getting a proper live-action adaptation.