What Rotten Tomatoes Reviews Are Saying About Dungeons & Dragons: Honor Among Thieves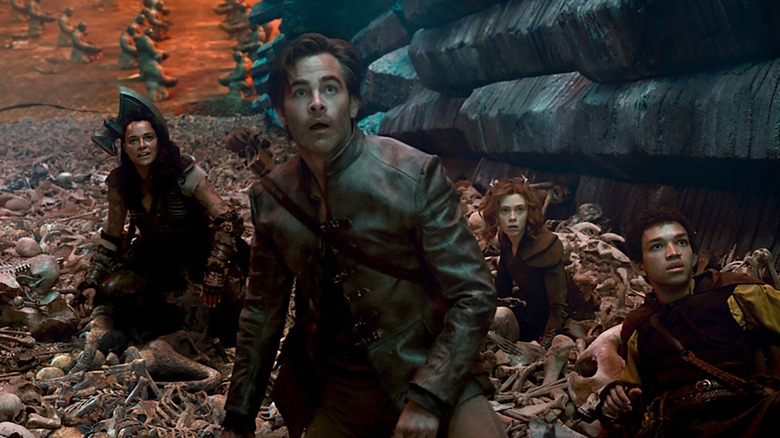 Paramount Pictures
Capitalizing on the ever-growing popularity of "Dungeons & Dragons," Paramount, like many Tabaxi, pounced on the opportunity to bring the tabletop role-playing game to the big screen. We're just around two weeks from "Dungeons & Dragons: Honor Among Thieves" hitting theaters, and the early reviews suggest "D&D" fans have a lot to look forward to with this second attempt at a live-action campaign.
The early reviews are in for "Honor Among Thieves," and the film has scored a temporary 91% on Rotten Tomatoes. Remember, movies tend to skyrocket to the top of the aggregate site before they release, but the scores generally balance out closer to the release date as more and more reviewers get their hands on the final product. However, "D&D" fans have had enough drama recently, so even the smallest win, like the film's early RT score, is enough to give them hope for the franchise's future.
With 34 reviews already submitted at the time of writing, fans can get a general idea of what to expect from the upcoming fantasy adventure. Daily Express called it "'Guardians of the Galaxy' meets 'Lord of the Rings,'" saying "the best thing about Dungeons and Dragons: Honour Among Thieves is the swashbuckling action sequences, full of weird and wonderful characters, magic and [humor] that is perfect for this style of popcorn cinema." That high praise will surely pique every "D&D" player's curiosity, and it's just the tip of the iceberg for the reviews.
Critics love Honor Among Thieves so far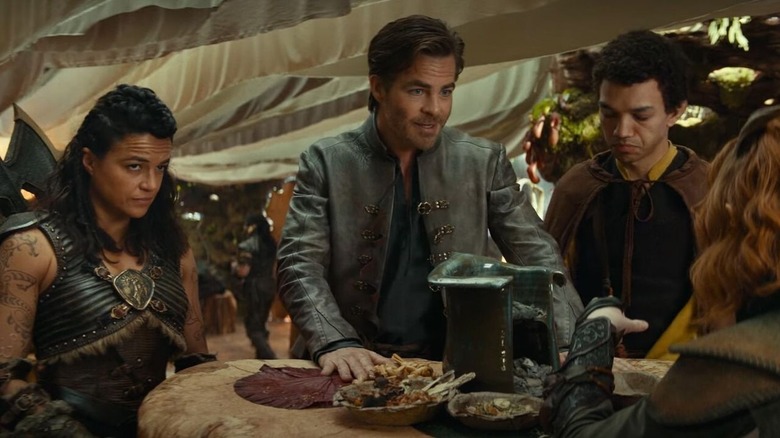 Paramount Pictures
Based on the Rotten Tomatoes page for "Dungeons & Dragons: Honor Among Thieves," it's safe to say that the movie is rolling natural 20s with its early impressions. Deadline says it's another success for the blossoming fantasy genre, but "it's good to see something outside of 'Lord of the Rings' and 'Game of Thrones' getting it right." The outlet singles out Chris Pine's bard, Edgin, and Michelle Rodriguez's barbarian, Holga, as standouts among the film's wonderful adventuring party, saying their platonic relationship is "so damn refreshing to see."
For "D&D" fans worried that their favorite tabletop tropes won't translate to the big screen, Polygon's review should put those questions to bed. In their 90/100 review, the outlet called it "a great adaptation of a gaming session" and "an invitation into a new and more visual version of a world dedicated players already love." If that wasn't enough, they say it's clear directors Jonathan Goldstein and John Francis Daily are "D&D" players first, putting their love for the game into the film.
While all this praise sings wonders for those familiar with the tabletop experience, "Honor Among Thieves" also captures the general audience's attention. IGN says the movie is "an accessible fantasy adventure that both roasts and respects 'D&D' culture without losing newcomers along for the ride." TheWrap offered a similar sentiment, calling it "extremely accessible and enticing for non-fans" while managing to please the most hardcore gamers.
What could Honor Among Thieves' success mean for the future of D&D?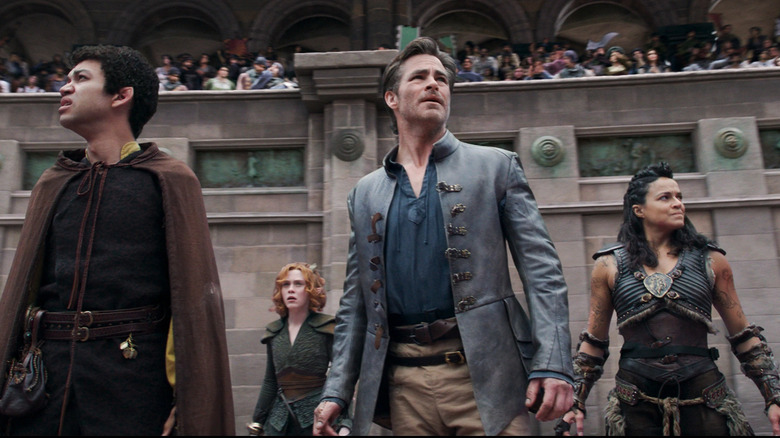 Paramount Pictures
Assuming that the early reviews for "Dungeons & Dragons: Honor Among Thieves" hold up through the film's release later this month, Hollywood could have an entirely new franchise on its hands. Hasbro already revealed there's mutual interest from them and competing streamers to develop the tabletop RPG into a TV show. If "Honor Among Thieves" is a big success at the box office, Hasbro could fast-track the show's development.
We know that TV adaptations of popular tabletop games will be a part of the industry moving forward. Henry Cavill is bringing the "Warhammer" universe to Amazon Prime Video, which has already dipped its toes into "D&D" with "The Legend of Vox Machina," so could the streaming service solidify its monopoly on tabletop adaptations with another "D&D" series?
Whatever platform Hasbro's "D&D" show ends up on, it's important that the studio recognizes how "Honor Among Thieves" sets itself up for success. "D&D" fans don't want just any adaptation. They want filmmakers who have dedicated as much time to the game as they have. Many reviews state that directors Jonathan Goldstein and John Francis Daily's love for the source material translates through the film, and that's the key to any future adaptation's success. So, whatever the future holds for "D&D," it's important that studios find devoted fans to lead their projects.