There's A Huge Cameo In Deadpool 2 You Totally Missed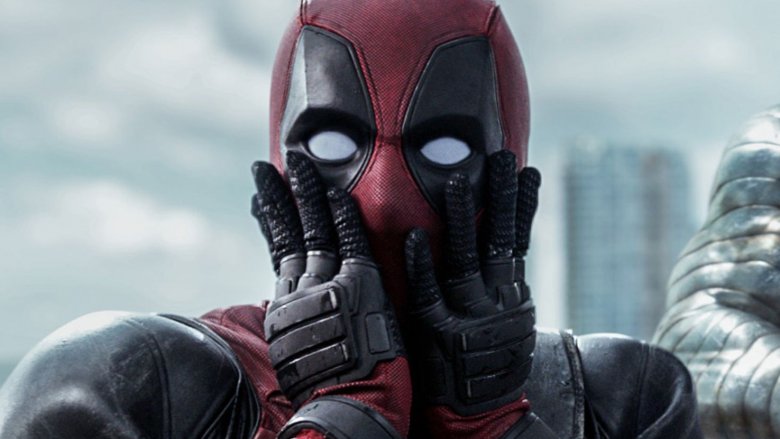 Contains spoilers for Deadpool 2
From the outside, Deadpool 2 has it all: a swear word-slinging anti-hero at its center, a cybernetically enhanced villain played by the same actor who brought a purple-skinned intergalactic despot to the big screen, an ensemble of badasses that make up Deadpool's "super-duper" X-Force group, and, of course, the lovable Peter. But the sequel also has an A-list cameo tucked so seamlessly into it that fans may have missed the moment entirely.
In the film, none other than Matt Damon pops up — in the scene in which Josh Brolin's Cable first travels back in time and meets two goofy farmers, who chat about proper post-toilet practices. Most viewers recognize one of the men as Rogue One: A Star Wars Story actor Alan Tudyk, but Deadpool 2 screenwriters and producers Rhett Reese and Paul Wernick slyly snuck Damon in as the second redneck. 
"We were like Ocean's 11. We had Brad Pitt, and we had Matt Damon!" Wernick told CinemaBlend, referring to Pitt's cameo role as Vanisher. "He was one of the rednecks... He's credited as Dickie Greenleaf, who was a character in The Talented Mr. Ripley."
According to Reese and Wernick, no one had figured out Damon's Deadpool 2 cameo prior to their discussion with CinemaBlend. One quick-minded fan did start to crack the code behind "Dickie Greenleaf" moniker: it's an identity Damon's character Tom Ripley assumes in The Talented Mr. Ripley, but since Jude Law actually plays Dickie Greenleaf in the Anthony Minghella-directed thriller, it was believed that the clue was actually hinting at Damon's involvement in Deadpool 2 rather than Law's. (A cameo from Law as Dickie Greenleaf would be a little too on-the-nose, wouldn't it?)
"We sneaked him past you!" Reese added. And that they did, as Damon's face is barely discernible underneath all the heavy makeup he wears, and the slight Bostonian twinge to his voice disappears with the use of a fake accent that "sounds a little Matthew McConaughey-esque," as Reese put it.
The creative explained the extensive effort that went into disguising Damon for Deadpool 2: "Our makeup artist Bill Corso is the best in the business, literally. And he put Matt in this prosthetic, this chubby suit, and this facial kind of puffiness. And you just would have never known it was Matt Damon. And he came out, and when he came out, he said he did it all in this accent, that sounds a little Matthew McConaughey-esque. So if you had to guess, you'd almost say it was Matthew McConaughey because that's who he sounds like the most. But if you hadn't known, you wouldn't have known. Of course, words flew around the set, people did know, but it was only because rumors traveled. If he walked out of that makeup trailer and no one had said a word, no one would have ever known."
And for anyone wondering whether Damon's Deadpool 2 cameo came before or after his appearance as fake Loki in Thor: Ragnarok, Wernick assured that they did it first: "We shot that cameo before Thor: Ragnarok had come out. We didn't know he had a cameo in Thor: Ragnarok. And we're like, 'F***ing Matt Damon is cameoing in every Marvel movie? What is happening?'"
At the end of the day, don't feel too bad if you didn't notice Damon in the sequel pic, Deadpool 2 fans. You're definitely not alone.