The Dress Code On Tulsa King Is A Lot More Realistic Than You Likely Thought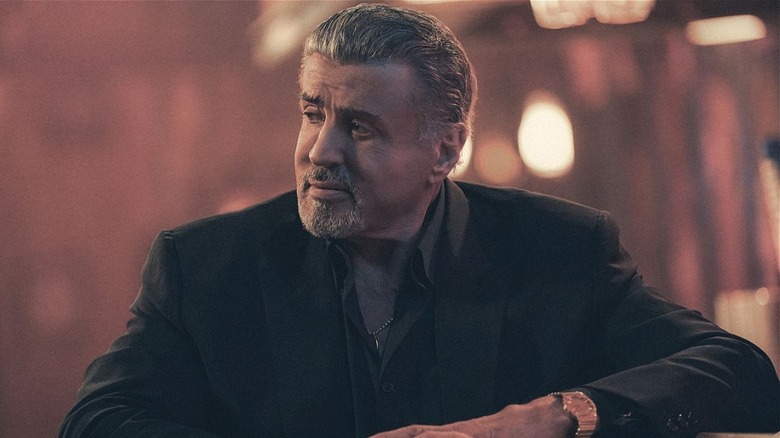 Brian Douglas/Paramount+
"Tulsa King" resonated with many fans who gave the Paramount+ streaming series a 91% rating on Rotten Tomatoes. During Season 1, Episode 4's "Visitation Place," Dwight "The General" Manfredi (Sylvester Stallone) continues to acclimate to his new surroundings, and he decides to swing by the Blue Dome Haberdashery located in the downtown Tulsa area. Manfredi finds the shop while surfing on his phone, and he discovers it's known for offering custom clothing. The General decides to have his new driver Tyson (Jay Will) swing by, so the mafia capo can have some alterations made to some of his impressive suits.
Once there, the tailor, Bert, suggests Manfredi try sporting something more in keeping with the local style: a gaudy alligator cowboy sports jacket accompanied by a Stetson hat and Lucchese boots. But Manfredi is a traditionalist who appreciates his New York look. The General politely declines and decides to stick with his own wardrobe which is surprisingly more in keeping with real-life gangster threads than fans might realize.
"You know, it's funny," former Colombo crime family member Michael Franzese — an authentic mobster of yesteryear — said during his evaluation of "Tulsa King" (via YouTube). "We kind of ... stayed in our own mode of dress. We didn't change much." During his heyday, Franzese's ventures, most notably the bootlegging of gasoline, earned the gangster millions of dollars. And much like Stallone's character on "Tulsa King," the onetime made man knew how to sport a suit like the fictitious General.
Criminally cool wardrobe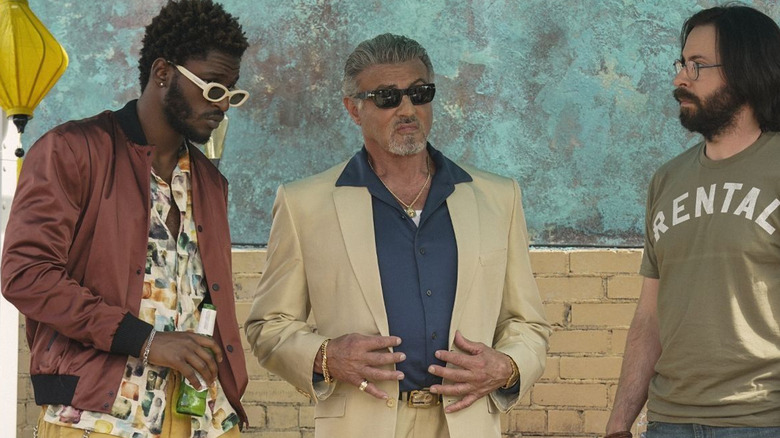 Paramount+
Fans of "Tulsa King" witness Dwight "The General" Manfredi's exile to the untapped territory of Oklahoma once he becomes a free man for the first time in 25 years. Once Dwight arrives on in the Oil Capital of the World, he's a man who not only walks the walk, but he looks the part. The General's dapper garb makes him stand out in the small city, and Sylvester Stallone's wardrobe is not unlike that of the real-life gangsters he emulates.
"I remember during my era everybody was wearing warm-up suits when we weren't dressed up," Michael Franzese said in his critique of "Tulsa King." Even when Stallone isn't busy trying to make a name for himself in the Sooner State, he's still sporting the casual style of real-life mobsters during his downtime. In Season 1, Episode 4's "Visitation Place," the General wears an athletic warm-up suit while he works out with a pair of kettlebells that is very similar to the attire Franzese wore when he wasn't on the town.
"And by the way, I probably had a hundred suits," Franzese continued. "I really mean it because I had to dress in a suit just about every day, sometimes twice. "[I'd] dress up during the day, going home at night, change, because we had to go out again." 
Stallone's debonair outlaw hero will return for Season 2, and he's sure to continue rocking his criminally stylish suits in Tulsa.