1923: 11 Things We Want To See In Season 2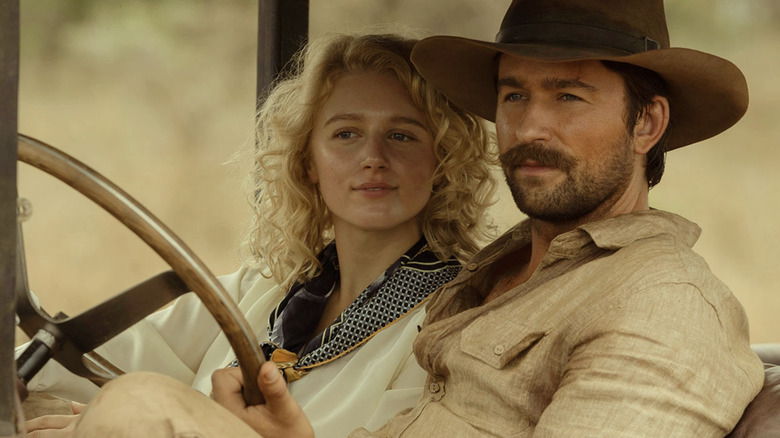 Paramount+
There's no doubt that the "Yellowstone" prequel series "1923" has been a hit for Paramount+. As the streamer's biggest debut ever, the Taylor Sheridan-helmed spin-off was the first in the greater "Yellowstone" franchise to earn itself a second season. "Well, it's really the second half of the season," Sheridan explained to Deadline after the 2022 announcement that "1923" would continue. "This one is different than "1883" where I had the whole thing blocked out in my head. This one, I had no idea what I was going to do."
Of course, "1883" was a huge hit with audiences and critics alike, becoming a fast favorite among Sheridan's impressively expanding filmography. Nevertheless, the first prequel's shocking ending threw viewers for a loop, cutting any potential threads that could've lead into a sophomore season. Given Sheridan's popularity and complete creative freedom, the fact that he's taking his time in telling the second "Yellowstone" origin story means that he's hoping to make "1923" even bigger and better than its predecessor. Not that it's hard, with Harrison Ford and Helen Mirren in tow.
As viewers anxiously await the second half of the "1923" story, they can only speculate as to what the early 20th century Duttons will do upon the show's return. The first season certainly left fans with plenty of unanswered questions, and very few answers. Here's hoping that Season 2 of "1923" can stick the landing, deliver on all the exciting Western action and romance viewers want to see going forward, and that it includes the list of desires catalogued below.
Justice for John Dutton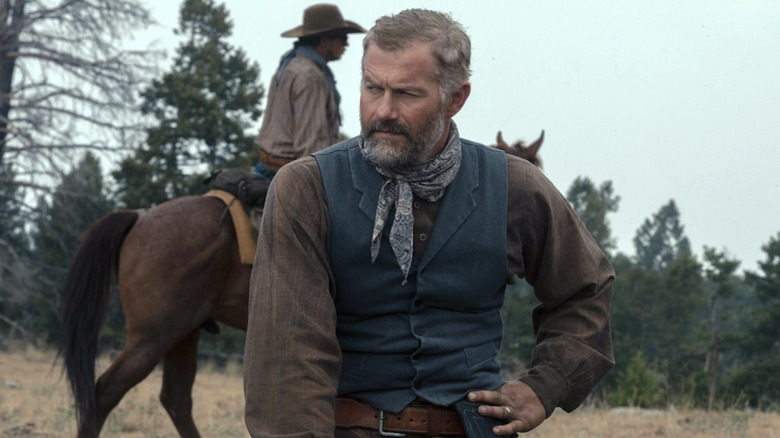 Paramount+
Unlike Lee Dutton (Dave Annable), who was killed off in the very first episode of "Yellowstone," John Dutton, Sr. (played by James Badge Dale on "1923") was killed off after a few, but that only made it harder to say goodbye. John had gone through a lot in his few decades on Earth, having survived the journey to Montana in "1883," the cold winters of 1893 (as seen via flashbacks on "Yellowstone" Season 4), and helping turn his family's land into something grand in honor of his ancestors, it was sad to see him go. What's worse, he left his wife and son behind.
In the aftermath, John's son Jack (Darren Mann) quickly settled down, but John's wife Emma (Marley Shelton) found no peace, committing suicide soon after. Naturally, John's demise was hard on everyone involved, and his younger brother Spencer (Brandon Sklenar) has yet to even really grieve his death. Since Banner Creighton (Jerome Flynn) and Donald Whitfield (Timothy Dalton), the men responsible for John's death, still walk free, it makes the sting run even deeper.
On multiple occasions, Jack has hoped to avenge his father's death, only to be stopped by his aunt Clara (Helen Mirren) at every turn. While nobody wants Jack to do anything foolish, it's paramount that John's death be avenged before the series' end, either by his son or by his long-lost brother upon his return home. It certainly wouldn't be a Western without a little bit of vigilante justice.
Jacob and Clara's origins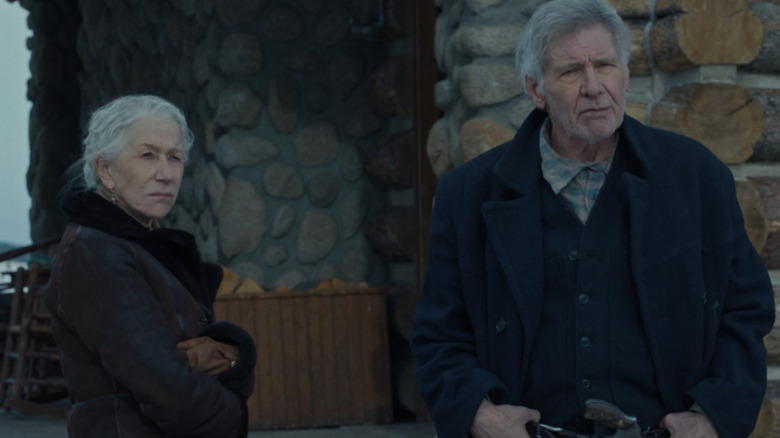 Paramount+
Harrison Ford and Helen Mirren's Jacob and Clara Dutton quickly became fan-favorites, and for good reason. Their honest portrayal of a longstanding marriage, their differing approaches to business and family, and their genuine chemistry make them joyful to watch, and their love easy to be believed. In a franchise rife with bad romances and tortured marriages, Jacob and Clara are the breath of fresh air that the world of "Yellowstone" desperately needed. Coupled with pairs like Jack and Liz (Michelle Randolph) or Spencer and Alex (Julia Schlaepfer), it's clear why folks love this series.
Between the years of 1893 and 1923, very little is known about the Dutton family history. Sometime around 1893, both James and Margaret Dutton (played to perfection by Tim McGraw and Faith Hill on "1883") died, leaving their young sons John and Spencer behind. Soon after, the boys were found by their aunt and uncle, who took them and their family land in as their own. The series doesn't reveal much about Jacob and James' relationship either. Prior to "1923," little is known of James' sister Claire (Dawn Olivieri), except that she didn't survive the journey to Montana.
Since viewers know nothing about how Jacob and Clara met, fell in love, or what their early years at the Yellowstone looked like, it would be wonderful to see their history explored. In a franchise so gung-ho about flashbacks, it doesn't seem out of the realm of possibility, and would certainly be a welcome addition to the chronology.
Spencer's return to Montana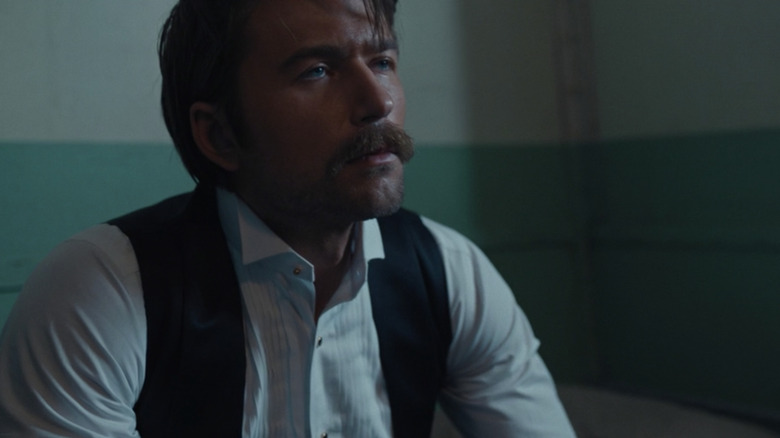 Paramount+
After spending the vast majority of Season 1 traveling from Africa to Europe, Spencer didn't make it across the pond to the US before the freshman season of "1923" came to a close. Separated from his wife Alex after a gross misunderstanding (and a quick battle with her ex-fiancé), Spencer is left stuck en route to London. Though Alex vows to follow her husband to Bozeman, Montana, Spencer is no closer to making it back home. After a season of hoping Spencer would be back in time, it was pretty deflating to watch him fail.
Nevertheless, this is "Yellowstone," which means that somehow, some way, Spencer will return to Montana. Though he may be forced to do so without Alex (who will hopefully join him soon), Spencer will no doubt endure. How exactly the Dutton heir will come back to Bozeman remains to be seen — he hasn't even made it to America yet, which will be another interesting journey given the series' Prohibition-era time frame — but one thing is for sure, he'll do everything in his power to get there.
Though viewers never witnessed Spencer interacting with his older brother John, his return home would allow him to befriend and maybe even mentor his nephew Jack. That uncle/nephew relationship is one that "Yellowstone" has never touched upon before — though the series easily could have — and would be a powerful family dynamic with which to play.
Intersecting stories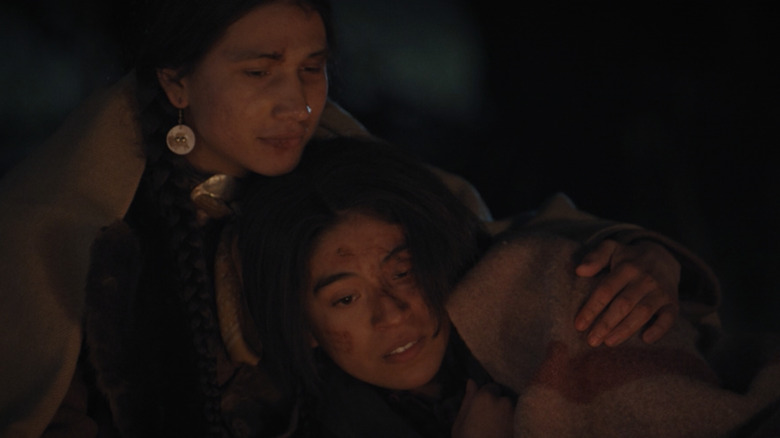 Paramount+
Something that the original "Yellowstone" series always struggled with is integrating each character's personal arcs into the overarching story. When more focused, Taylor Sheridan can do this exceptionally well, as seen in films like "Hell Or High Water," "Wind River," and "Those Who Wish Me Dead," but often this falls flat on television. Admittedly, "1883" was a step in the right direction, since the series was nothing short of a 10-hour movie. The prequel felt more focused and integrated than "Yellowstone" had in years, intersecting every arc and subplot along the way.
Likewise, "1923" has loads of potential, though currently, the Teonna Rainwater (Aminah Nieves) and Spencer and Alex arcs seem particularly disjointed from the main Dutton conflict. While it's true that Spencer and Alex's long-running voyage to America is just a branch off the goings on at the Dutton homestead, the physical distance between characters makes it harder to connect them. In the same vein, Teonna's escape from the Catholic boarding school and her journey to the Broken Rock Indian Reservation remains equally distanced from the rest of the series.
The ancestor of her eventual descendant Thomas Riverwind (Gil Birmingham), Teonna's story certainly bridges some gaps between her people's appearance at the end of "1883" and their struggles in present day, but since Nieves doesn't interact with any other main cast members, there's still a desire to see her wander onto the Yellowstone. Here's hoping the Duttons will be kinder to her than her former schoolmasters.
More Sheriff McDowell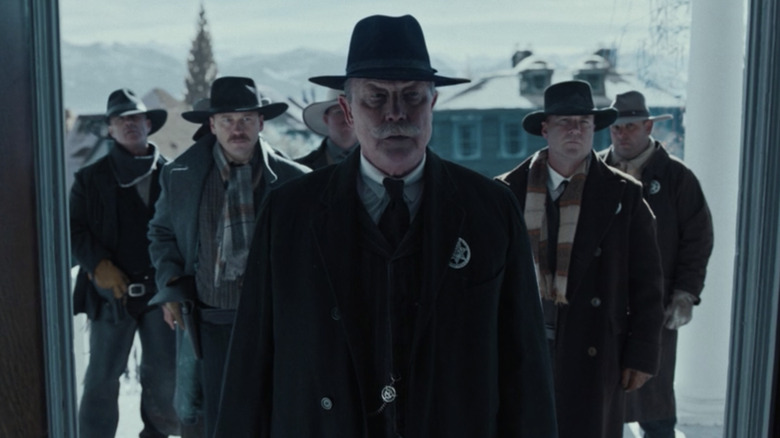 Paramount+
Robert Patrick has ranked among the most underrated actors in Hollywood for decades, breaking out as the villainous T-1000 in "Terminator 2: Judgment Day" and going on to build a vast body of television work. Patrick took over from David Duchovny for the final two seasons of "The X-Files" initial television run as Special Agent John Doggett, proving that Patrick could not only play black hats, but "straight men" as well. After that, he headlined on "Scorpion" and "The Unit" before playing an antagonist once more on "Peacemaker." 
Unfortunately, the first season of "1923" featured very little of Patrick's Sheriff William McDowell, who mostly just walks beside Jacob or Clara Dutton and barks orders at people. It's only by the near-end of the season that Sheriff McDowell has a bit more to do, including his angry confrontation with Jacob. Given the heavy-hitter that Patrick is, it would be a shame if "1923" continued to waste him going forward. With all of the illegal activity across Paradise Valley, McDowell needs to step it up.
Coincidentally, "Yellowstone" once fell into this problem with Hugh Dillon, who played Sheriff Donnie Haskell on the original series. But, after a few seasons, the character eventually hit his stride and became a recurring force on the show before he was killed off so that Dillon could join "Mayor of Kingstown." With any luck, Patrick will do the same, and make it out alive.
Zane and his family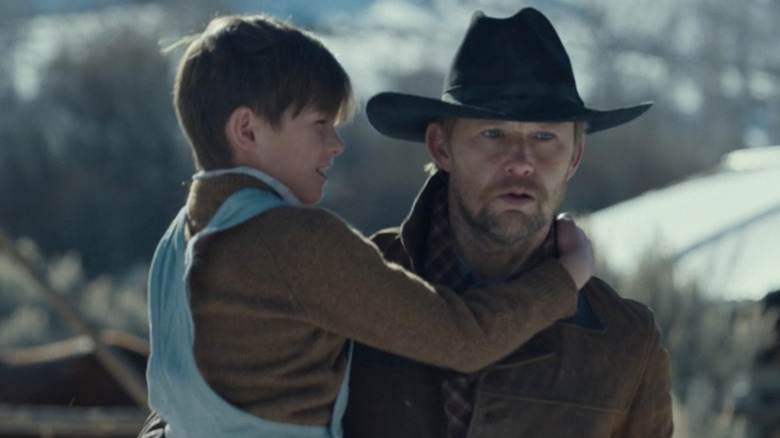 Paramount+
A twist that only made its way into the story in the final act, the season finale "Nothing Left to Lose" revealed that the Dutton's faithful ranch hand Zane Davis (Brian Geraghty) — who predates Rip Wheeler (Cole Hauser) by nearly a century — is married to a Chinese woman named Alice (Joy Osmanski), with whom he has two children. After the two make up for lost time, the authorities arrive at their home and drag Alice away due to the anti-miscegenation laws at the time. In the scuffle, Zane is beaten in front of their kids.
While witnessing this dark part of the nation's history is undoubtedly hard to watch, there's hope that Zane, Alice, and their kids will make it through. Since they weren't a part of the majority of the first season, there's still a chance that Alice and the Davis kids will return in Season 2. With nowhere left to turn, Zane will have to turn to the Dutton family for help. Hopefully, the ranch owners will do what they can to reunite the Davis family. With as faithful as Zane has been to the Yellowstone, it's the least they could do.
More on the Davis family would give "1923" the chance to continue to shed light on a relatively unspoken part of America's past, one that's been more explored in recent years. As the series deals with Native American issues, it would be nice to see them tackle Asian American conflicts as well.
Spencer and Alex's reunion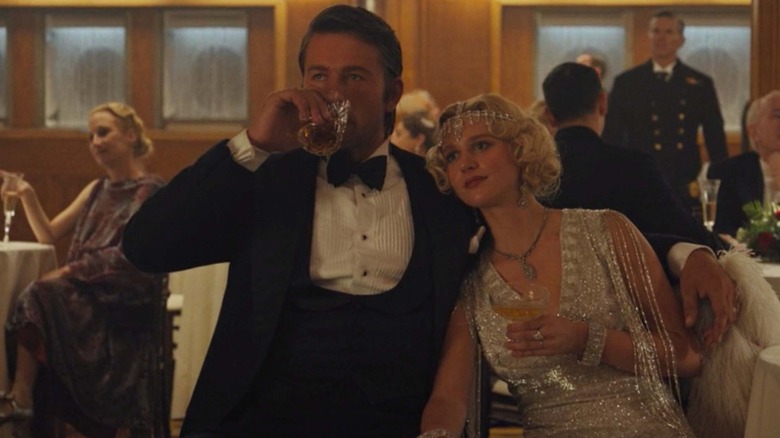 Paramount+
In their final moments together, Alex vows to follow and find Spencer in Bozeman, Montana, which is all the way on the other side of the world. Though she's currently being transported (by force) to London as her marriage to Spencer is in question, her resolve is strong, and her love even stronger. After spending the entire season together, ravaging each other before facing life-and-death and then getting married at sea, Spencer and Alex will be forced to grow in their time apart, though it would be a shame if that lasted too long.
Though they certainly break their fair share of societal norms, Spencer and Alex bring out the best in each other. More than that, they challenge and push one another to deal with their deepest fears. In Alex's case, her fears of marrying the wrong man or finding herself helpless in the wild. In Spencer's case, his anxieties surrounding the Great War and returning home to face his family. Apart, they may devolve into lesser versions of themselves, but together these Duttons stand strong. If they're apart for too long, there's no telling to what depths they may sink.
While Spencer spent the entirety of last season away from his family, there is hope that the same fate won't befall him and Alex in Season 2. Rather, there will be plenty of opportunities across America for them to meet again, all of them hopefully long before they make it to Montana.
Jack and Elizabeth's wedding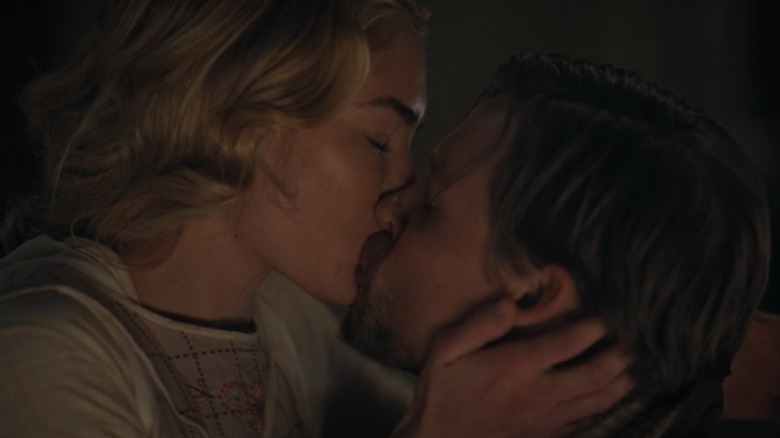 Paramount+
A constant "will-they, won't-they" throughout the first season of "1923" was the question of Jack and Elizabeth's wedding. Though Jack and Liz were committed from the beginning, and remain true to the end, they haven't had an official ceremony to celebrate their love. Admittedly, there's been a lot going on in the Dutton world since these two first got engaged (including the deaths of most of their respective parents), but that hardly seems like an excuse to make things official, especially when they've already begun their married life.
That's right, though they've said their vows before each other and God, and they've begun their first attempts at starting a family, they have yet to celebrate their marriage covenant with the rest of their family. It's possible that Sheridan is saving this special occasion for Spencer's return home to the Yellowstone, in which case it makes sense that everything was put off — but nevertheless, it's about time that these two tie the knot, at least legally speaking.
The young love between Jack and Liz is one of the best things about this prequel series. Truth be told, the love stories throughout "1923" are all pretty excellent, with each romantic pairing as lovable as the last. Naturally, that makes viewers all the more interested in seeing Jack and Liz officially become the next bunch of Duttons and finally begin their tenure as the rulers over the Yellowstone. Unless, of course, that's meant for Spencer and Alex.
Whitfield's comeuppance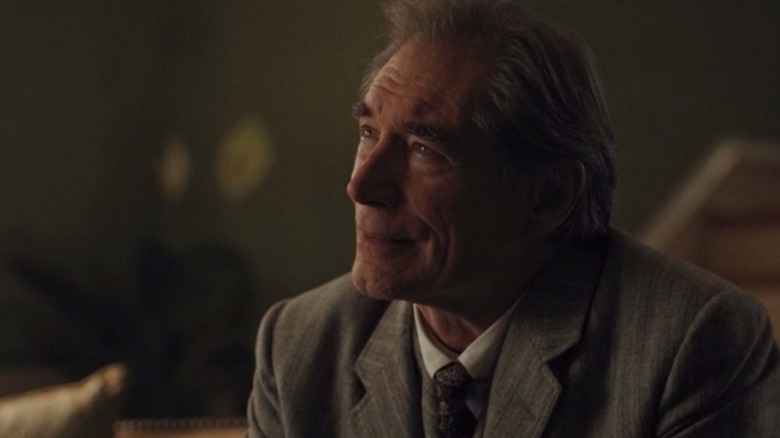 Paramount+
Though the main challenger of the Dutton family in "1883" was the untamable land itself, "1923" features a different antagonist, one a bit more creative, and infinitely more cunning. Very few villains throughout the world of "Yellowstone" have been more sinister and more dangerous than Donald Whitfield. Played masterfully by former 007 actor and "Doom Patrol" star Timothy Dalton, Whitfield is easily among the most depraved characters throughout the franchise, and certainly on "1923." 
Not only will he sink to the lowest of lows to get what he wants, but he has the gall to act cheerful and generous on top of it. Not to mention what he does to those prostitutes... Needless to say, Whitfield, like many former "Yellowstone" antagonists, is a character you love to hate. Whether it's in a standoff between himself and Jacob or Clara Dutton, or a "freak accident" that takes him out offscreen, there's no denying that this guy needs to go. 
On his own, Banner was an interesting and compelling antagonist, one whose motives could be understood despite his means, but Whitfield is like a bull in a hall of mirrors, willing to tear everything down to find what he's after. So far, he's employed the likes of sheep herders and policemen, but there's no telling the means that Whitfield will use to take the Yellowstone for himself, and though he'll likely fail, it's still as intense as ever.
The return of 1883 favorites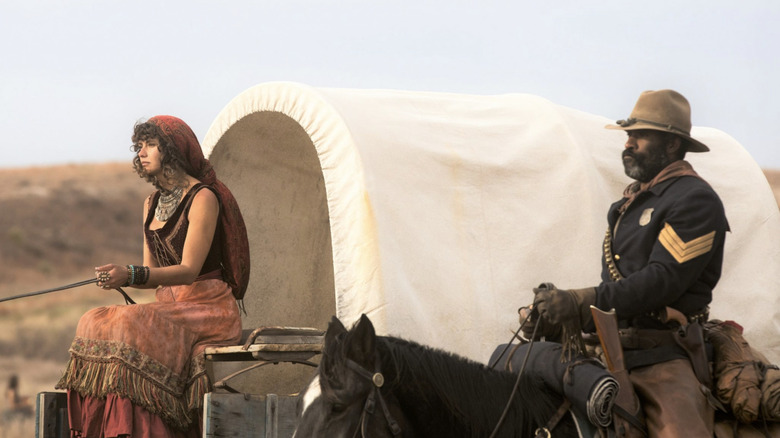 Paramount+
So far, "1923" has brought back two characters who made themselves known on "1883." Of course, the young boy John Dutton, played on the first prequel series by Audie Rick, is seen as a middle-aged man on the second series. Sadly, John, Sr. doesn't live past the third episode, but his inclusion remains true to the greater "Yellowstone" chronology. Aside from John, his older sister Elsa (Isabel May), who died at the end of "1883," narrates the series, continuing her life as a spirit following the ending of the Dutton's initial origin story.
While nobody expects Elsa to return incarnate following the "1883" finale, it would be exciting to see character from the previous series cross over into the new one. Sure, most of the cast died during their westward journey, but Thomas (LaMonica Garrett) and Noemi (Gratiela Brancusi), along with Noemi's two boys, made it to Oregon alive. While it's unlikely that either Thomas or Noemi will venture into Montana (though it would be welcome), it is possible that their children could crossover at some point, further connecting both shows and characters.
It would be equally interesting to see flashbacks that further detail the relationship between Jacob and his brother James, perhaps even explaining why Jacob and Clara didn't make the trip to Montana initially with the Duttons back in the 1880s. If Tim McGraw and Faith Hill can show up on "Yellowstone" via flashbacks, there's no reason they can't return here too.
Answering the John Dutton question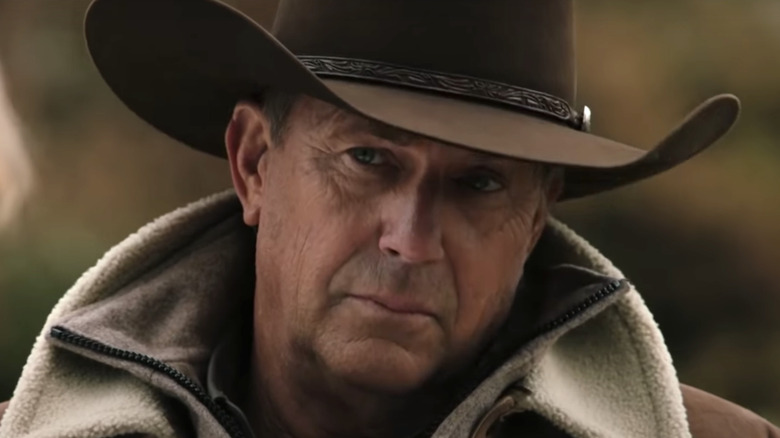 Paramount+
One of the biggest questions throughout the "Yellowstone" prequels is the exact history of the Dutton family line. Though there are fallen children, adoptive children, and surrogate parents throughout the clan, where they all fit has been a mystery. As revealed on "Yellowstone," Kevin Costner's John Dutton is the third to bare that name, and likewise "1883" introduced a John Dutton, the son of James Dutton, who is clearly the first. That leaves John Dutton, Jr. — played on "Yellowstone" by Dabney Coleman — somewhere to be had in the middle.
Given the way family names work, it makes the most sense that Jack Dutton is actually John Dutton, Jr., especially since Jack is derived from John initially. Though he doesn't go by John, him naming his son with Elizabeth "John, Jr." after his late father makes loads of sense. However, it's also possible that Spencer and Alex, who are bound to arrive in Montana at some point before the end of the series, may carry on the line and also birth a son named John in honor of Spencer's late brother and Jack's father. At this point, anything goes.
Because there are two potentially competing Dutton bloodlines, it's currently impossible to determine which one will carry on the legacy into modern day. But one thing is for sure: The Kevin Costner version of John Dutton, known in the 21st century, comes from James Dutton's line somewhere. Regardless, John III remains a Dutton by blood.