Here's What Robert Patrick Thinks About Returning For Peacemaker Season 2
Markus Wissmann/Shutterstock
Contains spoilers for Season 1 of "Peacemaker."
Robert Patrick has had a long career acting in memorable sci-fi roles, appearing in classics such as "Terminator 2: Judgment Day" as the T-1000, "The X-Files" as John Doggett, and "Spy Kids" as Mr. Lisp, to name a few. One of his most memorable recent performances, however, was as Auggie Smith, aka the White Dragon, in the HBO Max original series, "Peacemaker." 
Perhaps the most despicable character in all of "Peacemaker," Auggie is the father of series protagonist Christopher Smith (John Cena), aka Peacemaker. The White Dragon is an explicitly racist person who builds a following of bigoted inmates after being thrown in prison. He eventually tries to kill his own son in the penultimate episode of the first season, but Peacemaker wins out, killing his own father in the process.
With his character being dead, most would think that would be the end of Patrick's involvement in the show. However, this may not be the case, as the actor recently shared his thoughts about how Auggie could theoretically make a big return for the second season of "Peacemaker.""
Robert Patrick wants to come back as a ghost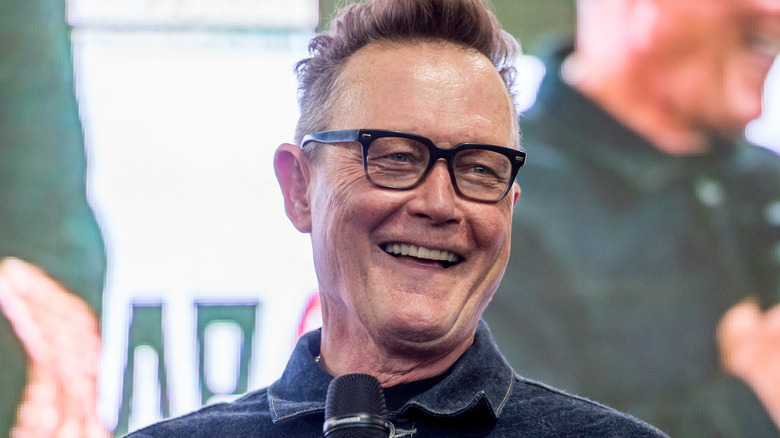 THX Images/Shutterstock
In an episode of "Inside of You with Michael Rosenbaum," Robert Patrick talked about his first acting gig — he played Peter Pan in his third grade school play, if you were wondering — as well as at one point living inside his car while searching for professional acting roles without having any formal training. He also discussed his alcoholism, and what it cost him before he was able to become sober.
Outside of real-life details, though, Patrick also made an interesting comment in regard to the DC Comics-inspired series he made such a mark on, and he clarified that while his character certainly is dead, he still sees an avenue for coming back in the already-confirmed second season.
"Hopefully I get to work, because I am dead. To be honest with you, I'm looking forward to it," Patrick told Rosenbaum. "This could be the funniest f***ing stuff ever with his dad coming back as the ghost. In my own mind I'm trying to think of the stuff James Gunn is going to come up with, and there's a lot he could do. It's unlimited. Because I'm a f***ing ghost, dude!"
This is in reference to one of the first season's final scenes, where Auggie briefs returns as a hallucination within Christopher's mind. Although the way Patrick frames it makes it seem that he doesn't know for sure whether or not he'll actually be in the second season, it's very clear that he would love to return as a ghostly Auggie.