James Badge Dale Doesn't Let His 1923 Death Get Him Down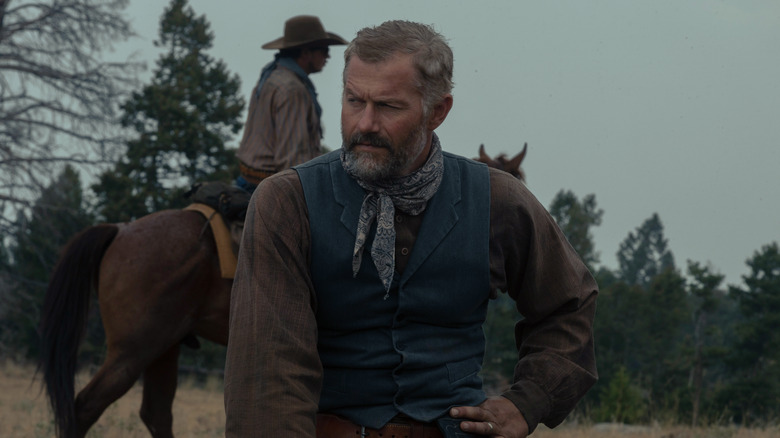 Paramount Network
Though James Badge Dale's recurring appearance in "1923" is relatively brief, fans of the Sheridan-verse have been well acquainted with his character for some time. The John Dutton he plays in "1923" is first introduced to us in "1883" as the very young son (played by Audie Rick) of James (Tim McGraw) and Margaret Dutton (Faith Hill), and little brother to Elsa (Isabel May).
Which is what makes his abrupt and unsentimental death at the end of Episode 3 of "1923" so shocking, even if by then he's in his mid-to-late forties. That he leaves behind a wife, Emma (Marley Shelton) and grown, about-to-be-married son Jack (Darren Mann) heightens the tragedy, underscoring what Elsa and many others have stated about how uncaring and ruthless these regions are. This is, after all, a western, a genre whose core philosophy has, for better or worse, always been kill or be killed.
Now John Dutton is gone, though we know for sure that someone from his family survives long enough for Kevin Costner's John Dutton III to come along in "Yellowstone." The story continues, and it continues without James Badge Dale. Still, it seems the actor has taken his character's death in stride.
Dale is proud he got to work with Harrison Ford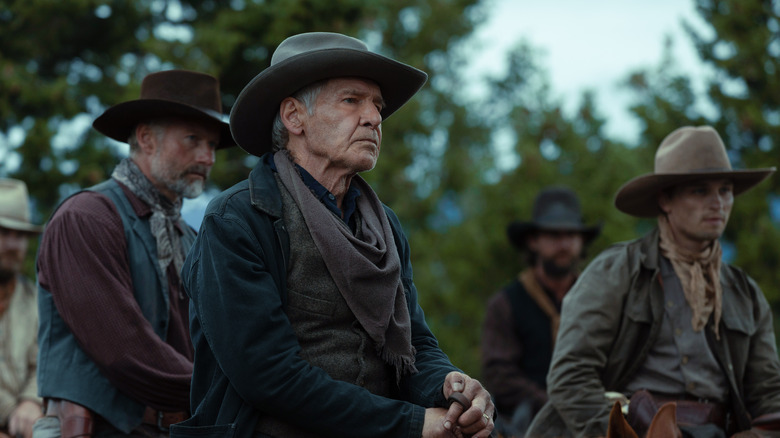 Paramount Network
After Episode 3 ended with John Dutton and many others being gunned down by Banner Creighton (Jerome Flynn), James Badge Dale spoke with TV Insider. "1923" creator Taylor Sheridan was blunt with Dale about how short his character's life span was going to be. Dale wasn't suddenly surprised to receive a script that killed off his character, and knew he would be a relatively brief appearance well before the cameras started rolling.
Like most actors, Dale doesn't like seeing his character killed off. But he looked at his time on "1923" as something of a gift due to all the horseback riding and being able to act alongside Harrison Ford. "This is why I was there," he said "That's the gift that Taylor gave me."
He also said that getting to work with an actor as renowned as Ford — who plays the imposing Jacob Dutton — was one of the main reasons his role was so fun. "He's a very kind, generous actor," said Dale. "I'm just really appreciative for that time I spent with him." From the sound of it, Ford was similarly grateful to be a part of the project. "A lot of the memories, you need to keep personal," said Dale. "But what I will say is, he said to me one morning, 'I'm still struck by how lucky I am.' And I said, 'I feel the same way.'"