Critics Say Shazam! Fury Of The Gods Is Bigger Than The Original (But Not Necessarily Better)
In the same calendar year that Marvel Studios brought Captain Marvel (Brie Larson) to the movies, Warner Bros. and DC answered with a Captain Marvel of their own. However, instead of using that name, which his comic book counterpart went by for decades, he arrived on the silver screen under a different moniker: Shazam. In his 2019 solo film, the hero imbued with the powers of gods — portrayed by Zachary Levi and Asher Angel, who plays his Billy Batson form — learns the importance of family and how to use his remarkable gifts responsibly. Throughout this journey, the film offers viewers plenty of action and laughs to boot.
"Shazam!" was an all-around hit, performing well critically as well as financially. Thus, director David F. Sandberg is about to present moviegoers with another comedic yet heartfelt superhero adventure. "Shazam! Fury of the Gods" sees the titular character and his now-superpowered family take on the Daughters of Atlas, Hespera (Dame Helen Mirren) and Kalypso (Lucy Liu). The fate of the world hangs in the balance, so they'll have to muster all their courage and strength to defeat these immensely powerful threats.
"Fury of the Gods" isn't in theaters yet, but some folks have gotten to see the long-awaited sequel early. It seems that the consensus among critics is that it's far from a triumphant follow-up to the 2019 original.
Many agree Fury of the Gods just misses the mark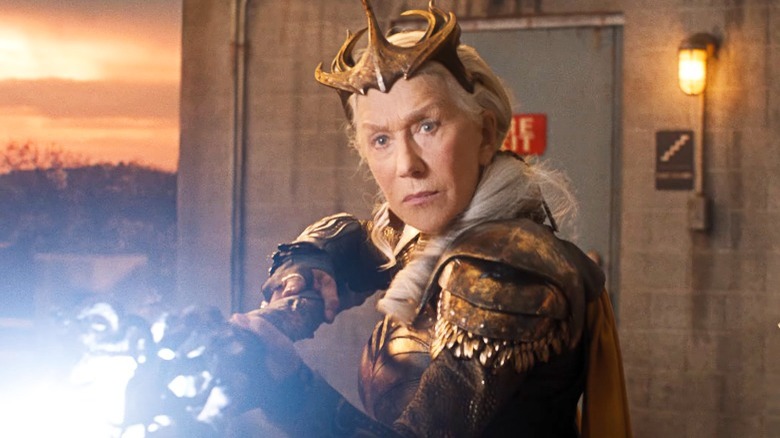 Warner Bros. Discovery/DC
While it has its share of committed supporters and fervent detractors, the majority of critics who've seen "Shazam! Fury of the Gods" early agree that it's pretty decent. Although, it just barely manages to miss out on being truly great.
"It's not as good as the first "Shazam" movie, which explored what it's like to be a superhero when, in reality, you're still just a kid. In this sequel, that aspect is still mentioned quite a bit, but not really explored," wrote Mike Ryan of Uproxx, who otherwise gave the sequel credit for its light-hearted, amusing nature. Frank Scheck of The Hollywood Reporter is in a similar frame of mind, writing that "Fury of the Gods" boldly goes bigger into a much higher-stakes adventure than that of its predecessor, but it loses some of the magic that came before in doing so.
NME's Paul Bradshaw didn't give the film the most glowing endorsement, calling it "a superhero sequel made in the same vague shape as a dozen others." Clarisse Loughrey of The Independent seems to agree, commenting that "Fury of the Gods" falls into this bland middle-ground where it's not particularly bad, but it's far from memorable at the same time. Tim Grierson of ScreenDaily specifically gives Zachary Levi credit for attempting to elevate a largely so-so movie through his Shazam performance.
Some ponder the point of Fury of the Gods amid DC's big reset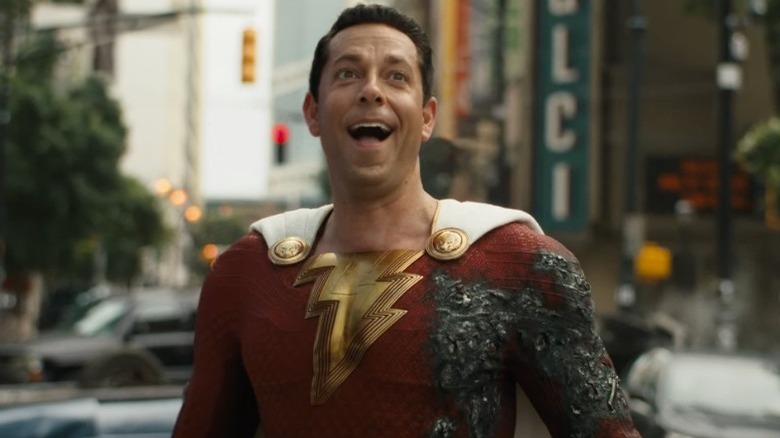 Warner Bros. Discovery/DC
Something important to consider that several early "Shazam! Fury of the Gods" reviews mention is the current state of the DC film universe. With the creation of DC Studios, led by James Gunn and Peter Safran, it has become abundantly clear that the old DC Extended Universe and most of what came with it will be left behind. Reboots of major characters like Batman and Superman are on the way within a new multimedia continuity, which, as one could imagine, leaves the Shazam character in an odd position.
Ultimately, one can't help but feel that "Fury of the Gods" is somewhat irrelevant. Why should anyone care about a sequel to a film set in a shared franchise that's about to be reset by the studio behind it? Is a third "Shazam!" installment even remotely in the cards? David F. Sandberg is holding out hope that fans will go support "Fury of the Gods" to ensure Shazam's inclusion within the newly-established DC Universe, and Zachary Levi himself has hinted that he's not done as the character just yet. We'll just have to wait and see what Gunn and Safran have in store for the entire Shazamily in the coming years.
Time will tell if "Shazam! Fury of the Gods" will retroactively fit into the emerging DCU or if it will stand as the end of the "Shazam!" film series. "Fury of the Gods" hits the big screen on March 17, 2023.