Shazam Director Says The Character Has No Future In James Gunn's DCU If Moviegoers Don't See Fury Of The Gods
The future of DC Comics' upcoming movie slate has always been a source of great unease and speculation for as long as the company has tried to catch up to the behemoth that is the Marvel Cinematic Universe. Originally starting with Zack Snyder's "Man of Steel," these movies never quite found the runaway success like the MCU. However, the DCU has recently undergone a massive shakeup that saw James Gunn placed at the helm, and he has been given artistic liberty to decide what properties and characters move forward in his cinematic vision.
Gunn himself has already said that the upcoming "The Flash" movie will act as somewhat of a soft reboot for the DCU, much like the "Flashpoint" comic arc that reset DC Comics. Gunn clarified that doesn't mean that he is tossing everything out that came before, just that he will be far more critical and discerning. Of course, this statement definitely makes some worried about characters like Shazam (Zachary Levi and Asher Angel), since "Shazam! Fury of the Gods" is soon on the horizon — but it seems as if the future of this character's iteration depends entirely on box office returns.
More Shazam movies depend entirely on how much Shazam! Fury of the Gods makes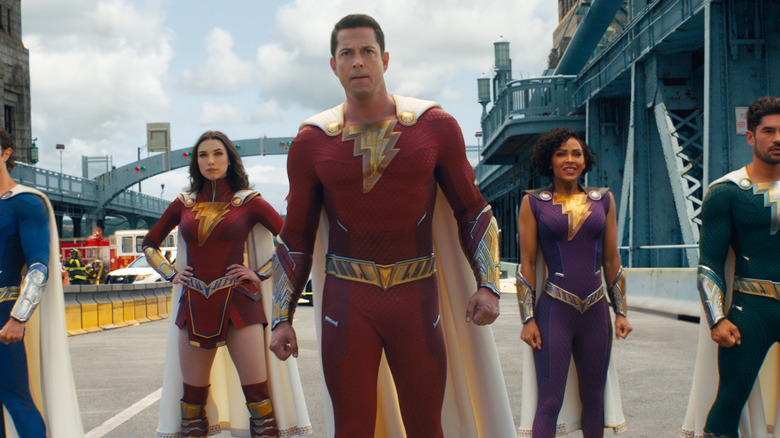 Warner Bros. Pictures
With "Shazam! Fury of the Gods" less than one month away, some longtime fans of the character have found themselves awash in worry. Over on Twitter, @vineeth_rajeev tweeted directly at "Shazam!" director David F. Sandberg and stated that they don't want to watch "Shazam! Fury of the Gods" because of the all of the drama surrounding the movie studio. They added that this behind-the-scenes drama is totally killing the vibe for the movie, and expressed concern about the future of the DCU. They then asked for a straight answer to the question as to whether or not the character of Shazam will be moving forward in the new DCU, and Sandberg didn't mince words with his reply.
Sandberg answered, "He definitely won't if people don't go see the movie. What I've been told is that there's nothing in the Shazam films that contradict the future plans for DC. So the possibility for more Shazam is there and if that's what you want your best bet is to go see the film." This statement proves one thing — how much money "Shazam! Fury of the Gods" makes is actually what will determine whether or not audiences get another outing of the kid-turned-superhero and his friends. In other words, if people want more Shazam, they better line up at the movie theater.