Juno Temple Thinks There's Always The Possibility Of A Ted Lasso Return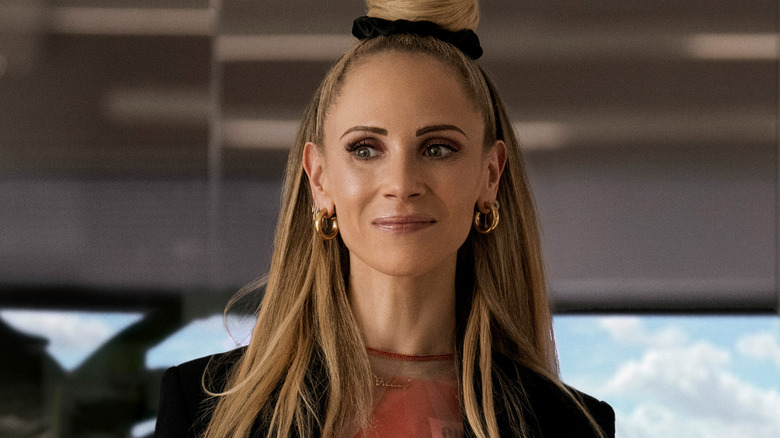 Apple TV+
Season 3 of "Ted Lasso," which premiered on March 15 and will conclude on May 31, will be the feel-good soccer dramedy's last — at least in its current incarnation. When writer and actor Brett Goldstein first discussed "Ted Lasso" ending, he explicitly outlined how the story that kicked off upon the Season 1 premiere is what's coming to an end, rather than the "Ted Lasso" property as a whole. He then offhandedly mentioned the fact that there's always room for the series to pick back up with an entirely new story or stories in the future.
Keeley Jones actor Juno Temple also seems to think more "Ted Lasso" is a distinct possibility, as she revealed in a Variety interview about the "Ted Lasso" finale. First, Temple mentioned that, at the time of the interview, she hadn't even heard that the show was definitively concluding. "Things don't ever have to completely end," she continued. "When a show comes to a conclusion, those characters don't die, they go on and live their little fruitful lives in somebody's imagination. So you can come back to it."
While Temple doesn't seem to know anything the general public doesn't, her closeness to the project naturally lends some extra weight to this notion of hers that the series' producers may one day want to revisit the "Ted Lasso" universe, whether that's immediately after Season 3, or years down the line.
Other key Ted Lasso team members likewise think a return is in the cards
Juno Temple isn't the only "Ted Lasso" actor who sees a future for the show beyond its upcoming finale at the end of Season 3. For example, while discussing the end of "Ted Lasso" after Season 3, series lead and co-creator Jason Sudeikis responded to a question about the possibility of the show continuing by thanking its fanbase for wanting more. He also mentioned that, even after Season 3 is over, there will still be room for new storylines, should there ever be a need for them.
In fact, even Warner executive Channing Dungey seems to think that "Ted Lasso" Season 3 might not be its end. Not only did Dungey suggest that "Ted Lasso" continuing could be a narrative possibility, but she mentioned that Warner has met with Sudeikis and co-creator Bill Lawrence directly about making more "Ted Lasso." Notably, Dungey suggested that the studio and the series' creators have yet to finalize any plans one way or another, but a direct continuation of the mainline show and a dedicated spinoff series appear to be viable options.
"Ted Lasso," then, may end up eating its cake and having it too after its Season 3 finale, which could both mark a disciplined end for the show's current story, and a jumping off point for a larger franchise, as virtually every hit media property tends to become in the present day.