Are Chicago Fire's David Eigenberg And Joe Minoso Friends In Real Life?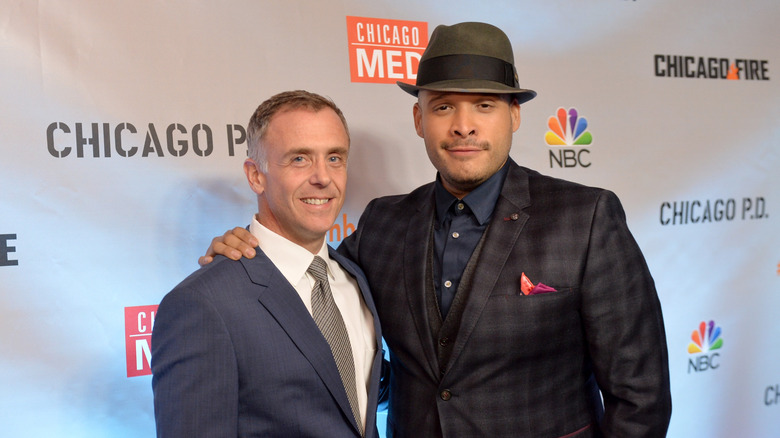 Daniel Boczarski/Getty Images
The "One Chicago" franchise is one of the biggest and best things that NBC has going for it. Consisting of three long-running series with endless crossover potential, Dick Wolf's triumvirate features the police procedural "Chicago PD," the medical drama "Chicago Med," and, of course, the blistering firefighting feats of "Chicago Fire."
While "Chicago Fire" features a vast ensemble of characters, one of the most steadfast and reliable members of the 51 crew is surrogate father figure and senior firefighter Christopher Herrmann (David Eigenberg). Also helping to round out the team is the imposing but good-hearted Joe Cruz (Joe Minoso).
Considering how many scenes the two characters have shared over the course of the eleven seasons that "Chicago Fire" has been airing, fans might find themselves wondering how the duo get on in real life. On that front, viewers will no doubt be happy to learn that the two are very close. In fact, speaking to Entertainment Weekly about Season 9, Episode 5 ("My Lucky Day"), Herrmann was particularly enthusiastic about having Minoso as his scene partner. "Shooting this episode was so much fun, it was a bit of a step out of where we normally go," Eigenberg said. "I was really happy that I got paired off with Joe Minoso; we're old friends now."
Eigenberg and Minoso are especially close among the closeknit cast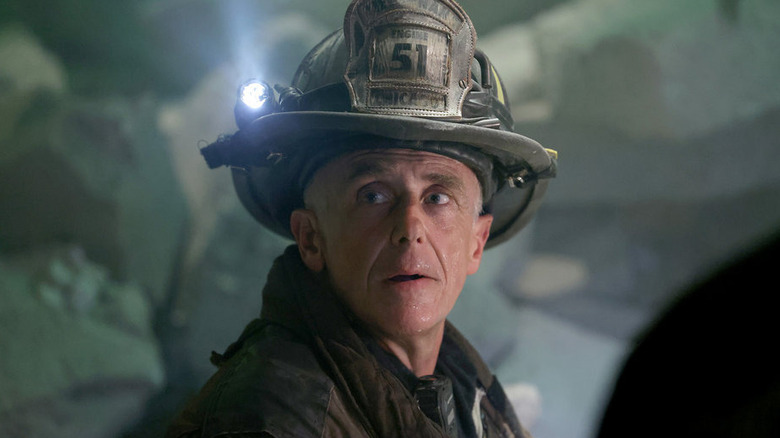 George Burns Jr/NBC
Of course, it's only natural after working so closely and extensively for all of these years that the cast members of a show like "Chicago Fire" are close. Still, to hear it from David Eigenberg, close is an understatement for this crew. "We're all like family. It's been nearly 10 years that we've been working on the show, and we've developed a friendship over the years."
All the same, Eigenberg did mention that he has become especially close with Joe Minoso, citing the similarities in their pasts as a primary reason for this. Eigenberg mentioned that he relates well to Minoso because of their "common history," and that it positively impacts their work together on "Chicago Fire." "They wrote some really nice stuff for us and I was glad that they stepped into our current times a little bit, showing what's good in this life and what's destructive," Eigenberg said.
Eigenberg was careful to explain his wording as well, saying that he doesn't subscribe to typical takes on morality. "I don't like the word 'bad' — there's good and there's destructive," he explained. "On this show, all the characters lean towards trying to survive the destruction and find the good, and I appreciate that deeply."