Delroy Lindo On Executive Producing And Starring Alongside Kerry Washington On UnPrisoned - Exclusive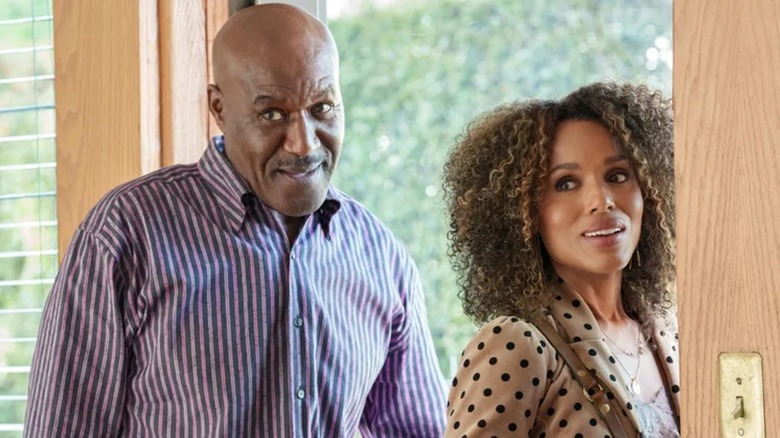 Kelsey McNeal/Hulu
Television writer, author, and producer Tracy McMillan created the new Hulu series "UnPrisoned" alongside executive producers Kerry Washington and Delroy Lindo, who also happen to star as father and daughter on the show. Washington plays Paige, a single mom coping with her father's release from prison after 17 years and having spent most of her childhood in foster care. Paige is a fictionalized version of McMillan herself, and the creator's humor allows the story to reach both depth and levity through its protagonists. 
As Edwin, Delroy Lindo is working to earn back his daughter's trust, but even as he wins his grandson over and finds support in an old girlfriend, he grapples with a world that keeps its doors closed to formerly incarcerated folks. In his exclusive interview with Looper, Delroy Lindo explained how he found himself collaborating at the level of executive producer with his co-star and the creator of "UnPrisoned," and how a shared vision for the emotional comedy brought them all together. 
UnPrisoned's collaborators were generous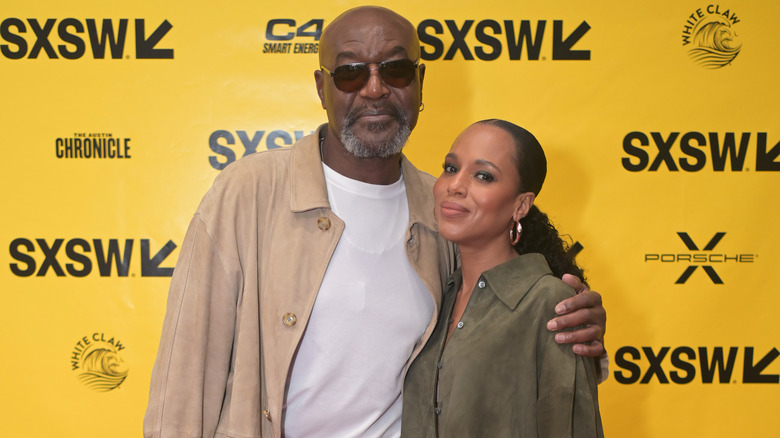 Nicola Gell/Getty Images
When asked how he and Kerry Washington found themselves involved in "UnPrisoned," Delroy Lindo told Looper, "The simple answer's that Kerry [Washington] and Tracy [McMillan] brought me in, inclusive of my executive producer position on this project." He clarified, "They were very generous with me, and ... as we started to talk about the work and what the work could be and the things that we all wanted to focus on, we recognized that the basis of our communication was over and above me being an actor on this and that my involvement was additive to the overall journey and evolution of the piece."
Because of a shared connection to the material covered in "UnPrisoned," both Lindo and Washington were able to take executive producer roles as well as play the series' leads. Lindo also acknowledged just how special his relationship with show creator Tracy McMillan has been throughout the show's 1st season, and he said of McMillan and Washington, "One doesn't always get that kind of response. The fact that they were as generous and as open as they were with me led to my becoming an executive producer." 
The series was an ongoing conversation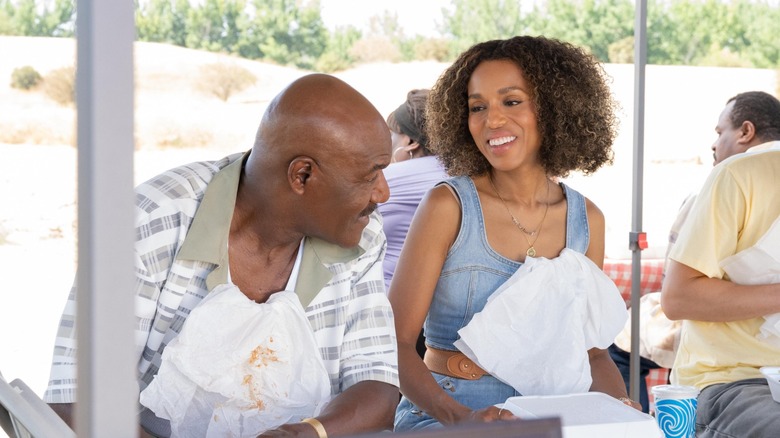 Kelsey McNeal/Hulu
On screen, Kerry Washington and Delroy Lindo are savvy scene partners, playing off each other's wit and emotion to achieve a perfect balance of comedy and family drama. 
Though the stars didn't spend time on any on-set bonding exercises, they were able to connect over the strength of the material at hand. Lindo listed some of the project's winning factors: "the nature of the communication going into the project, the writing, the fact that Tracy is so intricately connected to this material, the way that the writing manifested in the writers' room, the people who put those scripts together." He concluded that these ingredients "resulted in a project that we all were pretty much on the same page [on] in terms of the direction we wanted the work to go in." 
Still, the actor acknowledged that no project exists in a perfect vacuum and that there were certainly obstacles to overcome throughout the creative and collaborative process. However, Lindo remained complimentary toward his experience working on "UnPrisoned," praising these factors "in [the] context of the fact that [I have] worked on other projects in which those elements weren't quite present." He confirmed, "They were and they are present in 'UnPrisoned.'"
All eight episodes of "UnPrisoned" are now streaming on Hulu.