How Delroy Lindo Formed A Personal Connection With His Character In UnPrisoned - Exclusive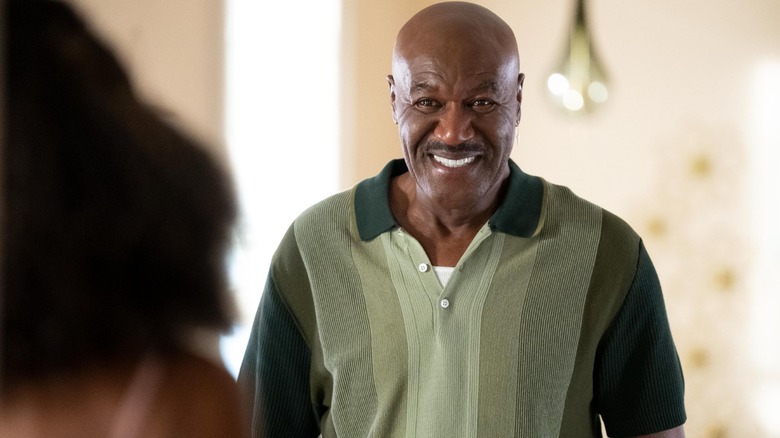 Kelsey McNeal/Hulu
Hulu's new series "UnPrisoned" stars Delroy Lindo and Kerry Washington as a father-daughter pair adjusting to life after his recent release from prison. Washington plays Paige, a therapist whose patients and social media followers look to her for advice on their lives, though she herself is struggling in her familial and intimate relationships. Lindo's Edwin is grappling with his new role as a grandfather while moving in with his daughter and looking for meaningful and sustaining work as a formerly incarcerated person. 
In Delroy Lindo's exclusive interview with Looper, he shared that he was able to connect to his character more through a fictional lens than as show creator Tracy McMillan's real-life father. Lindo told us, "Ironically, one of the first conversations [with McMillan] was 'I'm not playing your dad.'" Instead, the actor had to find his own access points to the character's story as he and Washington worked to mend their characters' fractured father-daughter bond.
He took the inspiration and ran with it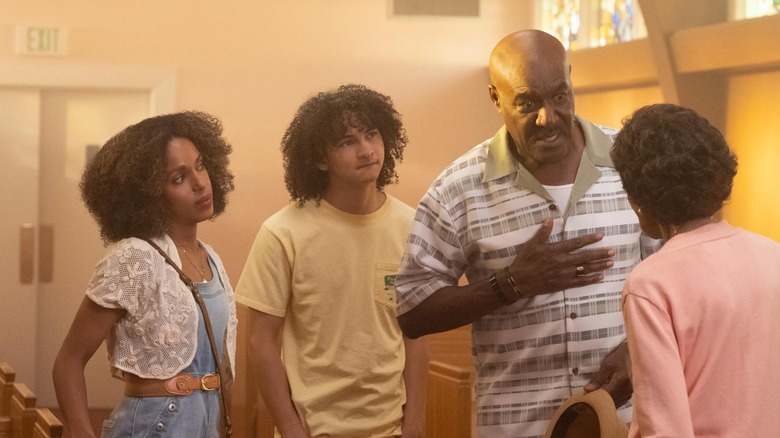 Kelsey McNeal/Hulu
When discussing the inspiration for his "UnPrisoned" character, Delroy Lindo was open about the separation between fiction and reality. He told Looper, "This character is inspired by Tracy [McMillan]'s dad, but one of the first conversations that I had with Tracy and we continued to have throughout the course of making the work was revisiting and reconnecting with the fact 'I'm not playing your dad.'" 
In molding Edwin into an entirely new character, Lindo took responsibility for interpreting the story through his own perspective. He explained, "While [her] dad is absolutely an inspiration for Edwin, and I gleaned a lot from speaking with Tracy's dad, in the final analysis, there was an agreement from all of us that that would be the point of departure and I would take those elements and create my own human being from that." 
He added that it was McMillan's openness that made it possible for Edwin to become who he is as a character. "Tracy was very generous in terms of her willingness to let go of certain aspects of what she may think, what she may want, compared to the direction that I was actually going in with the character," he shared. As a result, Edwin comes across as equal parts smooth and earnest as his daughter Paige takes her time to rebuild trust in her dad. 
The actor is also familiar with rejection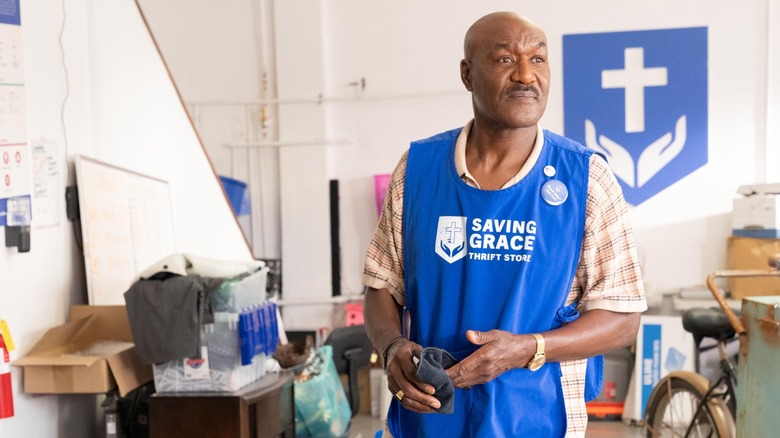 Kelsey McNeal/Hulu
In terms of Delroy Lindo's work on his "UnPrisoned" character, Edwin's status as a formerly incarcerated person played a major role in how the actor unearthed the core of their similarities. When asked whether he could connect to Edwin's obstacles in the job market, Lindo shared, "I don't have a criminal record, but I've certainly had my share of doors slammed in my face as an actor." He clarified, "One of the first things that one has to learn as an actor is to grapple with the amount of rejection that comes with the territory."
Lindo also sees greater potential influence for the story of "UnPrisoned" in terms of social norms around the formerly incarcerated. "So many people [in] situations are fundamentally unwilling to give formerly incarcerated folk an opportunity, a chance," he told Looper. "... One of my aspirations for this work is that it shifts that a little bit. I've never been incarcerated per se, but I certainly have quite a bit of experience with being enclosed either within myself or by others' perceptions of me." Hopefully, "UnPrisoned" is able to shift perceptions around what it means to reenter the workforce and resume a life once it's been interrupted by the carceral system. 
All eight episodes of "UnPrisoned" are available for streaming on Hulu.