Dwayne Johnson Chalks The Scrapped Superman-Black Adam Crossover Up To 'Business'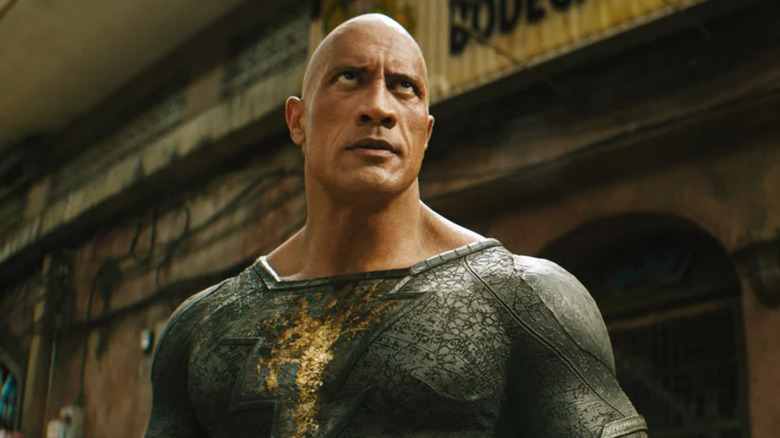 Warner Bros./DC Entertainment
It sounds like Dwayne Johnson is slowly leaving "Black Adam" behind. Though the star's passion project failed to turn a major profit at the international box office, Johnson appeared to reserve the slightest hope throughout fall 2022 that the superhero film would succeed in launching a series of movies that would ultimately incorporate Henry Cavill's Superman in a massive crossover event. Of course, those hopes were dashed when Johnson and DC Studios co-chairman James Gunn confirmed in December that "Black Adam" would remain sequel-less for the near future. 
Now, Johnson appears to have a new and thoughtful take on the difficult chapter of his career. In an interview with Variety on the Oscars red carpet, Johnson addressed the performance of "Black Adam" with 20/20 hindsight. "All that I can do, and all that we could do when we were making 'Black Adam,' was to put our best foot forward and surround ourselves with the best people and deliver the best movie we could," Johnson said. "Our audience score was in the 90s. Critics took a couple shots, but that's just the business of it." 
Johnson can't be blamed for making a case for his film's perceived strengths. After all, he spent 15 years of his life bringing "Black Adam" to the screen. However, he also linked the cancellation of his planned Superman-Black Adam crossover to the arrival of Peter Safran and Gunn, who took over DC Studios as co-CEOs in October 2022.
Johnson compared Gunn to the new owner of a football team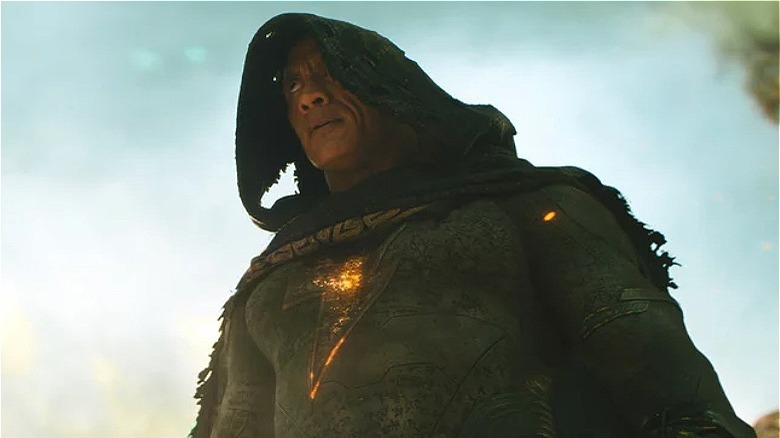 Warner Bros./DC Entertainment
Gunn was announced as co-CEO and co-chairman of DC Studios mere days after "Black Adam" arrived in theaters. Soon, he began to rearrange the DC Extended Universe — and that meant getting rid of Henry Cavill's take on Superman. Johnson addressed this shake-up in an interview with Variety, saying, "It's almost like when you have a pro football team and your quarterback wins championships and your head coach wins championships and then a new owner comes in and says, 'Not my coach, not my quarterback. I'm going to go with somebody new.'"
Johnson had directly pitched Warner Bros. Discovery CEO David Zaslav as far back as the spring of 2022 about a possible Black Adam-Superman crossover. He had also reportedly tried for several years to bring Cavill back into the DC fold, so he was understandably disappointed when Cavill's cameo at the end of "Black Adam" didn't amount to anything. Perhaps because of this, he continued to tout the film's box office numbers after the premiere of "Black Adam," appearing to make a case for a sequel.
"Waited to confirm with financiers before I shared this excellent #BlackAdam news," Johnson tweeted on December 7. "Our film will PROFIT between $52M-$72M. Fact." He then went on to compare "Black Adam" to "Captain America: The First Avenger," which made roughly $371 million worldwide after it premiered in 2011. However, "Black Adam" also failed to land with critics.
Critics took more than a couple shots at Black Adam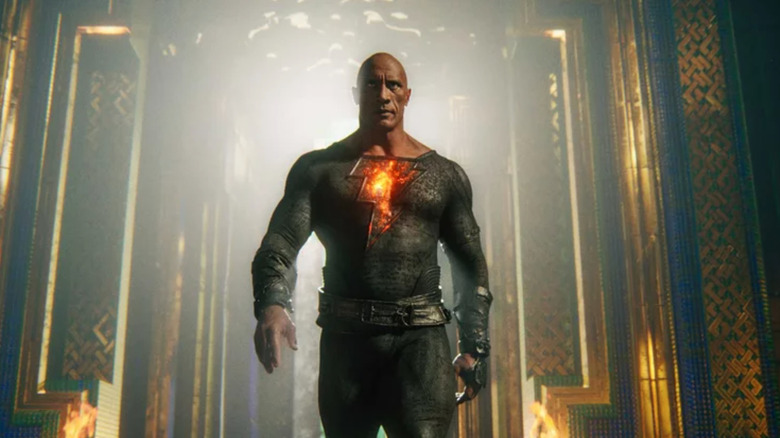 Warner Bros./DC Entertainment
Johnson's comments to Variety about the critics taking a few jabs at "Black Adam" were a slight understatement, as the movie currently has a 39% critics' rating on Rotten Tomatoes. But it was ultimately the film's box office performance and Johnson's behind-the-scenes maneuvering that sounded the death knell for the film. In addition to lobbying for an eventual Black Adam-Superman crossover, Johnson nettled DC suits before the movie's opening by promoting his tequila brand Teremana at a premiere in New York City. On top of that, the film only garnered $391 million worldwide over a $195 million budget and $40 million worth of reshoots.
Still, Johnson has plenty to look forward to, even as he appears to give his last words on the future of "Black Adam." Now that he's free from franchise duties at DC, fans are even wondering if he'll rejoin the "Fast and Furious" franchise, which will soon culminate with "Fast & Furious 11." Johnson left the franchise after engaging in a public feud with co-star Vin Diesel, but now that time has passed, Johnson could revisit his role as Luke Hobbs. 
Additionally, there is a chance Johnson could return to the DC universe in some capacity. He's practically drowning in projects at the moment, though, including "Jungle Cruise 2" with Emily Blunt, so an imminent return seems unlikely. In any case, when all is said and done, Johnson appears to be doing fine and is finally beginning to redirect his star power beyond "Black Adam."