Lethal Weapon: Damon Wayans Shares Graphic Video, Details Clayne Crawford Feud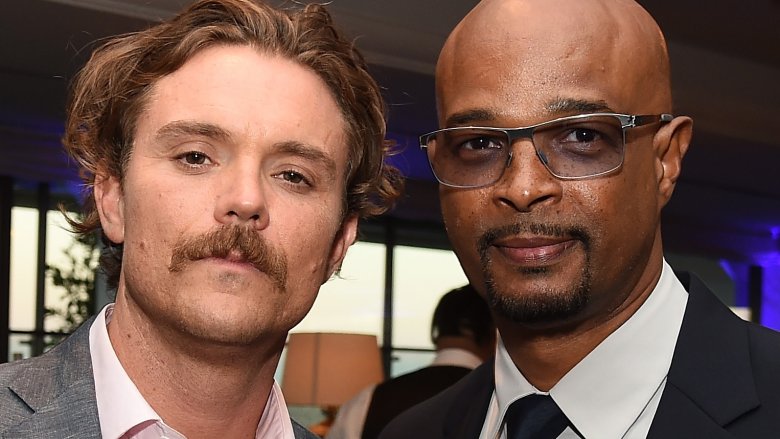 Getty Images
Lethal Weapon actor Damon Wayans and his since-fired co-star Clayne Crawford have had issues for weeks now, with the feud reaching a breaking point earlier this month when Fox fired Crawford from the series. Wayans is now speaking out about just how intense their interactions were on set, sharing a graphic video showing the actor being struck in the back of the head with a piece of shrapnel as well as several tweets detailing Crawford's erratic, dangerous behavior. 
Wayans, who portrays Roger Murtaugh on the procedural series, took to Twitter on Monday night to share the video of the special-effects explosion scene Crawford directed that resulted in Wayans being injured. He accompanied the post with a message to the outspoken Lethal Weapon fans who have found fault with Crawford's firing from the show, which was recently picked up for a third season. 
"Now that the fate of the show is solidified... I'd like to address the Twitter outrage with this video and photo to follow. #directedby @claynecrawford," Wayans wrote. The actor turned his Twitter account private following the outcry but then made it public again; since then, he has deleted his account entirely. Screenshots of his posts, seen at the bottom of this article and courtesy of Deadline, were captured by several fans and media outlets. 
Wayans shared a subsequent tweet showing a bloody scrape on the back of his head. In the caption, he asked, "How does the shrapnel from this hit me on the opposite side of the head?" A third tweet Wayans posted suggests a potential explanation for how the actor sustained multiple injuries — "it turns out there was a second shooter" –  though he stilled tagged Crawford and used the hashtag #NoApology, confirming that his earned outrage over Crawford's actions hasn't subsided. 
The actor continued to detail Crawford's alleged misbehavior on set, sharing a snap of a sticker with an illustration of Crawford pasted to a post. Allegedly, people were slapping the stickers, which read "Clayne Crawford is an emotional terrorist," around the Warner Bros. lot. Wayans' caption of the photo claims that the producers at Warner Bros. TV haven't supported him in the slightest, and alleges that his ousted Lethal Weapon co-star "became uninsurable ... relished in making female[s] cry ... and struck fear in [the] cast and crew."
Wayans then claimed that Crawford smacked a fellow actor in the mouth with a bottle of green tea, resulting in the other person sustaining a noticeable injury. He added that he "put up with" his co-star's behavior for two full seasons, during which Crawford amassed a "file of infractions."
These reveals come just days after Crawford was let go from the series and American Pie star Sean William Scott was tapped to fill the gap Crawford left behind. Sources note that Scott may play the brother of Crawford's Martin Riggs.
Crawford issued an apology addressing two incidents that eventually led to his official firing. The first instance, according to Crawford, happened after he became angry with what he believed were unsafe working conditions on the Lethal Weapon set — which apparently involved Wayans. Crawford subsequently met with human resources, apologized for his actions, completed the appropriate therapy sessions required of him, then shared a "sizable portion" of his earnings with a party involved in the incident. The second outburst reportedly took place while Crawford was directing an episode of Lethal Weapon; an actor (presumably Wayans with this new development) felt unsafe after a piece of shrapnel hit him. 
"I absolutely love, respect, and care for my crew and cast, and would never intentionally jeopardize so many jobs," Crawford wrote in part in his apology. "I am incredibly sorry if my passion for doing good work has ever made anyone feel less than comfortable on our set, or feel less than celebrated for their efforts. Furthermore, I apologize to all the crew and cast for any negative attention Lethal Weapon is receiving because of these incidents. I take great pride in treating everyone with dignity and kindness. I am very grateful for my job, and I work extremely hard at it. I feel a responsibility to do good work for my co-workers, for my family, for my home state, and most especially, for the fans. I hope they will stick with me, and stick with the show."
After Warner Bros. confirmed Crawford wouldn't be returning to Lethal Weapon, the actor headed to social media to address his departure: "To my cast and crew — CONGRATULATIONS on season 3! To the fans — Thank you for the overwhelming support and love. Riggs was a dream role and the experience will live with me forever. My heart is full. Good luck next season!"