A Little White Lie's Michael Shannon Explains Why He Hasn't Done Many Comedies - Exclusive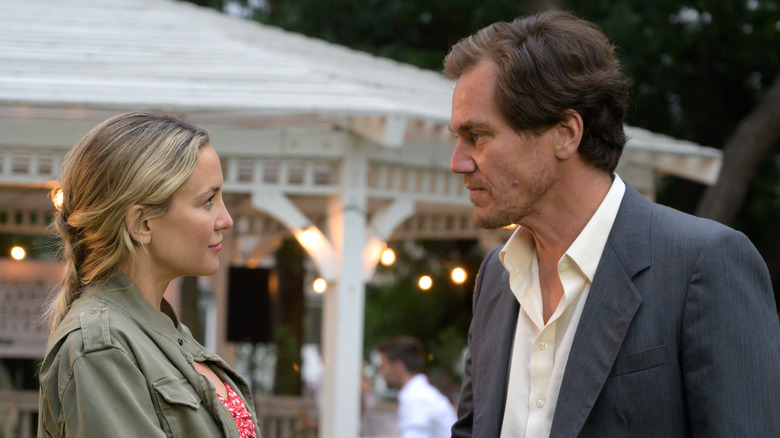 Saban Films
Since 1992, Michael Shannon has played key roles in a bevy of dramas, including the films "Revolutionary Road" and "Nocturnal Animals," each of which earned him best supporting actor Oscar nominations. Yet for all of the other genres Shannon has explored, the prolific actor has appeared in comedies very few times.
Perhaps the most notable comedy the actor has found himself a part of came in Seth Rogen's 2015 holiday romp "The Night Before" — where Shannon hilariously played a low-level drug dealer appropriately named Mr. Green. Apart from that, he has been in films laced with humor, including writer-director Rian Johnson's Oscar-nominated 2019 murder mystery "Knives Out."
Now, Shannon — who also starred in the 2017 best picture Oscar winner "The Shape of Water," the 2013 DC superhero blockbuster "Man of Steel," and the upcoming "The Flash" — is back in the comedy space with his new film "A Little White Lie." Shannon plays Shriver, a struggling New York City handyman who accepts an offer from a professor, Simone (Kate Hudson), to participate in a college literary festival after he is mistaken for a famously reclusive author with the same name. In an exclusive interview with Looper, Shannon explained why he's appeared in so few comedies throughout his career.
Shannon will do comedies as long as he finds the scripts actually funny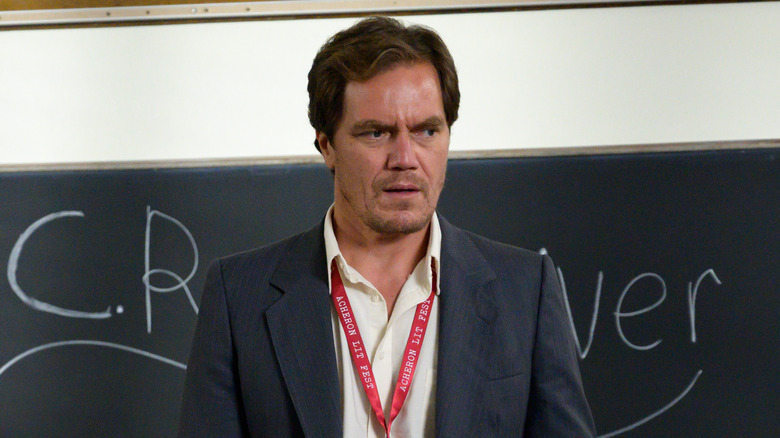 Saban Films
Michael Shannon has done his best to avoid being typecast throughout his career, despite attempts to pigeonhole the actor, like on his IMDb bio — which says Shannon "often plays crazed characters" and "his characters tend to have very bad tempers."
Naturally, none of those traits apply to the mild-mannered Shriver in "A Little White Lie," which contained things the performer wanted in a comedy project. In fact, Shannon has always been willing to do comedies, so long as there are actual laughs in the script.
"There was a lot to explore in the character. I thought it was a very complex character, and I do love to be funny, or I like to laugh as much as anybody," Shannon revealed. "Frankly, a lot of the scripts I've read over the years that were presented to me as comedies, I simply didn't find very funny. But this movie has my sense of humor sprinkled throughout it. I guess I have a strange sense of humor; I don't know."
In good company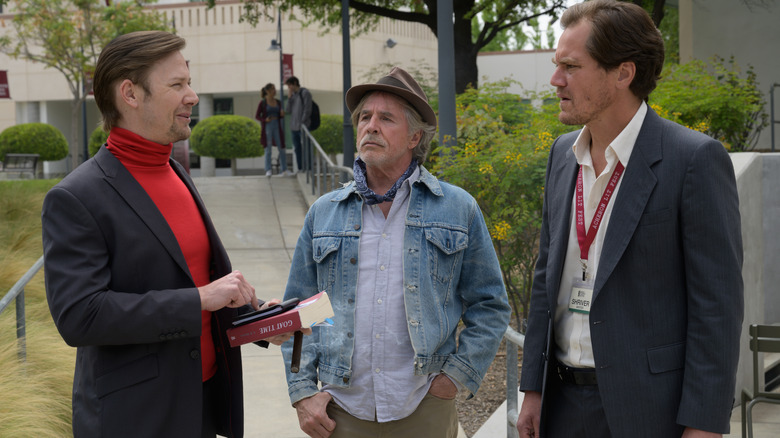 Saban Films
Explaining more of why he wanted to join "A Little White Lie" — which also has some dramatic elements and broaches philosophical approaches to life — Shannon said he was thrilled by the opportunity to work with the film's large ensemble, which includes Don Johnson, Da'Vine Joy Randolph, Jimmi Simpson, and Zach Braff. "I found [the script] delightfully unpredictable, and also the amount of detail in it ... It felt like each of the characters were very fleshed out, interesting people, and it was such a great combination of characters," Shannon told Looper. "To get to play with that group of actors was a lot of fun."
On top of that, Shannon got a chance to explore a story about a reclusive, legendary author akin to "The Catcher in the Rye" novelist J.D. Salinger, which he said ultimately gave "A Little White Lie" more depth.
"I'm insanely a huge fan of Salinger and always have been ... I don't know if it was an inspiration or not, because I don't think Shriver takes as good care of himself as Salinger did. But I love that it's like [him]," Shannon said. "I feel like more than anything, it's a movie about waking up out of the morass of your life and realizing that no matter how low you sink or how dire your circumstances are, inside, there's a person that's worthwhile. That's a very important, meaningful message."
Written and directed by Michael Maren, "A Little White Lie" is new in select theaters and available on digital video and video on demand.