The Shape Of Water's Michael Shannon On Why Guillermo Del Toro Is Among His Favorite People He's Worked With - Exclusive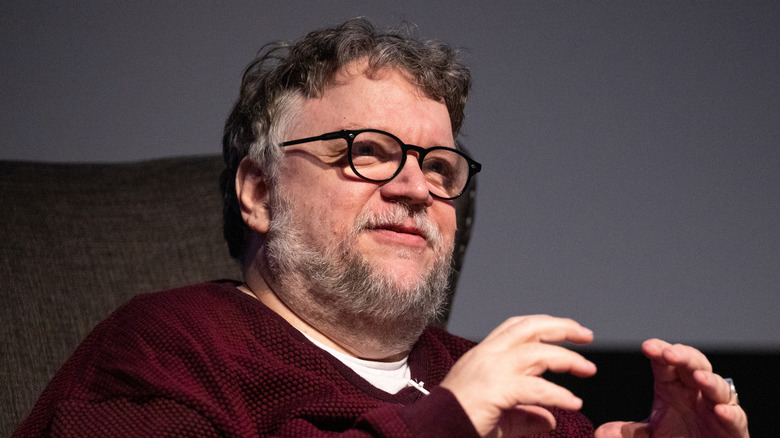 Amanda Edwards/Getty Images
Michael Shannon has been blessed to work with several accomplished directors over his 30-plus-year career, from Sam Mendes on "Revolutionary Road" and frequent collaborator Jeff Nichols on "Take Shelter," "Loving," and "Mud," to Tom Ford on "Nocturnal Animals" and Rian Johnson on "Knives Out." Always willing to explore different genres, Shannon has done his fair share of sci-fi movies as well, having appeared in Nichols' "Midnight Special" and director Zack Snyder's "Man of Steel," and he's set to return as DC supervillain General Zod in Andy Muschietti's upcoming DC multiverse feature "The Flash."
Not surprisingly, being in the company of such amazing talent has made it difficult for Shannon to name a singular project as his magnum opus. "I hesitate to say any particular project because I don't want to ... they're all my children, as the saying goes," Michael Shannon told Looper in an exclusive interview touting his new film, "A Little White Lie." "I've been blessed to work with so many beautiful filmmakers and beautiful actors. I've had a blessed career. But I love this movie I made called 'Take Shelter.' That's probably the movie that's closest to my heart."
But there's another film that Shannon worked on — the inventive sci-fi-fantasy "The Shape of Water" — that was so beloved by the industry that it earned the best picture statuette at the 2018 Oscars.
Shannon calls del Toro 'a beautiful person'
Michael Shannon is one of the key members of the "Shape of Water" cast — along with Sally Hawkins, Octavia Spencer, Michael Stuhlbarg, and Richard Jenkins — as he stars in the pivotal role of Colonel Richard Strickland. As the sadistic head of the secret Occam Aerospace Research Facility in 1960s Baltimore, Strickland tries to bring harm to a lab captive, the mysterious humanoid creature with gills dubbed "Amphibian Man."
The film marked the first time Shannon worked with Guillermo del Toro, and the actor was glowing in his praise of the Oscar-winning filmmaker. "Guillermo was one of my absolute favorite people I've ever worked with, and I had the opportunity recently ... They honored him at MoMA [the Museum of Modern Art] in New York City, and they have a wonderful exhibit on his film 'Pinocchio' that I highly recommend — I think it's still up," Shannon told Looper. "I got to sit across from him at his table, and he makes me so happy, even being around him and talking to him. He's got so much joy and creativity, and he's so damn smart. He's a beautiful person."
As for "The Shape of Water" overall, Shannon said he is "very, very proud" of the film. "That's what I meant earlier. It's really hard to single out one film," Shannon noted. "I've been fortunate enough to be in a lot of films that are pretty distinctive, but that one's definitely at the top of the list."
Shannon is blown away by Doug Jones' work as Amphibian Man
At the center of "The Shape of Water," of course, is Amphibian Man, played by Guillermo del Toro's longtime collaborator Doug Jones. The film didn't mark the first time Jones performed in heavy prosthetics for the director, having previously appeared as another gilled creature, Abe Sapien, in del Toro's "Hellboy" superhero movies, as well as the otherworldly creatures the Faun and the Pale Man in the filmmaker's Oscar-nominated fantasy hit "Pan's Labyrinth."
Michael Shannon, who shares some intense scenes with Jones' Amphibian Man in "The Shape of Water," couldn't express enough how impressed he was with Jones' performance. "That guy is a saint," Shannon said in praise of his co-star. "I don't know how he does it, what he has to put up with physically. That guy's one of the toughest guys I've ever met. He's a great artist, too."
Shannon's latest film, "A Little White Lie," is in select theaters and available on digital video and video on demand.