Michael Shannon Teases The Return Of General Zod In The Flash - Exclusive
Actor Michael Shannon has become a force to be reckoned with in Hollywood over the past three decades, especially in roles like the menacing General Zod in director Zack Snyder's 2013 blockbuster "Man of Steel." Now, 10 years later, Zod is making a comeback in director Andy Muschietti's DC multiverse tale "The Flash," completing a turn of events the actor admitted he didn't see coming.
Zod, of course, is the chief antagonist in "Man of Steel," who is sent to the Phantom Zone with his crew after he murdered Kal-El's father, Jor-El (Russell Crowe), and committed high treason against Krypton. After escaping imprisonment, Zod and his crew seek to destroy Kal-El — who is living on Earth under the guise of Clark Kent-Superman (Henry Cavill) — and turn the planet into the new Krypton.
The supervillain's fate appeared to be sealed by Superman in a controversial scene in "Man of Steel," but 10 years later, miraculously, Zod is back in "The Flash." It's all been made possible by the wonders of DC Universe in Muschietti's upcoming superhero opus starring Ezra Miller in the title role. Shannon gave a peek into his return as Zod in an exclusive interview with Looper for his new film, "A Little White Lie."
Shannon says he was a 'little confused' about Zod's return
Recalling when he was first contacted to reprise General Zod for "The Flash," Michael Shannon admitted he was initially perplexed by the idea. "I was a little confused. I said, 'As memory serves me, I think I died in "Man of Steel." Are they sure they got the right guy?'" Shannon told Looper. "But then they explained to me the whole multiverse phenomenon, which ... I was a little behind the times on that. I can't say that I'm a huge consumer of this genre of films — not that I have anything against them. If I'm going to watch a movie, the odds are it's not going to be one of those, but I sure love making them."
As such, Shannon said he embraced working with Andy Muschietti on "The Flash" with the same enthusiasm he had collaborating with Zack Snyder on "Man of Steel."
"I loved making 'Man of Steel,' and I love working with Zack, and I felt like it was actually, in a way, a fairly important film," Shannon said. "It was nice to revisit the character [for 'The Flash']. I wasn't there for a terribly long time. I was in and out in a couple of weeks, so it was a nice way to spend a bit of my summer in England. Andy's a lovely guy and a great artist, visually, and I had a blast."
Shannon says General Zod is 'a little different' in The Flash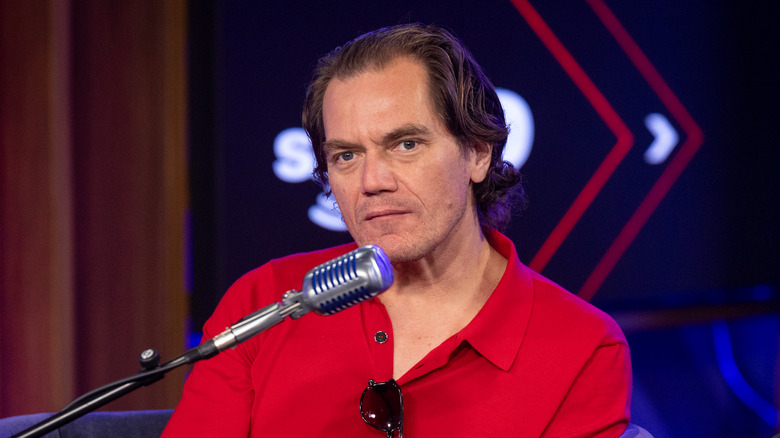 Emma Mcintyre/Getty Images
Since "The Flash" won't debut in theaters until June 16, Michael Shannon couldn't give too many details about the return of General Zod in the film, but he noted that some slight tweaks were made in his second portrayal of the classic DC supervillain.
"I tried to get back into his skin. He's a little different in this film," Shannon revealed to Looper. "He's a little more ... I don't know how to put it. You don't spend as much time with him, so you don't really get to know as much about what he's thinking. It's not necessarily his movie. That's the thing with these multiverse movies — you get a little bit of this and a little bit of that. But it's really Ezra [Miller's] movie."
Meanwhile, in his new comedy-drama "A Little White Lie," Shannon stars as Shriver, a struggling New York City handyman who is mistaken for a reclusive author invited to come out of hiding 20 years after the publication of his classic novel to participate in a college literary festival.
"A Little White Lie" is new in select theaters and on digital video and video on demand.