Why Adam Driver Is Drawn To Sci-Fi Roles Like 65 And Star Wars - Exclusive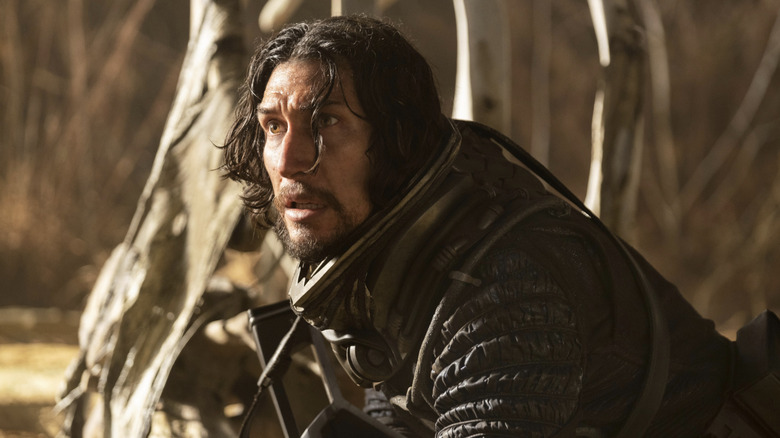 Sony Pictures
Adam Driver hasn't met a sci-fi movie he couldn't slay. Not everyone can say that they played Han Solo and Princess Leia's son, but Driver got that honor in 2015 when he won the role of Kylo Ren in "Star Wars: The Force Awakens." The actor got to dance on the Dark Side when he took on this angry Sith role. Yet Driver has long since proven that his range would make even Hollywood royalty jealous. Though Driver has proven himself in just about every genre there is, there's something about sci-fi that keeps calling his name. 
And fans certainly aren't complaining. We love to see Driver start up the ol' spaceship every now and then and bring fans along for the ride in different universes. This time, the actor is taking fans back to the Mesozoic Era — with a twist. Driver's new movie "65" proposes the concept of a vastly developed universe existing alongside an undeveloped Earth 65 million years ago. Sure, there are dinosaurs, but there are no humans beyond Driver's Mills, Ariana Greenblatt's Koa, and a bundle of dead passengers flung out of their damaged ship. All that Koa and Mills have to navigate this new world is a slew of tech, the inability to communicate in the same language, and a flower for Mills' hair. 
So, what exactly draws Driver to these sci-fi epics? Looper spoke to Adam Driver during an exclusive interview, where he discussed why he's drawn to sci-fi projects like "65" and "Star Wars."
Adam Driver: A sci-fi pro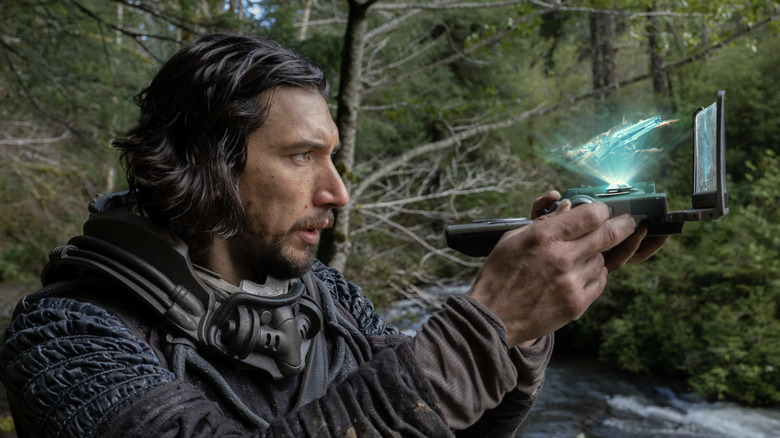 Sony Pictures
On what he loves about sci-fi movies and what was it like transitioning from Kylo Ren to a more adult character who would risk anything for a girl he doesn't know, Adam Driver said, "I like the world-building that's involved in them. It's really escapist and entertaining and imaginative. That, to me at the time, was exciting when I was asked to do it."
The movie fell at the perfect time, given its small cast and intimate filming experience, with just two characters making up most of the film. "It was the height of the first wave of COVID, and no one knew how movies were going to be made and what they would be," Driver explained. "To get a script that was dinosaurs and laser guns and prehistoric Earth, but [it] was a family movie that anybody could watch — so you could go watch with your kids — [it] was trying to be a strict hour and a half, but had this big, obvious theme of what was going on at the time."
In a way, the storyline was cathartic for the real-world experiences we were dealing with at the time and still face today. Driver added, "You have these two people who were facing something that they'd never faced before, that were processing grief and couldn't communicate with each other about it and have lost their own family but again found family by the end."
The film ups the ante for stressful endings and not quite knowing whether the characters will make it out okay. Driver was particularly pumped for that aspect of the movie. "To not let that story relax until the very last moments was really ambitious and exciting and a rare opportunity," he noted.

"65" is now playing exclusively in theaters.