Kerry Washington Details Her 'Crazy Embarrassing' First Meeting With Anthony Hopkins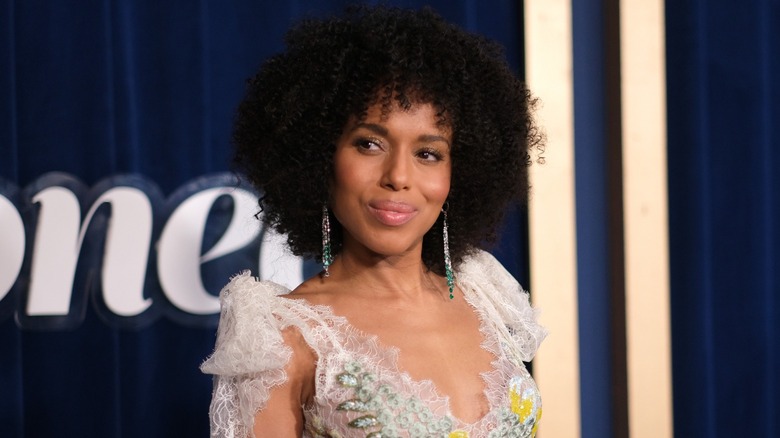 Alberto E. Rodriguez/Getty Images
Long before she entertained audiences in her role as Olivia Pope in the ABC political thriller "Scandal" and co-starred with Reese Witherspoon in "Little Fires Everywhere," Kerry Washington started her career with supporting roles in both film and television. Her wide range of featured performances in "She Hate Me," "The Dead Girl," "The Last King of Scotland," "Django Unchained," and others established her chameleonic acting prowess in the 2000s and the 2010s.
Like many actors in the early stages of their profession, Washington's earliest movie roles were small. But this did not stop the performer from appearing opposite some big stars in her first projects. This included Jamie Foxx in "Ray," as well as both Brad Pitt and Angelina Jolie in 2005's "Mr. & Mrs. Smith." 
But her roles in 2002's "Bad Company" and the following year's "The Human Stain" would see her share a set with none other than Sir Anthony Hopkins. The actor shared some surprising details about her first meeting with the venerable British actor, which she has described as being awkward on her part.
Washington was starstruck meeting Hopkins on the set of Bad Company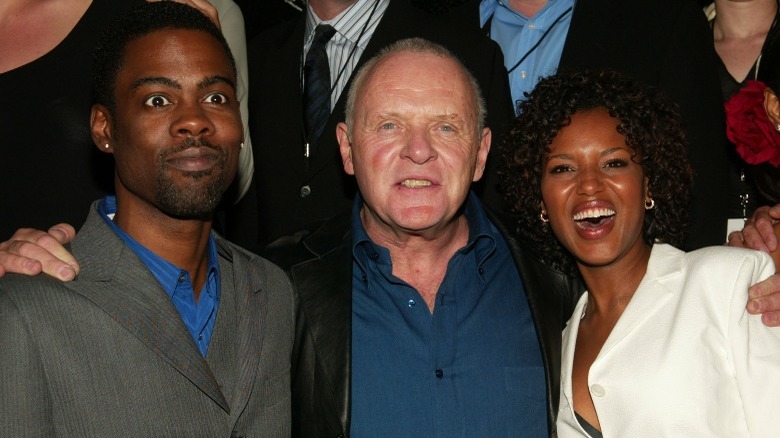 Evan Agostini/Getty Images
In an interview for Marie Claire's Pop Quiz series, one of the questions asked Kerry Washington to describe her most starstruck moment. The actor replied, "I've done two movies with Sir Anthony Hopkins, and the first time I worked with him, I was super nervous about meeting him because he is one of my favorite actors of all time." She continued by explaining how she ran into "The Silence of the Lambs" star at a craft service table.
Washington humorously recounted how Hopkins was very calm and collected while she was shaking with nervousness and had no idea what to say to the actor. She continued by adding that he was nice and tranquil during their meeting and that she was grateful for his kindness during a big moment for her that she described as both insane and awkward. Although she was overwhelmed at the moment and put at ease by his pleasant demeanor, the "Confirmation" star concluded by highlighting that she does not get struck by other famous actors very often, but meeting Hopkins was an exception.
Although neither of the two actors' characters crosses paths with one another in either "Bad Company" or "The Human Stain," Hopkins' commitment to elevating the art of acting in each of his roles when combined with this calm, enthusiastic, and charming real-life demeanor is contagious.