Angela Bassett Looked Majorly Disappointed Over Her Best Supporting Actress Loss At The Oscars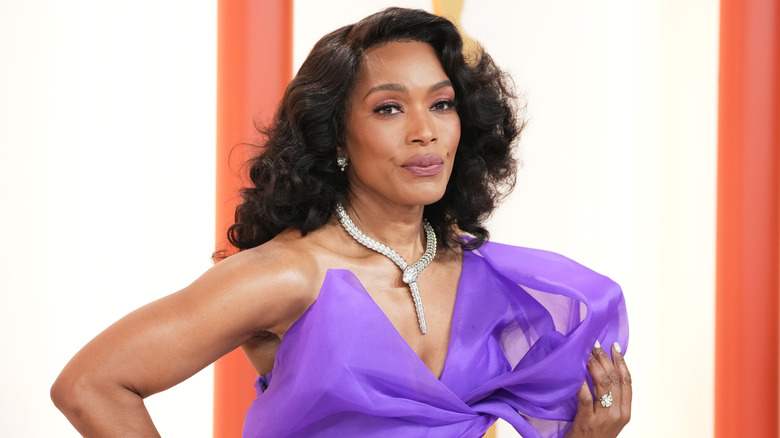 Kevin Mazur/Getty Images
Angela Bassett's extraordinary performance in "Black Panther: Wakanda Forever" just wasn't enough to win the performer the best actress in a supporting role Oscar at the 95th Academy Awards. It was the second time in Bassett's storied career that she has been nominated for an Oscar, with the first coming thanks to her portrayal of Tina Turner, but she is now 0-for-2 on the big night. Even without the golden statue, Bassett's riveting portrayal of Queen Ramonda remains a high point in the thespian's career, but the night ultimately went to Jamie Lee Curtis for her performance in "Everything Everywhere All at Once." 
As last year's winner of the same award for Steven Spielberg's "West Side Story," Ariana DeBose, shouted out Curtis' name, the camera focused on a visual graphic of all the nominees and their responses. Bassett's heartbreaking, stoic expression seemed on the verge of tears from the disappointment she must have felt in the moment.
And Bassett was visibly shaken when the camera focused on the reactions of all the actresses up for the supporting role honor. "I thought Angela was gonna win so I was watching her face as they read the winner," Redditor u/kamandamd128 posted. "She seemed so disappointed." The reality of the moment may have weighed heavily on Bassett, but she handled the defeat with grace.
Bassett seemed on the verge of tears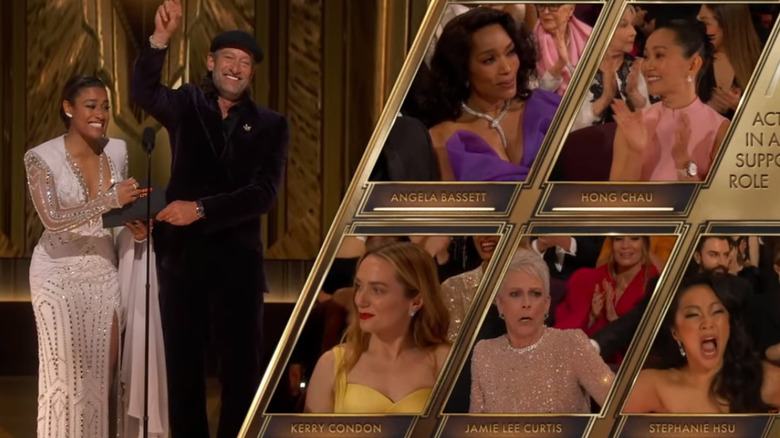 ABC/YouTube
The 95th Oscars didn't end the way Angela Bassett might have wanted. For the superhero community that must have been crushed to hear Jamie Lee Curtis' name announced rather than Bassett's, there won't be any "Wakanda Forever" chants. And Bassett must have been crushed during the announcement of the best actress in a supporting role award.
Bassett's expression wasn't the best of poker faces either, but to the thespian's credit, she kept her cool and merely tilted her head to the right with the slightest of motions. Meanwhile, fellow nominee Hong Chau ("The Whale") showed what a good sport she was by smiling and applauding for Curtis' first Academy Award win. Kerry Condon ("The Banshees of Inisherin") seemed less enthused, but she still offered a smile, but the best reaction went to Curtis' co-star, and fellow nominee, Stephanie Hsu.
As Curtis appeared to be saying "Oh, shut up" to hearing her name from presenter Ariana DeBose's mouth, Hsu exploded with genuine delight, screaming at her castmate's victory. While Bassett's loss was devastating, Curtis' victory was well-deserved. The actor had never been nominated for an Oscar before, and she started her film career as a teenager running from Michael Myers in John Carpenter's "Halloween." Because of that role, she's a legendary "scream queen," a two-time recipient of Fangoria's Chainsaw Awards, and now, an Oscar-winning performer, thanks to her role in "Everything Everywhere All at Once."
Some social media users believe that Angela Bassett was robbed at this year's Oscars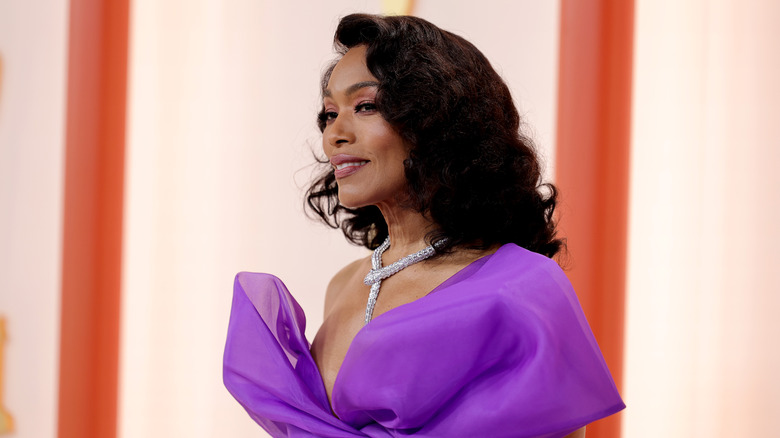 Mike Coppola/Getty Images
While many film fans were delighted to see Jamie Lee Curtis finally win an Oscar, a large contingent of viewers believe Angela Bassett was robbed. Twitter user @Phil_Lewis claimed that her reaction to losing actually "hurt" to watch, and this view summed up the feelings of many other social media users who tuned in to watch the event.
Elsewhere, @SpencerAlthouse suggested that the "Black Panther: Wakanda Forever" star really wanted to win the prize, and her visible disappointment can be chalked up as a natural reaction to missing out. "Angela Bassett's reaction to Jamie Lee Curtis' name being called...you can tell how much that Oscar would have meant to her. she is, was, and always will be incredible."
Some viewers also criticized the Oscars for slighting another "Black Panther" star, especially after Chadwick Boseman missed out on the best actor prize for "Ma Rainey's Black Bottom" in 2021. "The Academy is SO nasty like first y'all ROBBED Chadwick Boseman after his death and then you rob Angela Bassett of her Oscar that she was nominated for in a movie that honors Chadwick?? Every member of The Academy got a permanent spot in hell," @WandasAttorney wrote.