Jamie Lee Curtis' First Oscar Win Should Have Been For This Iconic Role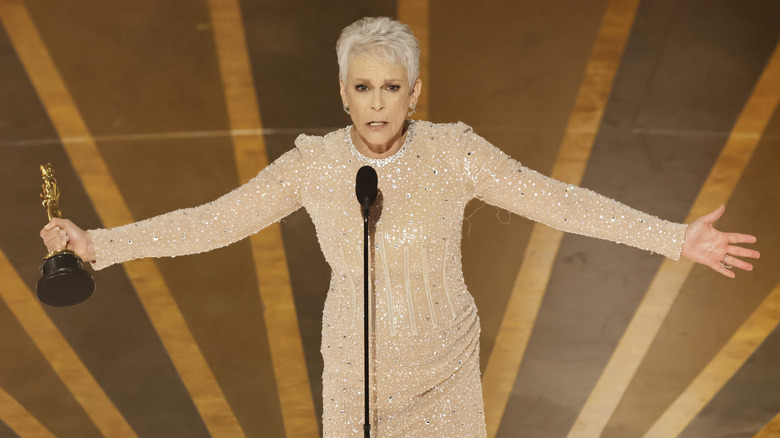 Kevin Winter/Getty Images
At the 2023 Academy Awards, Hollywood legend and infamous scream queen Jamie Lee Curtis won her first Oscar for her very first nomination thanks to her supporting role in "Everything Everywhere All at Once." As IRS agent Deirdre, the antagonist opposite Michelle Yeoh's Evelyn Wang before becoming her "hot dog lover" in a different multiverse, Curtis transformed herself into a dowdy, frumpy taskmaster, and ended up taking home Hollywood's biggest prize on the night in question.
This is, by all accounts, an incredible triumph; Curtis has been working for decades and is one of the industry's most beloved performers, and this is only her first nomination, let alone first win. With that said, she should have had an Oscar for one of her most iconic roles — for a performance that transcended the art of acting itself, a turn that thrilled the entire world, a role where she had to pretend that she was a rebellious Lindsay Lohan trapped inside of an adult's body and absolutely shred a guitar to boot. Let's stop kidding ourselves. Jamie Lee Curtis should have an Oscar for "Freaky Friday." 
Jamie Lee Curtis should already have an Academy Award for Freaky Friday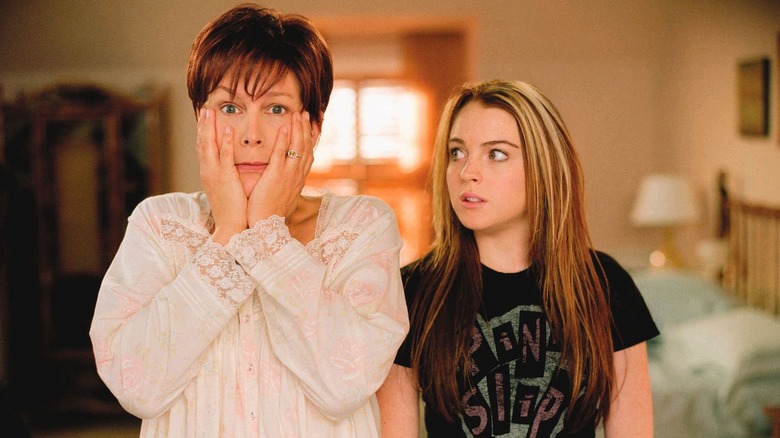 Disney
In 2003, Jamie Lee Curtis blew the world away with her singular, iconic performance as Tess Coleman in "Freaky Friday," a remake of the 1976 film and 1996 Disney television movie of the same name. Switching places with her unruly daughter Anna (Lohan) after the two find it impossible to se eye to eye, Curtis is tasked with playing a teenage girl trapped in her mom's body, who immediately gets a cool haircut, goes on a shopping spree, charms Chad Michael Murray, and shreds at the House of Blues.
Between Lohan and Curtis, the latter undoubtedly has the fun role, and she runs away with it. Propping her feet up on every seat and scoffing at her teenage daughter who is, in fact, her actual mom, Curtis is the funniest and best part of this already delightful movie, and she crushes every single scene and every interaction with Lohan (who, it has to be said, is also excellent). Comedies never got enough play at the Oscars, and Curtis not already having one on her shelf for "Freaky Friday" is proof.