Ted Lasso Fans Are Hoping For More From The Richmond Fans In Season 3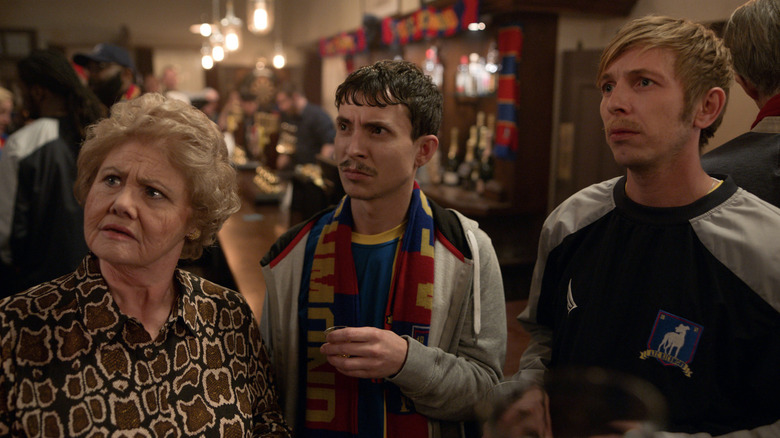 Apple TV+
The long wait for "Ted Lasso" Season 3 is almost over and viewers can't wait to see what's in store for these characters. The Season 2 finale left a lot up in the air and the story could go in any number of directions. As the titular character, Ted (Jason Sudeikis) is arguably the focal point of the narrative, though his storyline is just one of many. It's interesting to watch all of the different dynamics on the show, whether it's a connection between individual characters or the bond between the AFC Richmond team as a unit. The team would be nothing without its fans and it's evident from the beginning that Richmond fans are as dedicated as they come.
Baz (Adam Colborne), Jeremy (Bronson Webb), and Paul (Kevin Garry) are hardcore Richmond fans. Although they don't always agree with Ted's coaching methods, they watch every game at the Crown & Anchor without fail. They're regulars at the pub even when they're not cheering for Richmond or mourning the team's losses, giving the audience an occasional glimpse into their friendship. It's clear that this trio has plenty of storytelling potential, and fans want to see more of them in Season 3.
Ted Lasso fans want to see more of Baz, Jeremy, and Paul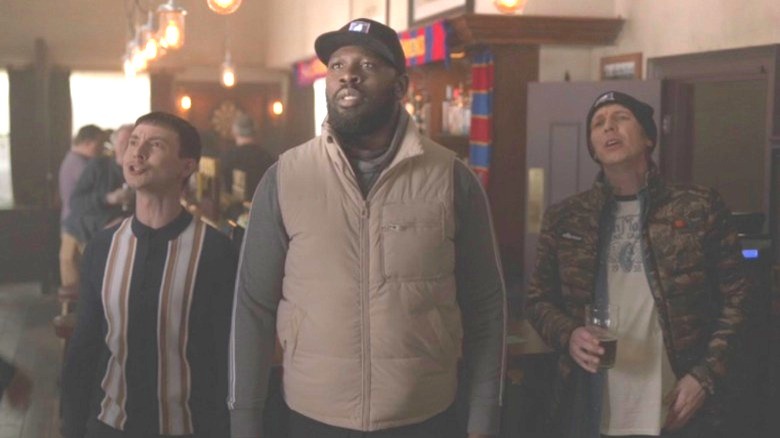 Apple TV+
Whether they're watching "The Great British Bake Off" or hanging out with Mae (Annette Badland) the bartender, Baz, Jeremy, and Paul are always good for a laugh. We got to see more of them in "Beard After Hours," which saw the trio tag along with the Richmond coach for a night of good-natured debauchery. However, "Ted Lasso" viewers wouldn't mind seeing even more of Baz, Jeremy, and Paul in Season 3.
"I just want to know what these three do all day when they're not at Mae's," said Reddit user u/AbeVigoda76. Other fans hope that they get the chance to watch a game in person. "I'm hoping we see an episode where Mae and these three go to a big game. That would be so fun," said Reddit user u/Which-Consideration8. Some ideas about potential storylines were oddly specific. "I could see them going on [a] road trip for some important road match. Driving behind the team bus in the smallest, s*******t car ever, constantly arguing over the music until they all discover they're all strangely in agreement about Celine Dion," wrote Reddit user u/Graphitetshirt.
With the new season fast approaching, fans can only hope that the trio gets a decent amount of screen time before the show ends. However, there's still a chance we'll get a closer look at these characters. Even though "Ted Lasso" Season 3 will be its last, spinoffs are still on the table.