Where You've Seen The Cast Of Dungeons And Dragons: Honor Among Thieves Before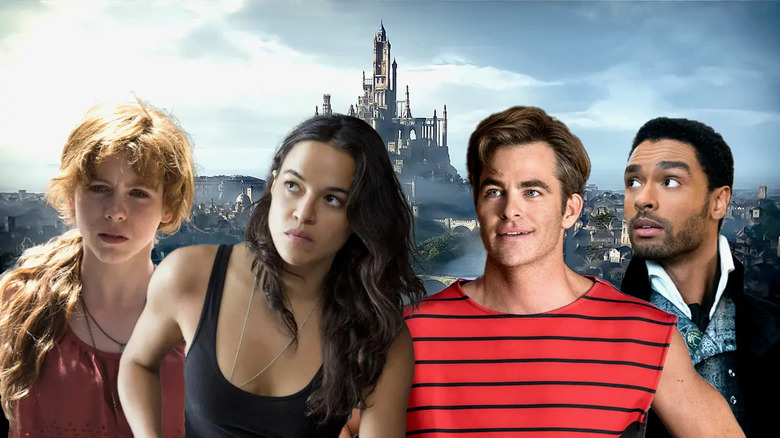 Static Media
"Dungeons and Dragons: Honor Among Thieves" isn't the first live-action version of the famous tabletop role-playing game. It was first adapted for the big screen in 2000 and turned into a trilogy with subsequent films in 2005 and 2012. However, those films received poor critical reviews and didn't live up to audience expectations. "Honor Among Thieves" isn't connected to that trilogy, however, so it officially wipes the slate clean and gives filmmaking duo Jonathan Goldstein and John Francis Daley license to take the story in a completely new direction.
The official synopsis for the film reads: "A charming thief and a band of unlikely adventurers undertake an epic heist to retrieve a lost relic, but things go dangerously awry when they run afoul of the wrong people." Chris Pine, who plays the aforementioned thief, teased a bit more about what viewers can expect, telling Collider, "It's like 'Game of Thrones' mixed with a little 'Princess Bride,' just a smidge of '[Monty Python and the] Holy Grail' ... it's somewhere in that ballpark. It's a lot of fun. It's got a lot of thrills. It's poppy, it's '80s heartfelt, [and] there's a bit of 'Goonies' in there."
Pine is joined in the film by several other famous faces, including Hugh Grant and Regé-Jean Page, as well as some actors who might not be household names, but have almost certainly been in something you've seen. From fan-favorite fantasies like "Harry Potter" to comedy-dramas like "The Great," this is where you've seen the cast of "Dungeons and Dragons: Honor Among Thieves" before.
Chris Pine as Edgin the Bard
Chris Pine's character, Edgin the Bard, is the architect of the group's campaign in the movie. Allowing something he stole to fall into the wrong hands, thus unleashing an unimaginable evil, it's up to Edgin to assemble a team to right that wrong. "My character, he's the ultimate party planner," the actor confirmed to Collider. As one of the most famous stars in "Dungeons and Dragons: Honor Among Thieves," viewers will know Pine from his other high-profile roles, which include Steve Trevor in "Wonder Woman" and its sequel, Captain Kirk in the "Star Trek" reboot film franchise, and Frank in "Don't Worry Darling."
Taking a role in that Olivia Wilde-directed thriller was a deliberate career sidestep for Pine, who wants to move away from the type of roles he's been playing for years. "The material that interests me is not always the kind of material that's offered to me," Pine explained to Esquire. The "Jack Ryan: Shadow Recruit" star is continuing to take his career in a different direction with "Dungeons and Dragons" because, although it's an action movie, his character is more interested in playing the lute than getting his hands dirty. Directors Jonathan Goldstein and John Francis Daley confirmed to Variety that they play on this angle throughout the movie, often having the female leads take point in action sequences.
Michelle Rodriguez as Holga the Barbarian
First up to join Edgin's rogue band of thieves is Holga the Barbarian, played by Michelle Rodriguez. According to her co-star Hugh Grant, the members of their company are misfits, and he even revealed to Collider that Holga has been booted out by the other barbarians. Nevertheless, the "Dungeons and Dragons" trailer shows that Holga is a force to be reckoned with, and the character aligns perfectly with the kind of career Rodriguez has spent the better part of two-and-a-half decades carving out for herself.
Known for playing strong, rough-and-ready women in action movies, playing Holga is a deliberate choice for the Texas-born actor. Some may call her typecast, but it was all of Rodriguez's own making. "I'm here to entertain people and make a statement about female empowerment and strength and that's what I've done ... I pigeonholed myself and I put myself in that box for saying no to everything else that came on my plate," she explained to The Playlist.
She credits "Girlfight" for kicking off her career in this direction, after which she scored a role in "Battle of Seattle" alongside Martin Henderson, Charlize Theron and Woody Harrelson. Between playing Letty Ortiz in five of the "Fast and Furious" movies, she's starred in fast-paced features like "Machete Kills," "Alita: Battle Angel," and "Crisis." Rodriguez has also mixed plenty of TV roles into her career, notably playing Ana in the long-running sci-fi drama "Lost."
Hugh Grant as Forge Fletcher
According to the "Dungeons and Dragons" prequel novel, "The Road to Neverwinter" by Jaleigh Johnson, Hugh Grant's character was once part of Edgin's team of thieves. However, he broke ranks, stealing an incredibly powerful object in the process. It's unclear if directors Jonathan Goldstein and John Francis Daley are using this backstory in the film, but Forge Fletcher is certainly set to be the movie's main villain. And despite his confirmed Christian Bale-esque tantrum on set, Grant is passionate about the film. However, it's not his character that drew him to the movie. "I think maybe what I responded to most in [the] script was that it's about losers," he told Collider.
Although Hugh Grant is largely considered a rom-com star with a repertoire of films like "Four Weddings and a Funeral," "Notting Hill," and "Bridget Jones' Diary," he's actually played plenty of villains too. Viewers may have seen him play Phoenix Buchanan in "Paddington 2" and Dr. Jonathan Fraser in HBO's miniseries "The Undoing."
His most famous role is probably the UK's prime minister, David, in the British ensemble romantic comedy "Love Actually." However, you may not know that Grant begged to get out of doing his now-iconic dance scene. He only did it because it was part of his contract, and after 20 years, he still doesn't see its appeal. "To this day ... there's many people and I agree with them, who think it's the most excruciating scene ever committed to celluloid," he told ABC News.
Regé-Jean Page as Xenk the Paladin
Edgin and Holga need all the help they can get to defeat Forge Fletcher, so they form a team. They hope to find people with attributes like courage, which is where Regé-Jean Page's Xenk the Paladin comes in.
Any period drama fans will know Page, who enjoyed a meteoric rise to fame as Simon Basset, the Duke of Hastings, in Netflix's hit regency romp "Bridgerton." Page controversially left the show at the end of Season 1, which saw his character embarking on a new life of marriage and parenthood with Phoebe Dynevor's Daphne Bridgerton. The British-Zimbabwean actor cleared up the controversy surrounding his departure in a 2022 interview with The Independent, explaining that it all came down to contracts: "I signed up to do a job and I did the job and then I did some other jobs. That's it. I wish it was more glamorous than that."
Those other jobs included starring opposite Ryan Gosling, Chris Evans, and Ana de Armas in "The Gray Man." He loved the transition from love interest to villain that he made with that film. "The joy of villains if you get them right is audiences get to enjoy escaping their own niceness through you," he said on Good Morning America. He also previously worked alongside "The Umbrella Academy" star Robert Sheehan in the 2018 steampunk film "Mortal Engines" and logged two seasons on the 2018-2019 ABC legal drama "For the People."
Justice Smith as Simon the Sorcerer
Justice Smith's career has been on an upward trajectory ever since he portrayed Franklin Webb in the "Jurassic World" sequel "Fallen Kingdom" in 2018. In addition to returning for the third film in the dinosaur-filled franchise, viewers may have seen Smith appear alongside Marvel stars Kathryn Newton and Ryan Reynolds in "Pokémon: Detective Pikachu."
Although he's starred in a ton of blockbusters, Smith is more passionate about storytelling than making money. He had a lot of fun working on the lesser-known dramedy "Generation," an HBO series that brought queer characters to the forefront of the small screen. Despite its cancellation after only one season, Smith is incredibly proud of it. "I think it'll become a cult classic down the line," he told High Snobiety.
Now he's diving back into the world of action as Simon the Sorcerer, an integral member of Edgin's company in "Dungeons and Dragons: Honor Among Thieves." Despite not knowing much about the world of the game before reading the script, Smith revealed to Collider that he's worked hard to make sure that his spell-casting and sorcery come across well. "I worked with this lovely choreographer to create unique gestures for each spell," he explained. "And I know a bit of sign language, so ... whatever the spell does, I try to incorporate the word in sign language into the gesture of this spell."
Sophia Lillis as Doric the Tiefling Druid
Rounding out Edgin's company is Sophia Lillis' character, Doric. During a press event at the 2022 San Diego Comic-Con, Lillis teased what viewers can expect to see from Doric. "Throughout the story, I turn into various creatures," she revealed to Collider. The movie's trailer shows one of these creatures, which Simon calls an Owlbear, a large half-bear, half-owl beast. This role is unlike anything Lillis has done previously, but her extremely varied filmography means you've probably seen her on the screen before.
Straight out of drama school, the Brooklyn-born actor scored her international breakout role in the 2017 horror film "It." Getting the role of Beverly Marsh completely turned her life around. "It made me realize I could act as a profession," she recalled to NME. "I knew people were actors, but it felt like some outlandish thing to me at the time — it didn't seem like I could actually be one of them. But after 'It' I realized, 'Oh, I can do this.'" Now actively pursuing a career as an actor, Lillis went on to secure a part in the film's sequel, along with the 2020 feature "Hansel and Gretel" and the TV series "Sharp Objects" and "I Am Not Okay With This."
Chloe Coleman in an undisclosed role
Chloe Coleman is one of the youngest members of the "Dungeons and Dragons: Honor Among Thieves" cast. Although details of her character haven't officially been announced, it's likely that if the story follows the prequel novel, Coleman is playing Edgin's daughter Kira — although her name might be changed like it was for Hugh Grant's character Forge Fletcher, who was formerly Forge Fitzwilliam. Coleman briefly shows up in the film's trailer, with Edgin appearing to tell her about his campaign. Given how significant a role she had in "The Road to Neverwinter," it's possible that she may assist Edgin's company in their campaign, but she's certainly not a fully-fledged member in their group of thieves.
Despite her age, Coleman has spent years on screen. She's been acting since she was five years old and got her start as a young dancer on "Glee" in 2013. Since then she's shared the screen with Dave Bautista in "My Spy," Jennifer Lopez in "Marry Me," and Sam Worthington and Zoe Saldana in "Avatar: The Way of Water." Coleman was particularly nervous to share the screen with Lopez. "I literally grew up on her music; she has some of the best dance songs I've ever heard ... and she welcomed me with such open arms and was really kind ... She's a total mama bear," she revealed to Elite Daily.
Daisy Head as the Red Wizard of Thay
Daisy Head is the daughter of prolific British actor Anthony Stewart Head and grew up running around the set of "Buffy the Vampire Slayer." Since acting runs in her blood, it's only natural that she's been appearing on screens from a young age. However, it wasn't until she starred in the 2016 mystery drama "Guilt" that people really started taking note of her acting chops. "I love being able to be a part of things that allow people to escape and to enjoy, so it's lovely when it's met with such enthusiasm by the viewing public," Head told Pop City Life, after the outlet noted she'd received significant online praise from Sarah Michelle Gellar, aka Buffy herself.
In "Dungeons and Dragons," Head plays the Red Wizard of Thay, another villain whose goal is to dispel darkness. Having previously appeared in "The Sandman" and "Shadow and Bone," the British actor is well suited to the role and genre. However, Head hasn't been pigeonholed into fantasy-adventure roles; viewers may also know her as Ruby from the comedy-drama "Girlfriends" and Kate Bottomley in the period drama "Harlots."
Dexter Fletcher as Malamun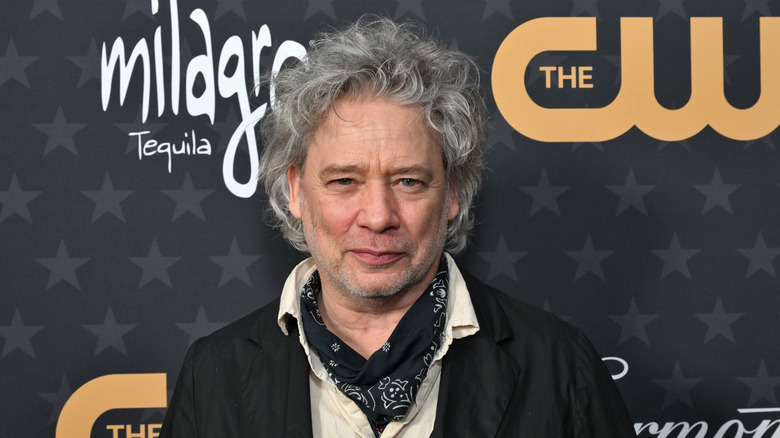 Michael Kovac/Getty Images
Dexter Fletcher plays Holga's ex-husband Malamun. Hugh Grant teased the dynamic between the two exes, explaining to Collider that Holga is still in love with Malamun, but he's moved on with someone else. It's not clear whose side Malamun is going to be on in "Dungeons and Dragons," but given Fletcher's previous experience in fantasy, action, and adventure films and TV series he's a perfect fit for the role. Viewers might recall the actor playing a pirate in the feature adaptation of Neil Gaiman's "Stardust," Count Friedrich in the BBC's "Robin Hood," and D'Artagnan's father in "The Three Musketeers."
Fletcher also has a long history of starring in war dramas, but most recently played Benjamin in the dark comedy-drama "I Hate Suzie." Whether he's got four lines or 40, this British character actor treats every project with equal importance. "No small parts, only small players. That's the thing to live by. I was in 'Bugsy Malone' for 45 seconds. That was a small part. It did me really f***ing well," he explained in an interview with Square Mile.
This is a mindset that's continued to serve him as he's moved his talents behind the camera, directing feature films like "Rocketman" and two episodes of Paramount's star-studded series "The Offer." Of course, he's continued to find time to act, too. Along with "Dungeons and Dragons," his 2023 movie slate includes the romantic drama "Love at First Sight," which is scheduled for release in September.
Jason Wong as Dralas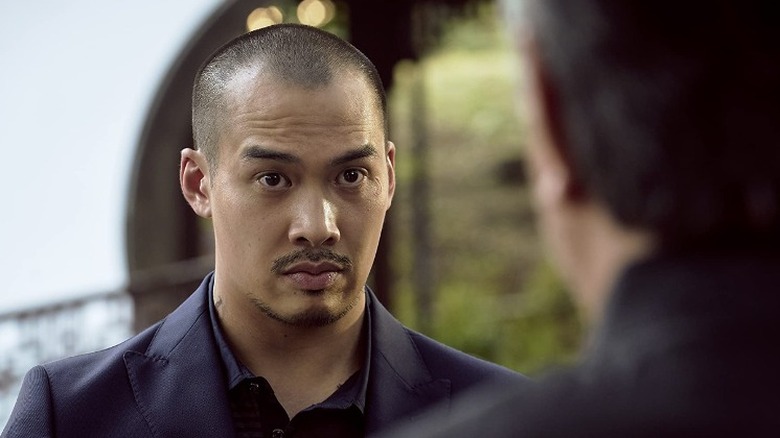 ITV
Jason Wong's character Dralas joins Forge Fletcher and the Red Wizard in the "Dungeons and Dragons" bad-guy lineup. He is an assassin out to get Regé-Jean Page's Xenk. However, this isn't the first time Wong has worked with Hugh Grant — or played a villain for that matter. One of his most notable roles to date came in "The Gentlemen," in which he played Dr. Eye's henchman Phuc. Alongside Grant, he shared the screen in the film with the likes of Matthew McConaughey, Michelle Dockery, and Colin Farrell.
Viewers who are yet to watch that 2019 action comedy may know Wong from his small screen roles. He's appeared in episodes of everything from Prime Video's "Alex Rider" to the British drama "Strangers," to Fox's "24: Live Another Day." One of his most notable TV roles came in 2021, when the British star nabbed a dramatic four-episode arc on the BBC's long-running crime drama "Silent Witness." That ended with his character, a new pathologist named Adam Yeun, being  tragically killed off.
Getting a part on "Silent Witness" might have been a sign from the universe for Wong, who admitted to Radio Times that he'd been binging the show during the UK's lockdown. "I know it sounds really cliche but I genuinely was rewatching it," he said. "Then I got a call saying you're up for 'Silent Witness' and I was like, 'That's crazy because I've just watched the last four seasons of it!'"
Bryan Larkin as Chancellor Norixius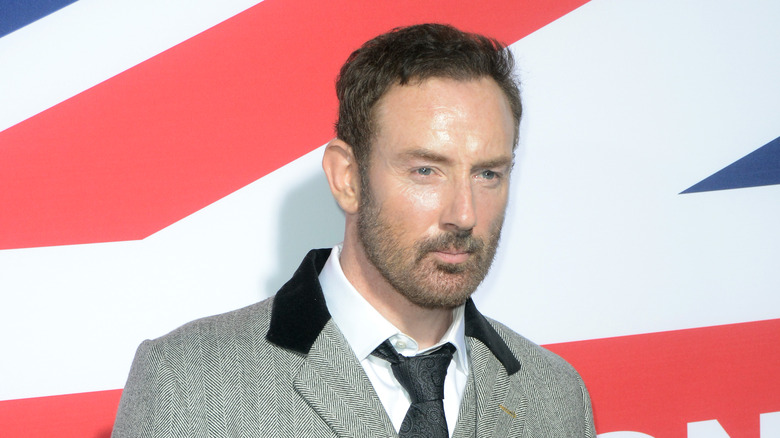 Albert L. Ortega/Getty Images
British actor Bryan Larkin is taking on the role of Chancellor Norixius in "Dungeons and Dragons: Honor Among Thieves." Over the past two decades, Larkin has enjoyed a busy career as a voice actor, portraying video game characters like Lirokkeh in "Horizon Forbidden West" and Ragnar in "Elix." He's also voiced a handful of animated characters in movies like Slomo in "Pets United," but also found time to bring his acting talents to live-action roles. Eagle-eyed viewers might have spotted him as the SAS Lieutenant in "London Has Fallen" and "Angel Has Fallen." You may also know him from Netflix's "Narco-Saints" and Prime Video's historical drama "Vikings."
Larkin also had a guest role on the internationally renowned Scottish romantic fantasy drama "Outlander," playing Geordie in the Season 1 episode "The Gathering." Despite only appearing on one episode of the show, almost a decade prior to "Dungeons and Dragons," it was a memorable experience for the actor. Years later, he recalled to Outlander Homepage, "'Outlander' had that feeling that just made you know you were going to be part of something really great. Everybody in the room was happy to be there, and grateful to be given the opportunity. It was special."
Nicholas Blane in an undisclosed role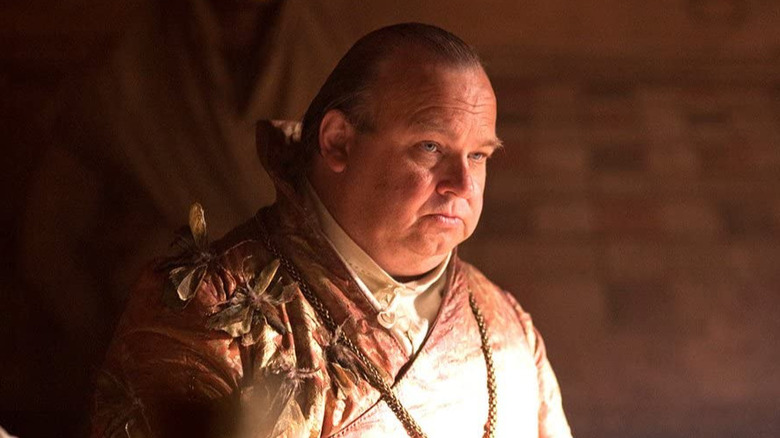 HBO
If you don't know Nicholas Blane's name immediately, just take a closer look at his filmography, as the British actor has definitely been in something you've seen before or even one of your favorite shows. Outside of theater roles in productions like "Year of the Rat," and "See How They Run," Blane has had a busy career guest starring on popular TV shows like "Dracula," "It's a Sin," and "Doctor Who."
He also appeared in three episodes of "Game of Thrones" during its second season. Blane is so revered for his role as the Spice King in the fantasy drama that his "It's a Sin" co-star Callum Scott Howells was totally in awe of him on set. While singing Blane's praises in an interview with Digital Spy, Howells felt the need to stress that the actor is nothing like the character he portrayed in their show. "Mr. Hart is such a bastard, but he's played by the loveliest of men," he gushed.
Blane's other big screen credits include portraying Winston Churchill in "The Good Traitor," but fantasy fans might know him best as the Ministry of Magic employee Bob, who stood next to Harry in the elevator in "Harry Potter and the Order of the Phoenix" when he attended his Ministry hearing. Blane's role in "Dungeons and Dragons: Honor Among Thieves" has yet to be announced.
Sophia Eleni as Valxina Tabaxi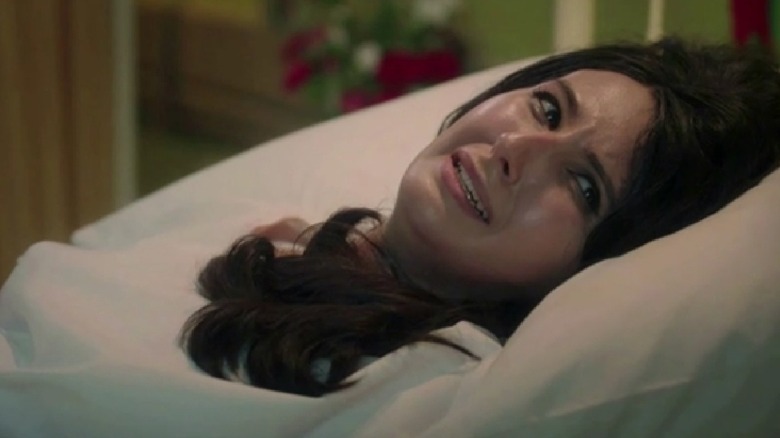 BBC
Sophia Eleni joins the "Dungeons and Dragons" cast as Valxina Tabaxi, a cat-like humanoid. While not much has been revealed about Eleni's role in the film, Tabaxi are known for their interest in artifacts, lost relics, and the world's wonders, so it's possible she has some information that Edgin's team needs and they come across her on their quest. Starring in "Honor Among Thieves" is undoubtedly the biggest role in Eleni's career to date. She will continue to take on bigger roles in 2023, voicing various characters, including Hadya, in the video game "Assassin's Creed Mirage."
The British actor spent most of her childhood taking drama classes before making her TV debut in 2013 in "Mayflower," starring alongside Aidan Gillen and Lesley Manville. Since then she's landed plenty of other TV roles, notably appearing in episodes of British dramas like "Call the Midwife," and "Casualty."
"Call the Midwife" — which has notable alumni like comedian Miranda Hart and "You" star Charlotte Richie — was a really exciting opportunity for Eleni. As a third-generation British-Greek Cypriot woman, Eleni told Cyprus Mail that she was thrilled to see her family's heritage reflected onscreen in a strong character like expectant mother Maria Kaufopolous, particularly during the show's 2021 Christmas Special.
Kenneth Collard as Din Caldwell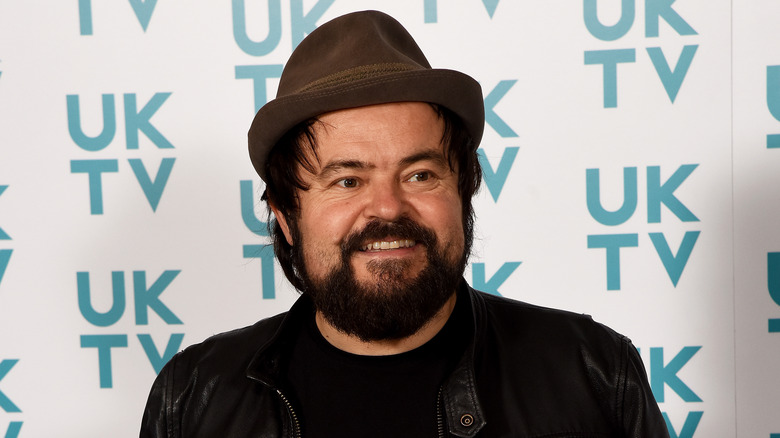 Dave J Hogan/Getty Images
Rounding out the main cast of "Dungeons and Dragons: Honor Among Thieves" cast is German-born actor Kenneth Collard, who will be playing an unknown character named Din Caldwell. While nothing has been teased about the character, it's likely that Collard will bring an added level of comedy to the film.
Fans of comedy TV will know Collard from a variety of roles, small and large. He notably played the landlord in Ricky Gervais' comedy series "After Life," Steg in the fantasy drama "Zapped" alongside Paul Kaye and James Buckley, and Nivitz in Elle Fanning and Nicholas Hoult's comedy-drama "The Great." From 2012 to 2019, Collard played Steve in the British sitcom "Cuckoo," which starred the likes of Taylor Lautner, Andy Samberg, and Andie MacDowell.
Collard has also appeared in movies before, playing Prince Tverskoy in "Anna Karenina" and Hector in "The Art of Love," but starring in "Honor Among Thieves" is still one of his biggest feature credits to date. Although he may not be as famous as some of the other names in the film, he's been working consistently as an actor for decades. During a podcast interview on Facebook, Collard explained that his success comes from his attitude, as he takes every new job as an opportunity to go deeper into the role than he ever has before and bring his best performance yet to the screen.