Hugh Grant Admits To Making A Christian Bale-Like Mistake On Dungeons & Dragons Set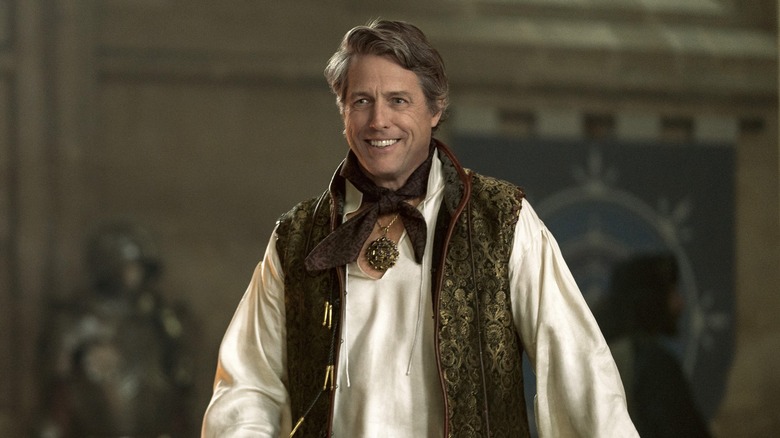 Paramount Pictures
We've read — or have seen audio or video of — showbiz people having on-set meltdowns in the past. Among them are Lily Tomlin's verbal sparring match with director David O. Russell on the set of "I (Heart) Huckabees," Christian Bale's epic tantrum on the set of "Terminator: Salvation," and most recently, Tom Cruise cussing out his crew on for breaking COVID-19 protocols filming "Mission: Impossible – Dead Reckoning — Part Two." Now, actor Hugh Grant can be added to the list following an incident on the set of "Dungeons & Dragons: Honor Among Thieves."
Kicking off his career in 1982, Grant starred in a string of productions in his native U.K. until another British production, the romantic comedy "Four Weddings and a Funeral," finally put the actor on Hollywood's radar in 1994. Grant has been a mainstay in Tinseltown ever since, starring in such romantic comedy hits as "Notting Hill," "Love, Actually," and "Bridget Jones's Diary." More recently, he had a brief but memorable turn as Phillip, the husband of Benoit Blanc (Daniel Craig) in "Glass Onion: A Knives Out Mystery."
Grant is next venturing into the fantasy adventure genre playing Forge Fitzwilliam, a rogue thief, in the big screen adaptation of the popular role-playing game "Dungeons & Dragons" titled "Dungeons & Dragons: Honor Among Thieves." For the most part, Grant's career has been free of controversy since he was arrested while in the company of a sex worker in 1995. But before the release of "Dungeons & Dragons," some bad behavior surfaced. This time, it mirrors the same sort of outburst that got Bale in trouble while filming 2009's "Terminator Salvation."
Hugh Grant says he lost his temper with someone he thought was a studio executive (but wasn't)
In an interview with Total Film magazine (via Yahoo! Entertainment), Hugh Grant owned up to making a "terrible" mistake during the filming of "Dungeons & Dragons: Honor Among Thieves," where he said he threw a fit directed at someone he thought had more authority in the business. "I lost my temper with a woman in my eyeline on day one. I assumed she was some executive from the studio who should have known better," Grant told Total Film. "Then it turns out that she's an extremely nice local woman who was the chaperone of the young girl. Terrible. A lot of groveling ... I did a Christian Bale."
While Grant didn't share specific details about the incident, his comparison to Bale's infamous rant likely means the actor was very loud and used lots of expletives during the flare-up. Of course, Bale's huge misgiving was made public because the tape was rolling during the "Terminator Salvation" outburst — which was aimed at a crew member who walked into the actor's line of sight — and was leaked to the public. Bale later regretted the incident.
Whether there's audio and-or video from the production of Grant's temper tantrum — or even more likely, somebody had a cell phone on set to record the incident — is yet to be seen. Meanwhile, Grant's "Dungeons & Dragons: Honor Among Thieves," which also stars Chris Pine, Michelle Rodriguez, and Regé-Jean Page, opens in theaters on March 31.