Super Mario Bros. Movie Trailer: Fans Are Losing It Over DK With A Fire Flower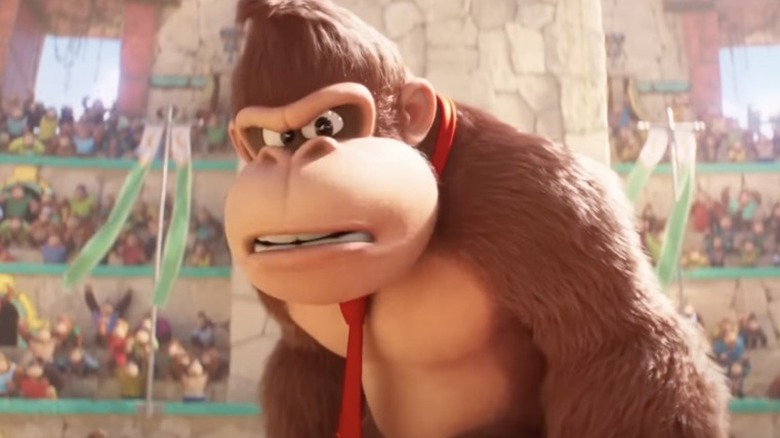 Illumination/Universal Pictures
Arguably one of the most talked-about animated releases of 2023 is "The Super Mario Bros. Movie" from directors Aaron Horvath and Michael Jelenic. Not only are folks excited to see a Mario and Luigi-centric movie that's actually faithful to the source material and curious to see how Chris Pratt does at voicing the iconic plumber, but they're eager to see the film's many nods to Nintendo history. While promotional material has teased iconic locations and objects, folks are most thrilled about the character roster.
"The Super Mario Bros. Movie" is absolutely loaded with Nintendo icons, ranging from Bowser (Jack Black) to Toad (Keegan Michael-Key). Although, one has managed to stand out from the pack recently: Donkey Kong, as played by none other than Seth Rogen. To the delight of fans, the tie-wearing gorilla has appeared in prior "Super Mario Bros. Movie" teasers and even scored his own character poster. However, his appearance in the most recent trailer has sent folks on the internet into a surprised frenzy.
"The Super Mario Bros. Movie" will feature Donkey Kong imbued with the power of a Fire Flower, and fans absolutely love it.
DK fans adore his powered-up look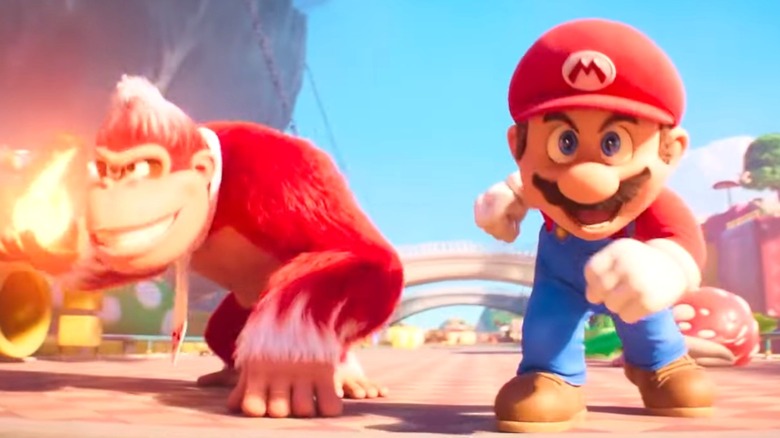 Illumination/Universal Pictures
In the comment section of the newest "Super Mario Bros. Movie" trailer, which hit YouTube on March 9, 2023, fans came out in droves to voice their love for the Fire Flower powered-up version of Donkey Kong.
"I never thought Fire flower Donkey Kong was something I would ever need in life," wrote Tonii Flores, with CaptainFyre adding, "Why is Donkey Kong with a fire flower genuinely the coolest thing I've ever seen." YouTube user MadMax loved the look of DK with his fiery power-up too, voicing their belief that each and every new trailer succeeds at building hype for the movie and then some — a sentiment that others couldn't help but echo in their respective comments. As for markdpane, they kept their thoughts on this new DK look succinct yet accurate: "Fire DK, pretty cool!"
All in all, it has been a big week for Seth Rogen on the animation front. In addition to making waves in the "Mario Bros." fandom as Fire Flower Donkey Kong, another animated feature he's involved heavily in also took the spotlight. On March 6, the inaugural trailer for "Teenage Mutant Ninja Turtles: Mutant Mayhem," arrived online to much fanfare. Rogen serves as a producer on the film while simultaneously voicing the hulking mutated warthog Bebop, who will surely give the TMNT a run for their money alongside his partner in crime, Rocksteady (John Cena).
"The Super Mario Bros. Movie" will jump onto the silver screen on April 5, 2023, so we have a bit of waiting to do before we can see how much screen time Donkey Kong gets in his Fire Flower form.