The Super Mario Bros. Movie Final Trailer Is An Easter Egg-Filled Spectacle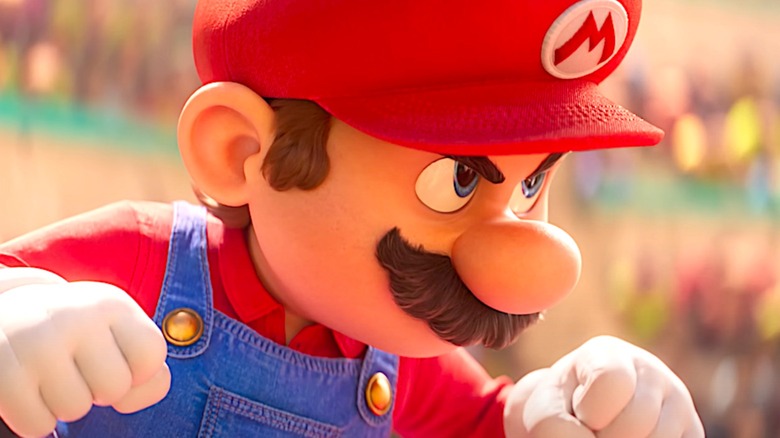 Universal Pictures/Illumination
Illumination has been on a roll the past few years with its movie offerings, and it hopes to keep the momentum going in a big way. Three decades after his last outing at the cinema, Nintendo icon Mario is on his way back to theaters everywhere for "The Super Mario Bros. Movie." This time around, he'll reach the silver screen in vibrant animation — divisively with the voice of Chris Pratt — with several of his fellow video game legends in tow, including Bowser (Jack Black), Luigi (Charlie Day), and Princess Peach (Anya Taylor-Joy), to name a few.
In addition to the dense character roster, it appears that "The Super Mario Bros. Movie" will go out of its way to pack in as many Easter eggs and references as possible to the source material. While the inaugural trailer didn't have much to offer in this regard, the small detail-filled second trailer certainly did. From objects to locations, the team behind the film displays a clear love for Mario's world in pretty much every facet imaginable. Unsurprisingly, that adoration is ever-present in the latest teaser, too.
On March 9, a third "Super Mario Bros." trailer debuted, and it's sure to have Mario fans jumping and pumping their fists in the air for joy.
The final Super Mario Bros. Movie trailer more than delivers
The final "Super Mario Bros. Movie" trailer does not disappoint and is full of Easter eggs for all the die-hard Nintendo fans out there. The brightly colored flick features stunning visuals, which are sure to look even better on the big screen.
In addition to giving us a better look at our heroes and villains, as well as those who simply get caught up in the conflict, the latest "Super Mario Bros. Movie" teaser sheds more light on the story. It seems that Bowser is on a rampage and decimating kingdom after kingdom for his own gain. Princess Peach, Toad (Keegan-Michael Key), and others are prepared to fight, but Mario doesn't seem like much of a warrior. Therefore, he has to find the strength to battle Bowser's forces alongside his allies to prevent any further destruction. And that's not even to mention the incredible "Mario Kart" sequences that capped off the whole thing.
"The Super Mario Bros. Movie" will premiere on April 5. Wahoo!