Ariana Greenblatt Says The Communication Aspect Of 65 Was Quite Challenging - Exclusive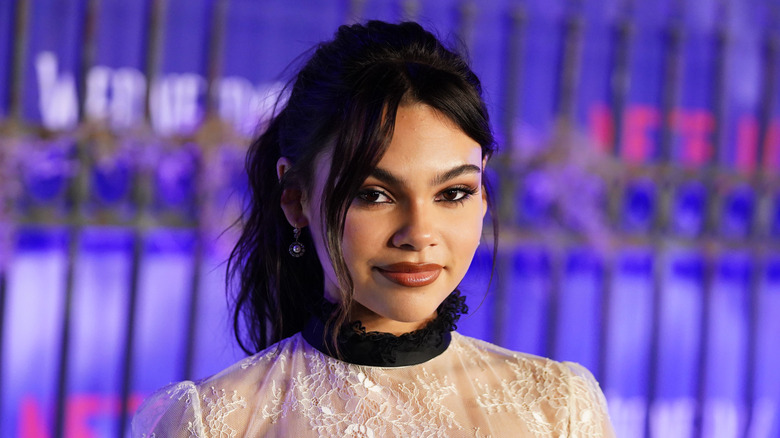 Presley Ann/Getty Images
What happens when you crash-land on Earth 65 million years ago to find a planet filled with dinosaurs and a young teenager who speaks a different language? Well, Adam Driver (Mills) and Ariana Greenblatt (Koa) explore that concept in their new sci-fi film "65."
Naturally, one of the most compelling components of the film stems from Mills and Koa's inability to communicate by speaking. Given that the two are the only characters in most of the movie, you might expect that to hinder storytelling — but it's quite the opposite. The pair's escape from Earth is heightened by their efforts to bond and understand each other through unique and often wholesome ways.
It's easy to center a sci-film on the heavy action and tech — which "65" has plenty of — but the focus on these two characters and their humanity allows viewers to deeply care about their survival in a more intimate way than most sci-fi films with dozens of characters to keep track of. Looper spoke with Greenblatt during an exclusive interview where she discussed how she and Driver honed their characters' communication and the challenges that came along with it.
Honing communication without language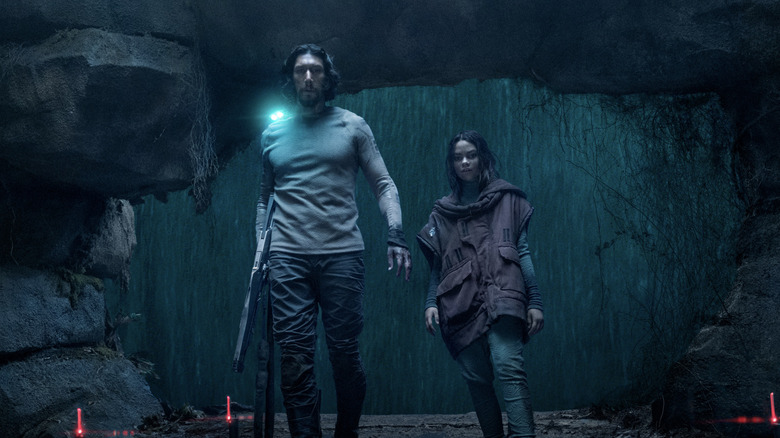 Sony Pictures
Ariana Greenblatt noted that the language component made the role challenging, but it's nothing she couldn't handle with grace. When we asked her whether she and Adam Driver discussed the different ways their characters could connect and communicate before filming, Greenblatt confirmed, "For sure. This was my first time doing a film where I couldn't fully communicate with the person I'm acting with."
While this aspect of "65" required some extra work, Greenblatt was up for the challenge. "It was definitely a challenge initially, but I ended up enjoying the process [of] creating the language but also finding ways to communicate with him just by looking at him or [using] body language or hand signals," Greenblatt added. "We found any way that we could communicate with each other, and we went with it." And as it turns out, the final product of the actors' work leads to scenes that work to get fans invested in the duo and their survival.
A wholesome dynamic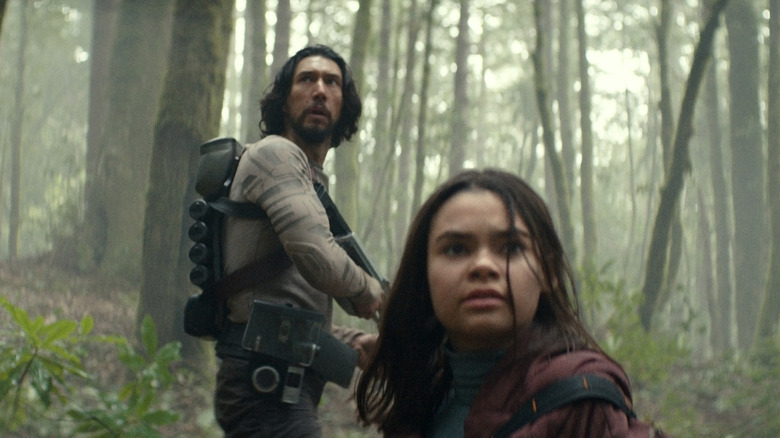 Sony Pictures
The communication mishaps between Mills and Koa often lead to some of Ariana Greenblatt and Adam Driver's most wholesome moments on screen. "There [are] really sweet moments where, because they can't fully have a conversation, whenever they'd get frustrated with each other, they would give each other these funny looks," Greenblatt explained. "One of the best parts of the film is the personality coming out when they annoy each other but they can't say it, so they show it in some weird way." For instance — nothing can top an often surly pseudo-father wearing a flower in his hair to please a young girl.
Plenty of other voices on set also helped form how Koa and Mills navigate their language barriers. Greenblatt continued, "I collaborated [on] the language aspect with the directors, and then Adam and I just went with the flow when it came to communicating with each other and trying to show what we're thinking just through our eyes. It was definitely interesting." Some of the best moments in film and TV come from in-the-moment interactions and their authenticity, and it appears this is the case for "65" as well — perhaps even because of those limitations surrounding language.
"65" is now playing exclusively in theaters.