Here's What Jenna Ortega Could Look Like As Teen Titans' Raven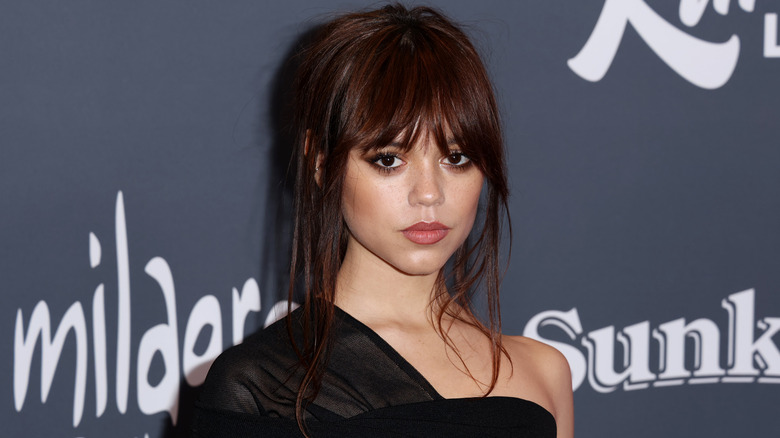 Phillip Faraone/Getty Images
Few actors are currently making as significant an impact in the industry as Jenna Ortega. While Ortega starred in several notable projects throughout the 2010s, from "Jane the Virgin" to "Elena of Avalor," her work in more recent years has helped the actress become a household name. She made a splash with her harrowing performance in the 2021 film "The Fallout," which received widespread acclaim.
Meanwhile, Ortega's work in horror with "X" and the recent "Scream" films have solidified her place as a new scream queen. And the actress would cap off 2022 with her lead role in Netflix's "Wednesday," where Ortega received a Golden Globe nomination for her fresh interpretation of the classic Addams Family character.
Part of what makes Ortega such a standout talent comes down to the oddball characters that the actress is willing to play. Her commitment to portraying these eccentric personalities in a genuine and fresh way will surely be a skill that Ortega will carry on over a prosperous career. And one Instagram artist has envisioned the perfect superheroine role that would suit an actress of Ortega's talent and capabilities.
Fans can totally see Ortega playing Raven
Amongst the most well-known and loved of the Teen Titans is none other than Raven. Introduced in the '80s in "DC Comics Presents #26," the character's stoic personality and an impressive array of magical powers have kept her an integral member of the Teen Titans. This would be the case for her non-comic appearances as well, including the Cartoon Network "Teen Titans" franchise, where Tara Strong voices her, and the live-action series "Titans," which sees Teagan Croft portray the character.
But perhaps the good people at DC should take a peak at this piece of fan art created by Instagram artist @mizuriau that sees Jenna Ortega as the Daughter of Darkness. Everything from Ortega's bobbed haircut to the lush purple and black coloring to the various lighting effects makes for a wickedly impressive piece. And equally as exciting, fans seeing the piece are appropriately thrilled by the casting, with @carlos22595 commenting, "Would be awesome to see her as Raven." Meanwhile, @masonkanemn sees nothing but potential in the idea, saying, "They could easily make her look like this in 'Titans.' Why hasn't this happened yet." Another user wrote, "Jenna would be DOPE AF in the movies!"
While the extent of Ortega's current comic book movie catalog was a small role in "Iron Man 3" as the Vice President's daughter — her first movie role, we hope she's willing to consider going goth again for this pitch-perfect part.