The Untold Truth Of Cartoon Network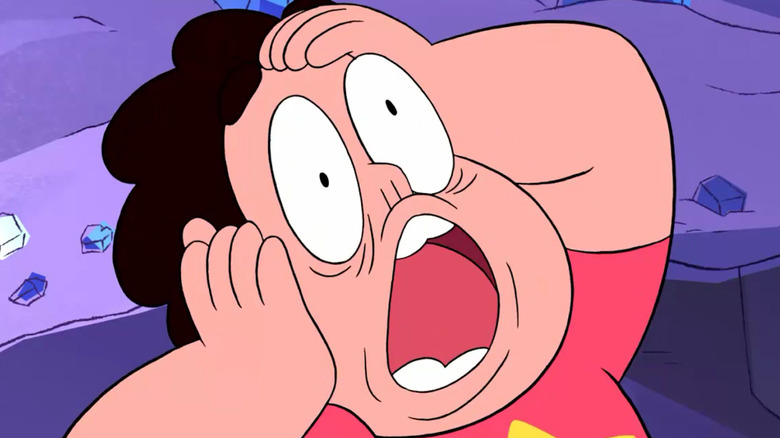 Cartoon Network
From its early days as a hub for classic cartoon reruns to the streaming era, Cartoon Network has always had something to offer animation lovers of all ages. People may debate which of its various eras was the best (it's usually the one they grew up watching), but over three decades and counting, fans remember Cartoon Network's shows, from "The Powerpuff Girls" and "Ed, Edd, 'n Eddy" to "Steven Universe" and "Teen Titans Go!" There is, however, a lot of trivia about the network that has been forgotten — if people even knew it in the first place.
Looper has already given you the untold truths of Adult Swim, the adult-oriented late-night block on Cartoon Network that now counts as its own separate network, and Toonami, the action and anime block that ran on Cartoon Network from 1997 to 2008 before being revived on Adult Swim in 2012. This article will cover the rest of the network's history and programming.
First broadcast: Droopy's Guide to the Cartoon Network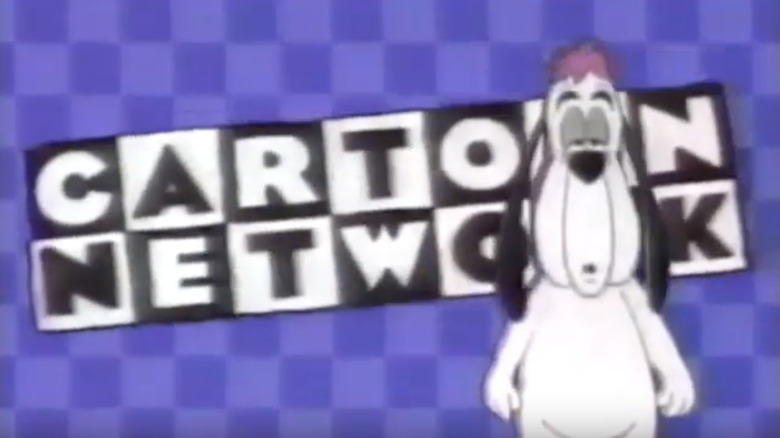 Cartoon Network
Cartoon Network launched on October 1, 1992 at noon, a little over a year after Turner bought the rights to the Hanna-Barbera library of cartoons. The original line-up consisted largely of shows from Hanna-Barbera, as well as the MGM cartoons (including "Tom and Jerry"), "Popeye," and a selection of "Looney Tunes"/"Merry Melodies" shorts to which Turner already had the broadcast rights. Introducing it all to viewers was the first special aired on the new station, titled "Droopy's Guide to the Cartoon Network."
All of the wrap-around segments of this special are available to watch on YouTube. In the special, Droopy, the slow-talking dog character created by Tex Avery for MGM, introduces the channel's star characters and offers an overview of the schedule. The full special included four complete cartoon shorts: "Rhapsody Rabbit" featuring Bugs Bunny, "The Great Piggy Bank Robbery" with Daffy Duck, the one-off Tex Avery MGM short "King-Size Canary," and the Droopy cartoon "Wild and Woolfy."
The lost live cartoons: The Moxy Show and JBVO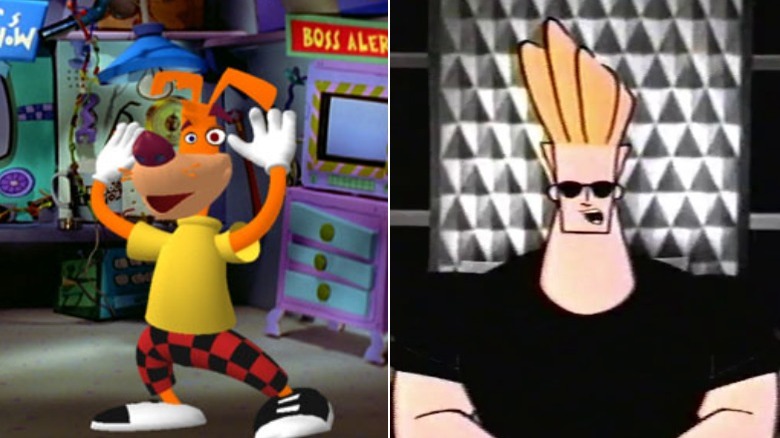 Cartoon Network
"Space Ghost: Coast 2 Coast" is widely remembered as Cartoon Network's first original animated series to consist entirely of new/remixed content, and "Dexter's Laboratory" as the first show to spin out of the "What a Cartoon!" pilot program, but Cartoon Network's first exclusive original show is one that's widely forgotten.
"The Moxy Show," which ran under a few different alternate titles from 1993-1995, was, like much of CN's early line-up, a block of various classic cartoons. What made this one unique was that it was hosted by two motion capture characters: the dog Moxy (voiced by Bobcat Goldthwait) and his sidekick flea (Penn Jillette in Season 1, Chris Rock in Season 2). This innovative use of real-time animation actually allowed for a live broadcast during the 1993 Great International Toon In.
While assorted clips have been preserved, "The Moxy Show" as a whole is generally considered to be lost media. The same is true of its successor in the real-time animation space, "JBVO." Running for one season from 2000-2001, "JBVO" was a call-in show hosted by Johnny Bravo where he would show various cartoons requested by reviews. Though it didn't last long, "JBVO" received two international versions: "Toon FM" and "Viva Las Bravo."
Viewership was one-third adults — pre-Adult Swim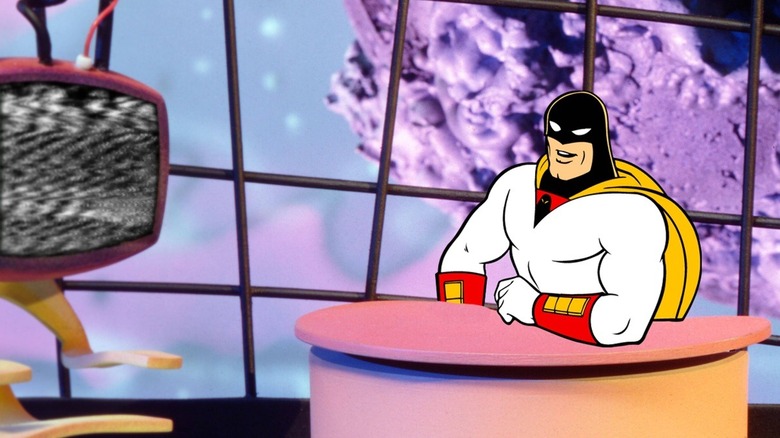 Cartoon Network
The original presentation pitch video for Cartoon Network in 1991 highlighted research showing that 44.6% of cartoon viewership on cable came from adult viewers. In 1997, five years into the channel's existence and four years before the launch of Adult Swim, executive Linda Simensky told The New York Times that its audience was one-third adults.
While Cartoon Network may have been marketed primarily to children, it makes sense that older viewers tuned in. Nostalgia was a serious boost to a channel that was initially all reruns of older shows, and classics like "Looney Tunes" and "The Flintstones" were meant to be enjoyed by all audiences in the first place. When Cartoon Network started producing original shows, they aimed to entertain the adult audience as well, at times pushing limits for what you get away with on ostensibly kid-friendly TV (how on Earth was "Johnny Bravo" ever pitched to children?).
Because Cartoon Network ran 24/7, the late-night hours naturally aimed more towards older viewers with various proto-Adult Swim experiments. The surrealist cartoon talk show "Space Ghost: Coast 2 Coast" served as the starting point for what Adult Swim would eventually become. Series like "Toonheads," "O Canada," and "Late Night Black and White" offered deeper dives into animation history. Cartoon Network experimented with adult-oriented anime movies as early as 1995, and Toonami's Midnight Run aired "Gundam Wing" uncensored in 2000.
Great music videos during commercial breaks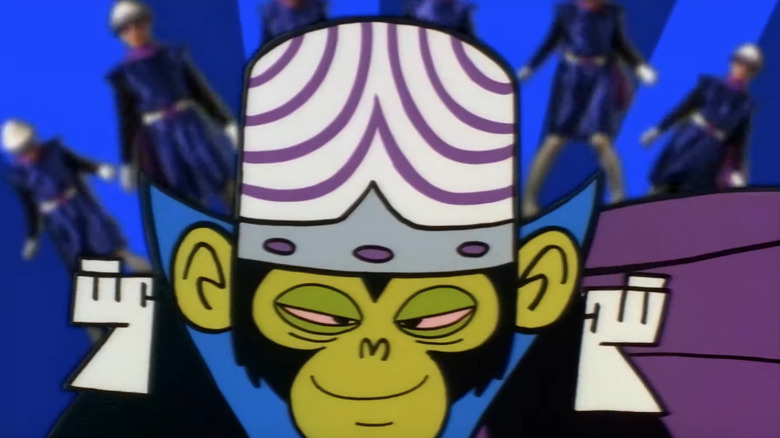 Cartoon Network
Cartoon Network's "Groovies" music videos came about as a result of ad sales being limited early in the channel's life. Steve Patrick, who worked at Cartoon Network from 1997 to 2010, told Insider, "We had so much commercial time available because we didn't have big advertisers at that point." How to fill that time? Air music videos themed around the network's shows, with some seriously impressive talent involved.
Watch Cartoon Network in the early 2000s and during the breaks you'd hear They Might Be Giants performing a tribute to "Courage the Cowardly Dog," will.i.am singing about Dexter's "Secret Formula," or Devo taking Mojo Jojo's perspective with "Go Monkey Go." Creative high-concept videos repurposed Soul Coughing's "Circles" as a joke about limited animation, made a James Taylor parody about Plank from "Ed, Edd, 'n Eddy," and remixed the "Josie and the Pussycats" theme through a half-dozen different musical styles.
Multiple attempts at a preschool block
Cartoon Network
Unlike its main competitors Nickelodeon and The Disney Channel, Cartoon Network failed to find much success with programming for preschoolers, though not for lack of trying. In the '90s, CN had two anthology programs for younger kids during the daytime hours: "Big Bag," which was co-produced by the Children's Television Workshop of "Sesame Street" fame, and "Small World," which featured various international cartoons.
The 2000s saw the runs of a few preschool shows like "Baby Looney Tunes" and the anime series "Hamtaro," as well as a decidedly unsuccessful attempt to create a full preschool programming block. Like "Small World" before it, Tickle U consisted entirely of imported shows. Unlike other preschool blocks that attempted to include some element of educational content, Tickle U sold itself on "developing a child's sense of humor" – claims which were controversial among childcare experts. The block lasted only one year, from 2005 to 2006, but one of its programs, "Peppa Pig," became a massive hit on Nick Jr.
In 2021, a new preschool block was established for Cartoon Network and HBO Max: Cartoonito. Unlike CN's previous attempts at preschool blocks, this one features more exclusive original programming and greater attempts to work in educational value. Several shows on the block, including "The Not-Too-Late Show with Elmo" and "Little Ellen," fell victim to HBO Max's mass deletions in 2022.
Banned Cartoon Cartoon episodes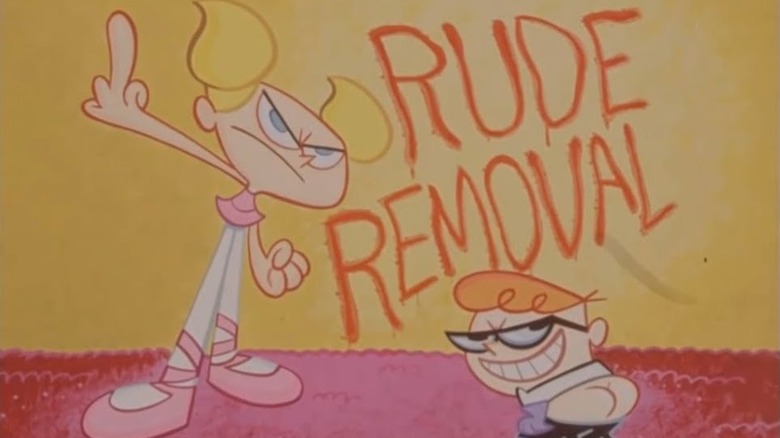 Cartoon Network
While the Cartoon Cartoons often got away with edgier humor, a few episodes went too far for Cartoon Network's standards. One look at the title card for the "Dexter's Laboratory" segment "Rude Removal" and you can probably get an idea of why this episode, in which Dexter accidentally makes rude foul-mouthed clones of himself and Dee-Dee, never even made it to air, even if all of their curse words were bleeped (Adult Swim would later release it online in 2013).
Another "Dexter's Laboratory" segment, "Barbequor" (from the show-within-a-show "Dial M for Monkey"), aired once but was pulled due to the Silver Spooner (a Silver Surfer parody) being portrayed as a campy gay stereotype. Lesbian stereotypes and more explicit sexual innuendo also got the "Cow and Chicken" segment "Buffalo Gals" banned.
Perhaps the strangest reasoning for banning a Cartoon Cartoon episode was for "The Powerpuff Girls" episode "See Me, Feel Me, Gnomey." Having aired on international stations but not in the United States, there was plenty of speculation as to what aspect of the "Tommy" homage might have been seen as crossing the line. Creator Craig McCracken explained on his Tumblr: "They banned it because they claimed that the metal beams in the destroyed buildings looked too much like crosses and one of the hippies looked like Jesus."
Original movies that were almost completely buried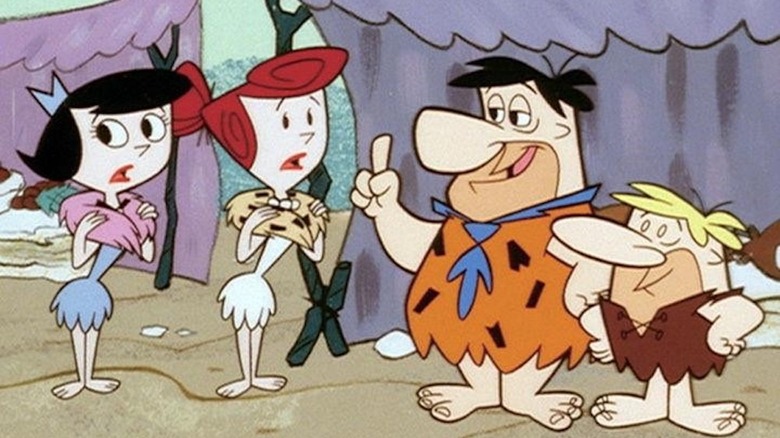 Cartoon Network
When digging deep into the obscure reaches of Cartoon Network's history, you'll uncover a few original movies that only aired on TV once and never received any sort of official home video or streaming release. 2001's "The Flintstones: On the Rocks," directed by David Smith and Chris Savino, was an attempt to return the modern Stone Age family to their original roots as an adult-oriented sitcom. It's speculated that this mature focus on marital strife was the reason it never reran.
"Party Wagon," created by "Hey Arnold!" creator Craig Bartlett, was a 2004 Western adventure movie meant as a potential series pilot but also ended up all but forgotten. It aired twice on Cartoon Network and has never been made officially available elsewhere. The network's only acknowledgement of its existence since then was with a cameo by main character Randall P. McDuff in the series finale of "OK K.O.! Let's Be Heroes."
Effects of the Mooninite bomb scare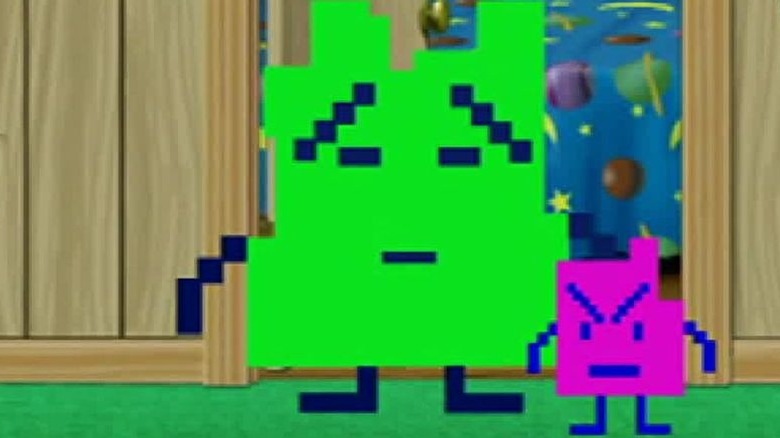 Adult Swim
On January 31, 2007, the city of Boston mistook a number of light-up LED advertisements "Aqua Teen Hunger Force Colon Movie Film For Theaters," depicting the Mooninite characters from the "Aqua Teen Hunger Force" Adult Swim series, for bombs (10 other cities had the same advertisements and no such bomb scares). While Adult Swim had officially spun off from Cartoon Network at this point, the incident had a major impact on Cartoon Network and Turner Broadcasting as a whole.
Turner ended up paying the city $2 million in damages, and Jim Samples, then the executive vice president of Cartoon Network, resigned, "in recognition of the gravity of the situation that occurred under my watch" (via CNN). Stuart Snyder was his successor. His tenure saw both high highs and low lows for Cartoon Network. While Cartoon Network had already started experimenting with live-action programming during Samples' tenure, Snyder controversially increased the network's emphasis on live-action with the CN Real block. On the positive side, the animated shows he oversaw helped reinvigorate the network in the early 2010s.
Mass firings and departures in the late 2000s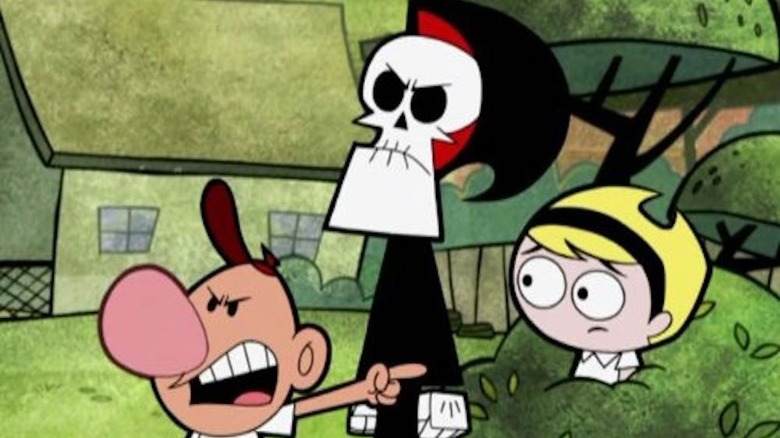 Cartoon Network
Following the shake-ups from the Mooninite bomb scare, Cartoon Network was in a rough place in the late 2000s. As the network pursued more and more live-action programming, the animation studio was in crisis, with many long-time employees laid off or departing the network.
On his Tumblr, "The Grim Adventures of Billy and Mandy" creator Maxwell Atoms has described programming head Michael Ouweleen accusing him of "ruining Cartoon Network's brand" and calling his show a "hateful fart cartoon." He then clarified that the layoffs circa 2009 were across the board, with Craig McCracken ("The Powerpuff Girls," "Foster's Home for Imaginary Friends") and Genndy Tartakovsky ("Dexter's Laboratory," "Samurai Jack") among those affected.
While Maxwell says they were "let go," it's ambiguous whether McCracken and Tartakovsky were laid off, quit, or if the latter stayed around another year. McCracken's last job at Cartoon Network was on a pilot program called "The Cartoonstitute," which, according to one of his posts on DeviantArt, got canceled early due to the 2008 economic crash. The Los Angeles Times confirmed he left in 2009, without specifying whether he quit or was laid off. Two of the "Cartoonstitute" pilots, "Regular Show" and "Uncle Grandpa," did end up getting their own successful series. As for Tartakovsky, his action-comedy series "Sym-Bionic Titan" would premiere on Cartoon Network in 2010 but was officially canceled a year later.
A rejected Nickelodeon pilot saved Cartoon Network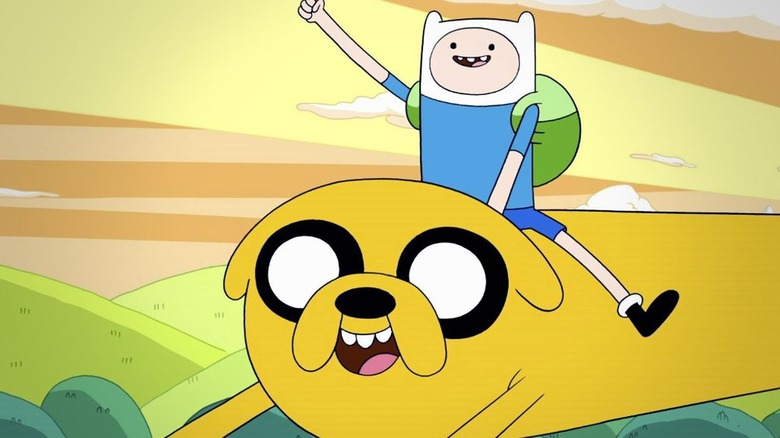 Cartoon Network
With things looking as bleak as they did in 2009, it's amazing just how much Cartoon Network recovered in 2010. A number of big new shows premiered that year, including the aforementioned "Regular Show" and "Sym-Bionic Titan," Warner Bros. Animation's "MAD" and "Scooby Doo: Mystery Incorporated," and the action series "Generator Rex." The most successful of all of Cartoon Network's 2010 premieres, however, was a show that was actually rejected by Nickelodeon.
The original pilot for "Adventure Time" was produced by Frederator for Nickelodeon's "Random! Cartoons" shorts program. It premiered on the Nicktoons Network in 2007 and quickly went viral online. Seemingly everyone was enthusiastic about the pilot's potential — except for the executives at Nickelodeon. Fred Siebert says there were five failed pitches at Nickelodeon before the channel's rights to option it expired. The show then got picked up by Cartoon Network and the rest is history. Hooking viewers with its absurdist comedy and gradually sneaking in epic storytelling and intense emotion, "Adventure Time" would change the course of Cartoon Network and of American TV animation in general.
How Rebecca Sugar made CN LGBTQ+-friendly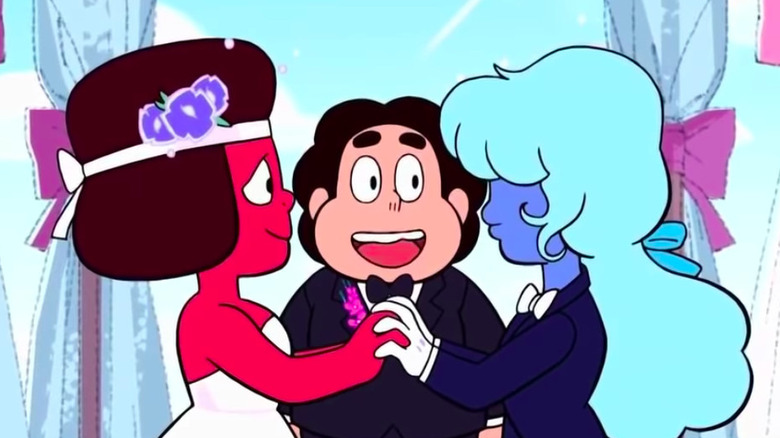 Cartoon Network
If you were seeking LGBTQ+ content on Cartoon Network (outside Adult Swim) before 2015, you'd find almost nothing. Sure, there were queer-coded characters (HIM from "The Powerpuff Girls," anyone?) and assorted anime characters facing varying degrees of censorship (sure, Sailor Uranus and Neptune were "cousins"), but when the closest thing to direct representation was a toad wizard drinking a love potion and marrying a Weird Al-voiced squid hat in "Billy and Mandy"... yeah, things were bleak.
When Rebecca Sugar was storyboarding the "Adventure Time" episode "What Was Missing," she intentionally wrote Marceline and Princess Bubblegum as ex-girlfriends. While the crew approved of this direction, they weren't allowed to state this intention publicly. When Sugar got her own series, "Steven Universe," she specifically designed it so queer relationships were integral to the story in ways that couldn't be ignored or removed.
By the Season 1 finale, it was obvious to "Steven Universe" fans that Ruby and Sapphire were in love and that Pearl pined for Rose. However, Sugar was pressured to not discuss the show's LGBTQ+ context until the 2016 San Diego Comic-Con, at which she came out as bisexual (she has since also come out as non-binary). In Season 5, executives tried to nix a wedding between Ruby and Sapphire, but Sugar stood her ground, changing network policy and allowing other shows like "OK K.O.!," "Craig of the Creek," and the final season of "Adventure Time" to feature openly queer characters.
Cartoon Network Studios makes adult shows too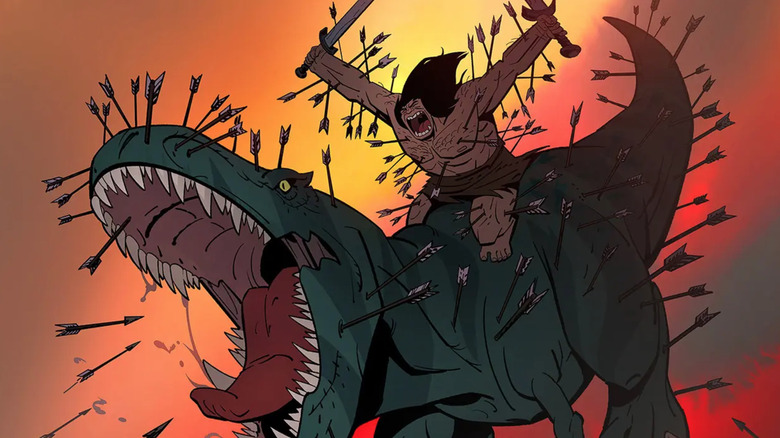 Adult Swim
Hanna-Barbera rebranded into Cartoon Network Studios in 2000, and since then has almost entirely produced kid- and teen-oriented shows for Cartoon Network. Adult Swim, which was officially deemed its own network for ratings purposes in 2005, has mostly produced its programming at other studios, primarily its home base of Williams Street.
Occasionally, however, Cartoon Network Studios has worked on Adult Swim programs. These include select episodes of "Harvey Birdman, Attorney at Law," Season 2 of "Black Dynamite," the 2017 revival of "Samurai Jack," "Primal," and "JJ Villard's Fairy Tales," as well as the pilots for "Welcome to Eltingville," "The Groovenians," and "Korgoth of Barbaria."
Cartoon Network Studios also produced "Close Enough," J.G. Quintel's adult-oriented follow-up to his all-ages hit "Regular Show." This series was originally intended to be broadcast on TBS but, after extensive delays, ended up running for three seasons on HBO Max. Most of Cartoon Network Studios' programming between 2020 and 2022 ended up premiering either in full or in part on HBO Max... but whether such shows stayed there is a different story.
Cartoons deleted from HBO Max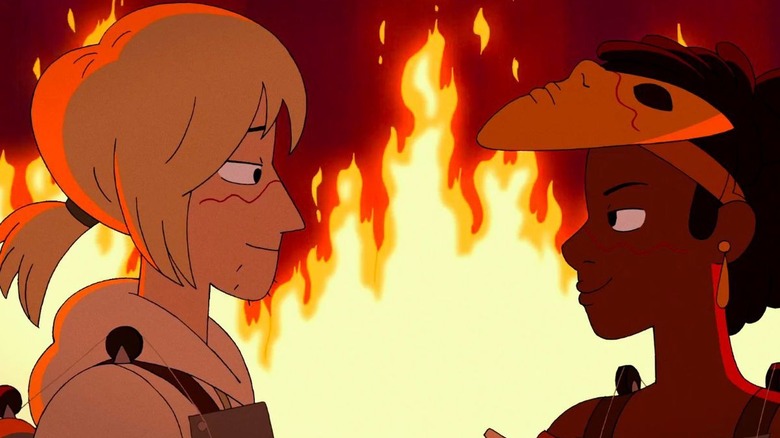 Cartoon Network/HBO Max
Being Cartoon Network's 30th birthday, 2022 should have been a year of celebration. While Cartoon Network has attempted some such celebration with reruns and new DVD sets of classic shows, the mood among fans has been significantly dimmer than expected. The reason? David Zaslav's treatment of Cartoon Network's recent productions on HBO Max.
The Cartoon Network series "Infinity Train," "OK K.O.!," "Summer Camp Island," "Victor and Valentino," "Uncle Grandpa," "Mao Mao, Heroes of Pure Heart," "Mighty Magiswords," and "Elliott from Earth" were all removed from HBO Max in August 2022, as were the Cartoon Network Studios productions "Close Enough," "The Fungies!," and "Tig n' Seek." Some of these shows even had all social media references deleted, though many were still available for purchase from Amazon, Google, and Apple. These removals were allegedly intended to avoid royalty payments and were done without informing the shows' creators ahead of time, sparking immense backlash.
Production on the Cartoon Network Studios original movie "Driftwood" was canceled just three months after it was announced. Warner Bros. Discovery also announced plans to sell the rights to the "Batman: Caped Crusader" series and five animated movies originally meant for Cartoon Network and HBO Max.