Sam Raimi Says A Sequel To Drag Me To Hell Is A Possibility
Now that Sam Raimi has firmly reestablished himself in the horror movie genre by bringing loads of thrills and chills to "Doctor Strange in the Multiverse of Madness," the legendary director is looking to reignite one of his previous fright films, "Drag Me to Hell," with a sequel.
Raimi, along with longtime friends producer Rob Tapert and frequent star Bruce Campbell, introduced a new brand of horror in 1981 with the hyperkinetic gore fest "The Evil Dead." The film's sequels, 1987's "Evil Dead II" and 1992's "Army of Darkness" kept the gore intact from the original, yet added a comedic element to the series, which continued on with the STARZ series "Ash vs. Evil Dead" from 2015 to 2018.
While Raimi in the interim has directed such genre hits as "The Spider-Man" trilogy from 2002 to 2007 and "The Wizard of Oz" prequel "Oz the Great and Powerful" 2013, his heart hasn't strayed too far from horror. As a producer through his and Tapert's Ghost House Pictures production company, Raimi was a key creative in 2004's "The Grudge," 2013's "Evil Dead" remake, and "Don't Breathe" in 2016, but in 2009 he returned to the director's chair for the horror thriller "Drag Me to Hell." Now, going on 15 years after the film was released, Raimi is looking to book a trip back to "hell."
Sam Raimi casually dropped the news of a potential Drag Me to Hell sequel on Reddit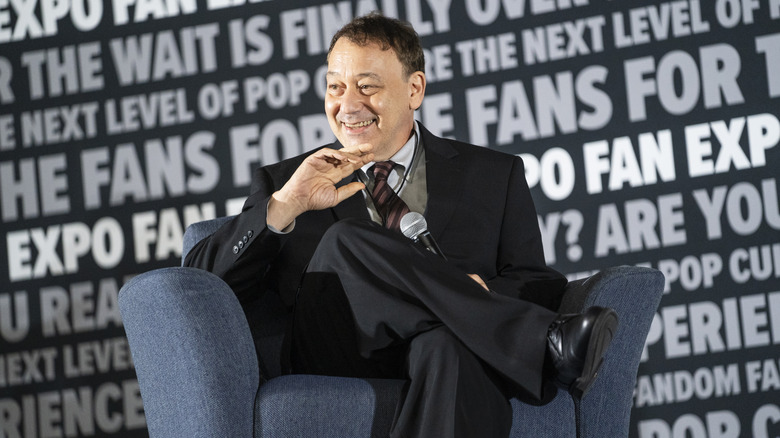 Erika Goldring/Getty Images
"Drag Me to Hell" — which Sam Raimi co-wrote with his brother and fellow "Evil Dead" collaborator Ivan Raimi — follows the harrowing plight of Christine Brown (Alison Lohman), a bank loan officer who is damned to hell by a destitute, elderly woman (Lorna Raver) after she denies her a loan payment extension. Christine's descent into darkness is prolonged, though, as she suffers one horrific incident after the next for three days before she is eventually dragged into hell by demons. The film features Raimi's kaleidoscopic filmmaking sensibilities, reminiscent of his "Evil Dead" films including, ghosts, floating demonic entities, and at one point Raimi even trots out a manic talking goat at a seance.
In a Reddit AMA to discuss his role as a producer on the sci-fi thriller "65," a user asked Raimi whether he would make a sequel or do a project related to "Drag Me to Hell," and the filmmaker replied with a surprising revelation: "The team at Ghost House Pictures: Romel Adam and Jose Canas, are trying to come up with a story that would work and I'm anxious to hear if they do!"
In the meantime, Raimi is keeping himself busy in the horror realm. He recently produced the video game "Evil Dead: The Game" and is one of the producers — along with Rob Tapert and Bruce Campbell — on the fifth upcoming "Evil Dead" film chapter "Evil Dead Rise," due in theaters April 21.
Meanwhile, "65" debuts in theaters Friday, March 10.