NCIS Actually Started As A Spin-Off For This Forgotten Show
Fans of the wildly popular CBS procedural show "NCIS" – short for Naval Criminal Investigative Service – don't have to be familiar with the intricacies of military life to appreciate the teamwork, humor, and hard work the agents on the series portray in every episode. The tight-knit cast, which has included the likes of Mark Harmon, Michael Weatherly, Pauley Perrette, and Wilmer Valderrama over the years, has been solving some of the most difficult cases to come into the fictional Washington D.C. office since the show premiered in 2003 (per IMDb).
However, even the most stalwart fans of the hit show may not know that "NCIS" wasn't an entirely original concept, as it started out as an offshoot of an existing show. Can't put your finger on which show from not-so-very-long ago paved the way for what is now one of the most-watched shows on television around the world? This is how "NCIS" actually started as a spin-off for this forgotten show.
NCIS came about because of another military-themed procedural show
As CinemaBlend notes, "NCIS" actually started as a spin-off for "JAG" – another legal drama, short for Judge Advocate General, that aired on CBS for 10 seasons from 1995-2005, according to IMDb.
"NCIS" was introduced through a pair of backdoor pilot episodes of "JAG" called "Ice Queen" and "Meltdown," per TV Guide. In these Season 8 episodes, viewers were introduced to what would become the core cast of "NCIS" as they not only work to solve the murder of a lieutenant but also try to thwart a terrorist attack.
Both "JAG" and "NCIS" were created by Donald P. Bellisario, a famous producer and screenwriter, for several investigative television shows, and while they may seem like similar shows with similar premises on the surface, "NCIS" has a distinctive streak of comedy that sets it apart from the series it spun off from. Additionally, there are some cast members from "JAG" who have appeared on "NCIS" as well.
Even though it was a spin-off, NCIS has become much more popular than JAG ever was for CBS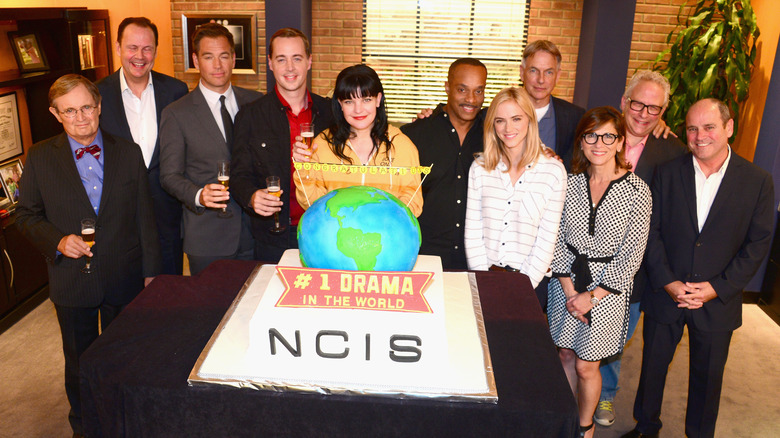 Frazer Harrison/Getty Images
A re-watch of these episodes will remind fans of the show's original name, "Navy NCIS," which Bellisario told TV Guide was the best way to get "JAG" viewers to check out the network's new show.
Before "NCIS" made its television debut, Bellisario told the outlet, "It's only going to be called 'Navy NCIS' for a very short period of time. ... CBS thought — and I think it's a legitimate concern — that they want to get 'JAG' viewers to try it out and see what it is, because most people don't know what NCIS is. Most people have no clue when they hear it."
Even though "NCIS" started out as a spin-off, the show has now overshadowed the somewhat forgotten "JAG" series from which it owes its start. Over its nearly 20-year running time, "NCIS" has become one of the most-watched shows on television, according to Hollywood Insider, and we can't wait to see what future seasons have to offer.