Sylvester Stallone Would Star In Creed 4 Under One Condition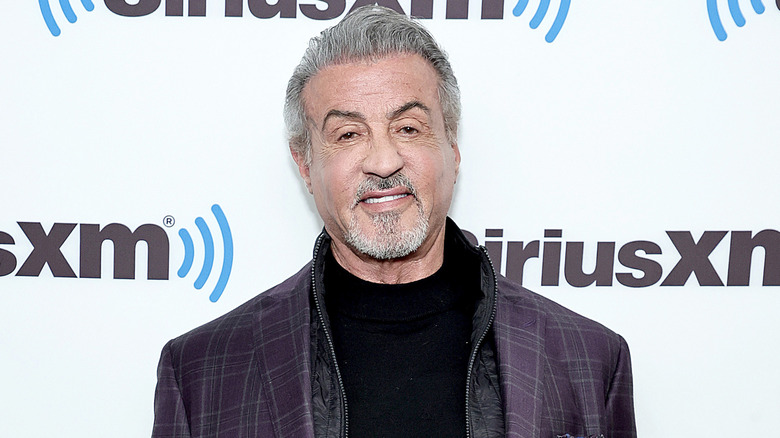 Jamie Mccarthy/Getty Images
Sylvester Stallone's absence in "Creed III" is perplexing. It's hard to see Adonis Creed (Michael B. Jordan) face off against one of his most dangerous adversaries, friend-turned-foe Damian Anderson (Jonathan Majors), without the tutelage of his mentor, Rocky Balboa. However, despite the absence of the Italian Stallion in a film from the "Rocky" franchise, Jordan's directorial debut still resonated with moviegoers to the tune of $100 million worldwide during its opening weekend. And its current audience score of 96% speaks volumes. At the time of this writing, "Creed" only boasts an 89% score, while "Creed II" recorded a rating of 80%.
Nevertheless, Stallone sat out the latest installment of the "Creed" series for a couple of documented reasons. First, it appears that Rocky Balboa himself wasn't thrilled with the storyline behind "Creed III." "That's a regretful situation because I know what it could have been," Stallone said during a 2022 interview with The Hollywood Reporter. "It was taken in a direction that is quite different than I would've taken it. It's a different philosophy — Irwin Winkler's and Michael B. Jordan's."
Second, and arguably the most glaring reason Rocky doesn't return in "Creed III," is Stallone's animosity toward producer Irwin Winkler. The latter served as producer on all of the films in the "Rocky" universe, including the "Creed" installments, and he — not Stallone — owns the rights to the characters. However, there's still a chance and a way for the fans to actually see Rocky and Adonis reunited in the future.
Sly could rejoin the iconic franchise if Winkler leaves it
Sylvester Stallone's bad blood with producer Irwin Winkler ultimately kept the Italian Stallion from making an appearance in "Creed III." When Stallone wrote the Oscar-nominated screenplay for the original "Rocky," he was still young and trying to make a name for himself in Hollywood. Consequently, Stallone lost the rights to the iconic characters he created. "It was a deal that was done unbeknownst to me by people that I thought were close to me, and they basically gave away whatever rights I would have had," Stallone revealed in a 2022 interview with The Hollywood Reporter.
Still, Sly is willing to play Rocky again alongside Michael B. Jordan as long as Winkler isn't involved. "Now, if Michael B. Jordan — we come up with a story, I'll do 'Creed IV' with him," Stallone revealed in an interview with SiriusXM. "As long as the other fellow [Winkler] is not involved."
If and when Rocky returns to the franchise remains up in the air, but Stallone will never get over the fact that another entity holds the rights to the seminal, Oscar-winning film he penned. "You can't make peace when someone has been so nefarious," Stallone said in the same sit-down. One wonders, though, what changed between "Creed II" and "Creed III?" Winkler has been involved with every film, as has Sly. There's always been a dysfunctional relationship beneath the surface, and Rocky's still shown up in all the other movies without fail.