Citadel's Intense Stunts Left Priyanka Chopra Jonas Scarred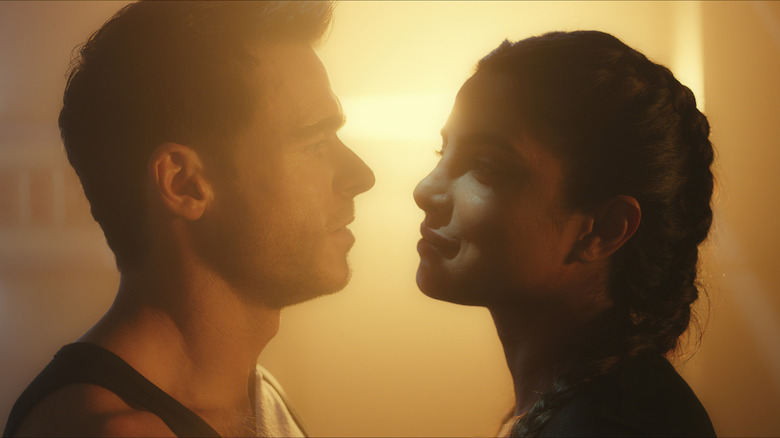 Amazon Studios
Produced by the Russo Brothers, Amazon Prime's new spy series "Citadel" sounds like "Mr. and Mrs. Smith" by way of Jason Bourne. Richard Madden and Priyanka Chopra Jonas star as Mason Kane and Nadia Sinh, two agents whose memories are erased after the fall of the Citadel agency. Eight years later, Mason and Nadia are living new lives having completely forgotten each other — until their old friend Bernard (Stanley Tucci) re-enters each of their lives.
"Citadel" aims for ambition and involves plenty of action set-pieces and high-octane espionage work. As Joe Russo told Variety, "The mission here was to bring large scale spy storytelling to Amazon." The show's budget for the six-episode first season is $185 million, with international spin-offs already in production, so Amazon is clearly betting on a positive reception.
To that end, co-stars Madden and Chopra Jonas had to juggle multiple in-character identities on set, all while performing intense stunt work. Chopra Jonas even has the literal scars to show for her time making "Citadel."
Thanks to Citadel, Priyanka Chopra Jonas now has a facial scar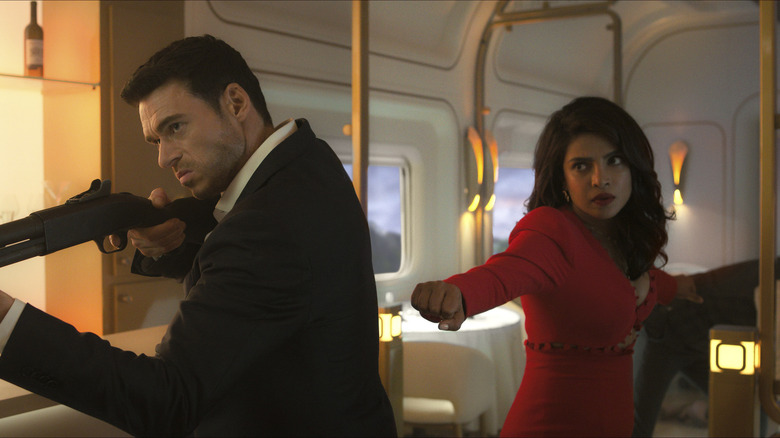 Amazon Studios
Like the long-running James Bond movie franchise, "Citadel" requires extensive preparation and training so the actors can better handle lots of fight scenes and death-defying scenarios. There was also a stunt team on hand for any especially dangerous moments. But even a ready and willing performer can still get injured on set, as Priyanka Chopra Jonas proved.
"I have a scar on my forehead, on my eyebrow, that's courtesy of 'Citadel,;" the actress told Collider. "I don't even cover it anymore." Certainly not all film and television productions require a physical cost, and it would be hard to blame the former model for being upset about this.
But Chopra Jonas doesn't seem concerned about the scar at all. In fact, she loved getting to try whatever the writers threw at her. "Every time I would read new pages, the stunts would just get bigger and bigger and bigger," she said. "It was amazing to be able to imagine that, and then walk onto set and actually execute it. It was great." Sounds like her injury was well worth it for being part of "Citadel."