Kate Moyer Admits Being Children Of The Corn's Ringleader Was A Bit Intimidating - Exclusive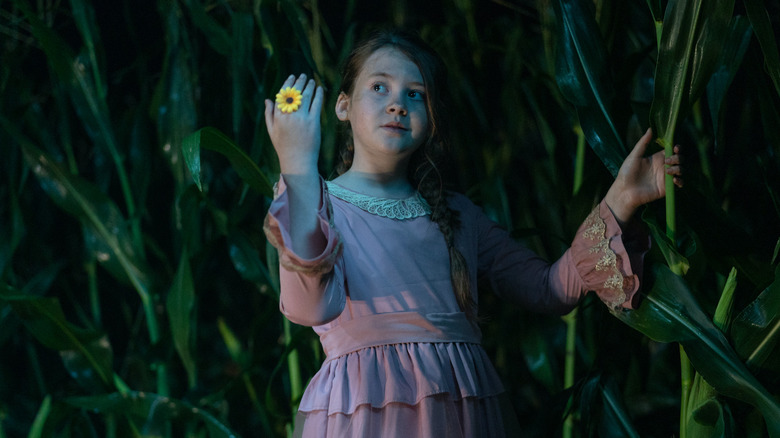 RLJE Films
Kate Moyer portrays the murderous ringleader of a group of kids in "Children of the Corn," and a role like that was a bit nerve-wracking for the child actor. After all, not only has Moyer never been in charge of anyone, she's never been a villain. Despite this, Moyer, at only 11-years-old, found something "interesting" in the character nonetheless.
In "Children of the Corn," Moyer, who is now 14, plays Eden Edwards, an orphan whose lack of parents helps pave the way for murderous mayhem against the town's adults. The adults have vowed to destroy the town's corn, and Eden and the other children oppose that impulse, even though no one will listen to them. This sets up a clash that the adults never could have predicted, quickly taking a turn for the worse for them.
In an exclusive interview with Looper, Moyer discussed stepping outside of her comfort zone to play the role of Eden in "Children of the Corn."
I feel like Eden brought [out] this confidence in me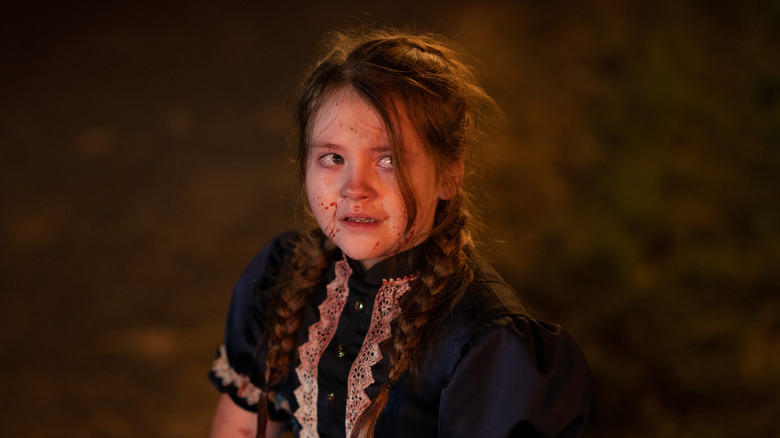 RLJE Films
The kids are definitely not alright in "The Children of the Corn," and that includes Kat Moyer's Eden. The role of Eden was an exciting one to take on, especially given that the film is based on the book by Stephen King. This also was a major task, and Moyer admitted that she was worried at first about playing Eden in "Children of the Corn." 
"I knew it would be a challenging role for me to try because it was outside of my comfort zone," Moyer said. Nevertheless, she still wanted to take on the challenge of Eden. For Moyer, this was a chance to highlight Eden's positive qualities while also doing something new for herself.
"I still wanted to be a part of it because my character is so strong, and she just wants to be in control of her life because she's had so many bad things happen to her. I wanted to be able to challenge myself and portray this character." With Eden being such a complex, strong character, Moyer found this role empowering.
"I feel like Eden brought [out] this confidence in me [because] she would say something, and then other people would follow her," Moyer said, "whereas if it was me, it wouldn't necessarily happen. It was a little intimidating at first because there were so many kids, and they all played an important part, but overall, it wasn't as scary as I thought it would be."
"Children of the Corn" is currently in theaters and will be available On Demand and Digital on March 21.