TLOU Episode 9: Joel's Guitar Line Teases A Major Part 2 Relationship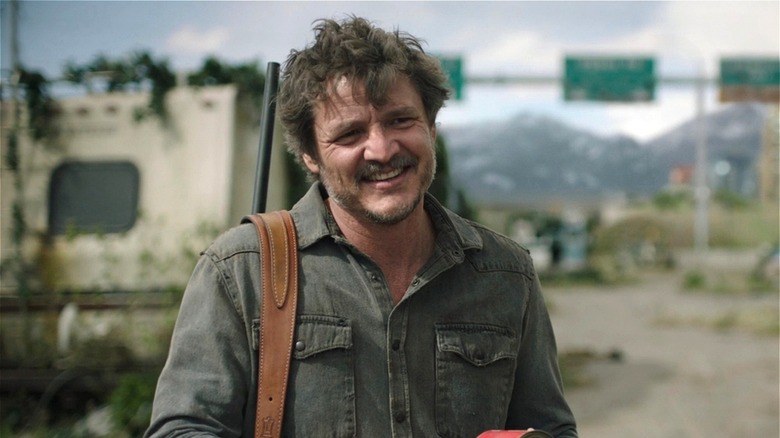 HBO
Contains spoilers for "The Last of Us" Season 1, Episode 9 — "Look for the Light" as well as the video game "The Last of Us Part II," from which Season 2 of the HBO series will be adapted

Starring Pedro Pascal as the unforgiving Joel Miller and Bella Ramsey as the fearless Ellie Williams, "The Last of Us" explores gritty themes of survival in refreshing and engaging ways. And the end of the gripping and divisive Season 1 finale means we're one step closer to the already confirmed Season 2, which will adapt the revenge-filled video game "The Last of Us Part II."
Season 1, Episode 6, "Kin," already introduced a key Season 2 character. Gamers were stunned to see a girl (Paolina van Kleef) staring at Ellie as she shovels food into her starving mouth, a small moment that was actually adapted from "The Last of Us Part II" in which Ellie recounts her first days at Jackson with her girlfriend, Dina. While Staring Girl hasn't officially been identified as Dina, the creators of the series have strongly hinted at the possibility on their after-show companion podcast.
In "Look for the Light," Joel attempts to snap Ellie out of her post-traumatic spell following the harrowing events of the previous episode. At one point, he notices a broken guitar and in a seemingly throwaway line, asks Ellie if she'd like to learn how to play one day. This is also similar to the video game and sets up a thematic element sure to come next season that is featured throughout Ellie's relationship with Dina.
The guitar plays a pivotal role in Season 2 for Ellie
In "Look for the Light," Joel offers to teach Ellie how to play the guitar, gently and optimistically saying, "They had a guitar in that RV. It was all smashed up but got me thinkin', maybe I should find one. I haven't played in forever. In fact, I was thinkin' maybe I could teach you. I bet you'd be great at it. Do you wanna learn how to play guitar?" At this moment, gamers will certainly remember the pivotal role the instrument plays in "The Last of Us Part II."
Before his gruesome death, Joel follows through on his offer by teaching Ellie his emotional rendition of Pearl Jam's "Future Days." Later, to keep Joel's spirit alive, Ellie continues playing and even chooses the same song to remember him. She also uses the guitar to serenade Dina, fittingly playing 1984's "Take On Me" by A-ha (a song that has already been featured in both the Season 1 trailer and Episode 7's mall scene), though she adds a somber and thoughtful tone, giving the tune a deeper meaning. In this emotional moment, Ellie lets her walls down and allows for a moment of vulnerability with Dina among the endless grief, horror, and violence.