The Last Of Us' Staring Girl Already Introduced A Season 2 Character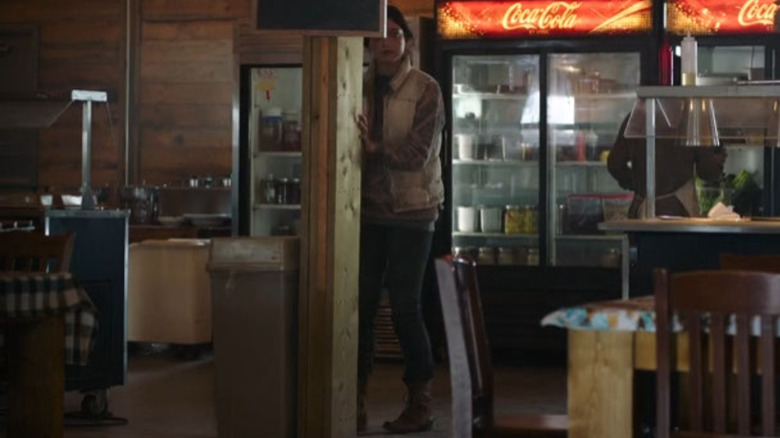 HBO
Contains spoilers for "The Last of Us" Season 1, Episode 6 as well as the video game "The Last of Us Part II," from which Season 2 of the HBO series will be adapted
With audiences still rattled from the final moments of last week's episode of "The Last of Us," its creators decided to dangle some hope in the latest installment, not that it lasted. "Kin" sees Joel (Pedro Pascal) finally reunite with his brother, former Firefly Tommy (Gabriel Luna). Tears are shed, mustaches are ruffled, and big brother Joel carries on with the job he was tasked with by Tess (Anna Torv): taking Ellie (Bella Ramsey) to the Fireflies.
While things might unfurl at a steady pace before danger strikes in the episode's closing moments, one of the standout shocks for fans this week comes about halfway through the episode and is gone in a matter of seconds. It isn't anything scary or foreboding at all, but it could mark the debut of a crucial character in Ellie's future in the best way possible, sitting alongside the already growing list of Easter eggs in Season 1 of "The Last of Us." This is a good thing for a change. Seriously.
The Staring Girl catches Ellie's eye
After Joel finally finds his brother in Wyoming, the weary wanderer is invited to chow down with his sharp-tongued surrogate daughter, who has a prickly encounter with one of the locals. During dinner, Ellie spots a young girl watching the new visitors from afar. "What?" she asks from across the dining hall, leading the embarrassed girl to skitter off, never to be seen again — not in this episode, at least.
While "Staring Girl" (Paolina van Kleef) doesn't say a word, she shares an uncanny likeness to a woman named Dina who appears in "The Last of Us Part II" and who eventually starts a romantic relationship with Ellie. In fact, a standout moment in their journey sees Ellie cover "Take on Me" by A-ha for her, the song in the show's trailer from last year. They also share their first public kiss in the very room in which Ellie seemingly first catches Dina's eye. And while it hasn't been confirmed that the Staring Girl is Dina, fans have latched on to the theory nonetheless and are over the moon about her appearance.
Fans are already shipping Staring Girl and Ellie thanks to the potentially cryptic cameo
Naturally, as with any potential tease of this magnitude, fans of the game were perfectly calm and controlled about the whole thing ... kind of. "DINA APPEARED IN TODAY'S CHAPTER OF 'THE LAST OF US' IM DYING," said @rwusyaname following the spot, while @RogueSfm posted a screenshot of the moment, adding, "Just finished episode 6 of '[T]he [L]ast of [U]s' AND WAS THIS F***ING DINA????" For the most part, however, fans didn't need to ask and already seem to know what is being set up, with @GabrielDivina2 comparing the scene to another famous romance, saying, "Dina in HBO's 'The Last of Us' standing like she's Bella from Twilight. Utterly mesmerized by Ellie."
The nods to future characters don't stop there either. Die-hard fans of the games would've seen how much the show is horsing around with homages to the Naughty Dog franchise in Ellie's first visit to the barn. Tommy's wife, Maria (Rutina Wesley), reveals the name of the young foal Ellie spots to be Shimmer, the horse that Ellie and Dina ride in "The Last of Us Part II." From there, everything ends happily ever after. Yep. Nothing goes wrong from there at all.
That's all very far off, of course. In the meantime, we can see what happened in Ellie's past in next week's episode of "The Last of Us" when the show returns Sunday on HBO.