Arrowverse Co-Creator Marc Guggenheim Is Pretty Bummed About How It All Ended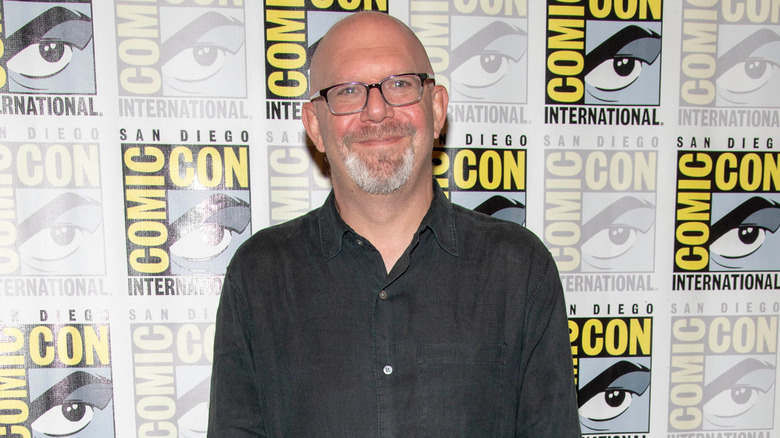 Eugene Powers/Shutterstock
Marc Guggenheim may not have the name recognition someone like Zack Snyder does with DC fans, but the filmmaker is responsible for a large chunk of DC's output in the years before James Gunn and Peter Safran took over and hit reset on a number of projects. 
Guggenheim is one of the main players behind The CW's Arrowverse, which comes to an end with "The Flash" Season 9. Guggenheim not only helped develop "Arrow" and "DC's Legends of Tomorrow," but he also worked as a producer and writer on shows like "The Flash" and "Supergirl." He officially left the Arrowverse in 2020. 
Love or hate those CW comic book adaptations, there is no arguing they have an audience. "Arrow" ran for eight seasons, "Legends of Tomorrow" made it seven, "Supergirl" had six seasons, etc. In other words, Guggenheim helped create a massive library of content for DC moving forward. 
However, the writer revealed in a blog entry that he feels like he may have wasted his time working on the Arrowverse. He also revealed that nobody actually reached out to him about major changes coming in the world of DC or simply acknowledge the years he put into keeping numerous comic characters in the public consciousness. 
Marc Guggenheim wanted a meeting
Posting to his LegalDispatch blog, Marc Guggenheim claimed Hollywood at large has reacted with apathy to the major work he and others have put into The CW's Arrowverse. It's more shocking news as the Arrowverse managed to sustain its own universe while also introducing the concept of the multiverse long before Marvel with "Spider-Man: No Way Home." In the "Crisis on Infinite Earths" adaptation that crossed multiple CW shows, Guggenheim and his team worked in everything from 1989's "Batman" to "Smallville" to Zack Snyder's DCEU with Ezra Miller popping up as another Flash. 
"I would have liked to have gotten at least a meeting. Not a job, mind you. A meeting. A conversation. A small recognition of what I'd tried to contribute to the grand tapestry that is the DC Universe. I'd only spent nine years toiling in that vineyard, after all," Guggenheim wrote. The writer added that unfortunately, he feels like he wasted his time on building the Arrowverse, claiming the massive work and sacrifices behind it haven't directly led to new gigs. 
"Although working for DC had been creatively fulfilling, it involved a lot of adversity, challenges, and personal sacrifices — none of which seem to have accrued to any professional benefit. Simply put, the Arrowverse hasn't led to any other gigs, so it feels — at least on a career level — that I really wasted my time," he wrote. 
James Gunn thinks DC was 'f**ked up' before he came along
Since taking his leadership role with DC, James Gunn has been careful not to directly insult past projects. Despite the DCEU essentially being scrapped, Gunn promoted the last movies out of that universe in his video announcement about upcoming DC projects. He even called "The Flash," which is part of Snyder's DCEU, one of the best comic book movies he's ever seen. 
In a blunt interview with The Hollywood Reporter, though, Gunn described the state of DC in recent years as chaotic, feeling there were too many universes battling for attention, including the Arrowverse. 
"The history of DC ... was f**ked up. There is the Arrowverse, there was the [DC Extended Universe], which then split and became the Joss Whedon Justice League at one point and the Snyderverse. At another point, there is 'Superman & Lois,' there is [the] Reevesverse, there are all these different things," the filmmaker said, adding that DC was giving intellectual properties away too freely, though not specifically citing the Arrowverse as an example of this. 
No matter where fans fall on the Arrowverse debate, there's just no denying the sheer amount of time and effort that went into creating this TV universe that sustained itself for years. Luckily, Arrowverse devotees are getting one final gift, with "Arrow" star Stephen Amell returning to his role as Oliver Queen/Green Arrow for the final season of "The Flash."