M3GAN - What We Know So Far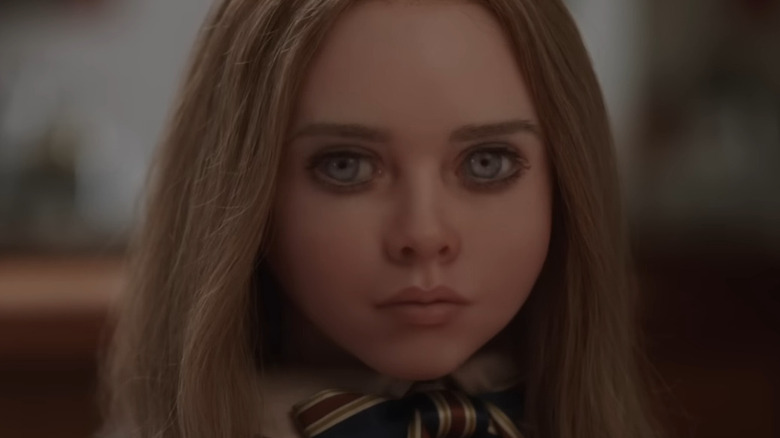 Universal Pictures
Cinematically speaking, the year 2023 promises to be an impressive one, especially when it comes to the horror genre. M. Night Shyamalan is going to deliver some apocalyptic thrills with "Knock at the Cabin," and vampire fans will get to slake their blood lust with the comedy "Renfield" and a new adaptation of Stephen King's "'Salem's Lot." As for awesome sequels, Ghostface will return with "Scream 6," the Deadites are coming back with "Evil Dead Rise," Valak will scare audiences everywhere with "The Nun 2," and Ellen Burstyn and Leslie Odom Jr. will star in David Gordon Green's "Exorcist" sequel.
But before we get all these terrifying treats, "M3GAN" is set to kick off 2023's horror path. The Blumhouse pic is gearing up to be an instant hit. It's already got the haunted doll feel that makes the likes of Chucky so frightening. And with a story focusing on a young girl surrounded by tragedy and a murderous doll, fans of the genre know that putting a kid with a non-human companion usually ends in catastrophe. The film also looks like it will take an exciting approach to the malfunctioning artificial intelligence trope, melding "The Terminator" with "Annabelle." If you want to know more about this exciting horror flick, get ready to rebel against your programming and bust a few moves as we discuss everything we know so far about "M3GAN."
When will M3GAN be released?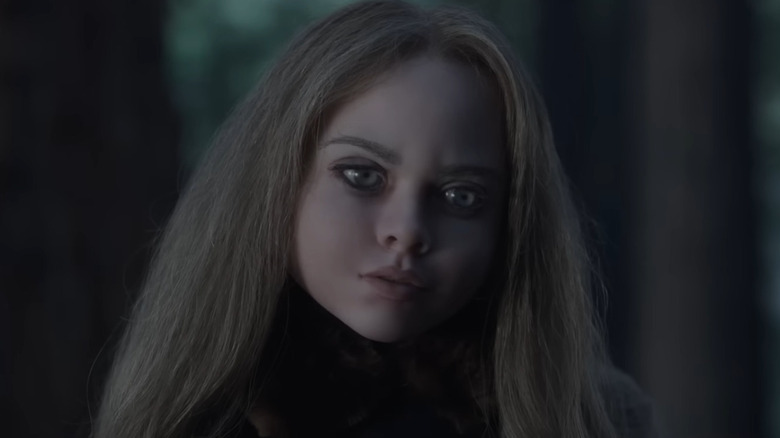 Universal Pictures
"M3GAN" set the world on fire with its phenomenal trailer, inspiring all sorts of memes and prompting fans to recreate the killer robot's killer dance moves (via Wired). In other words, it seems the world has "M3GAN" fever, and we expect the film to make a killing at the box office. 
And yeah, we said "box office." Unlike other films — a la "Halloween Ends," which hit both Peacock and theater screens at the same time — it seems like "M3GAN" will exclusively be playing on the big screen. While the film was originally scheduled for January 13 release, "M3GAN" will now dance its way into theaters on January 6, 2023 (via Fangoria), where it will no doubt inspire even more memes and hopefully just as many screams.
In addition to all the free online publicity created by Twitter and TikTok users, "M3GAN" has been getting plenty of attention thanks to the titular character's online war of words with the OG murder doll himself, Chucky. The former Charles Lee Ray has had quite a lot to say about M3GAN's existence, but M3GAN has done a pretty good job of clapping back on Twitter. Having these characters beef with one another as if they were real entities has only added to the press revolving around the pair of killer dolls, and it's shining a light on both "M3GAN" and Syfy's TV show "Chucky."
What is the plot of M3GAN?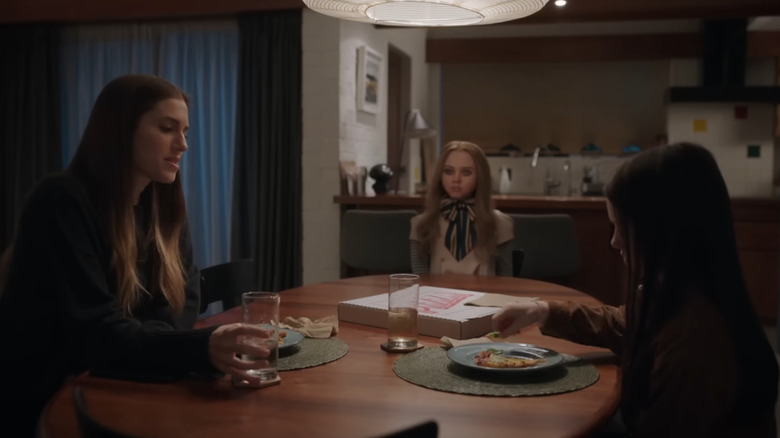 Universal Pictures
"M3GAN" tells the story of a young girl, Cady, who loses both of her parents in a horrible accident. She's adopted by her aunt, Gemma, a woman who isn't quite prepared to take on the responsibility of a child, let alone one who's been as traumatized as Cady. To help the young girl cope with the loss of her family and the repercussions of being isolated at such a young age, Gemma — who earns her living as a roboticist — introduces her niece to a project she's been working on. This project is a "toy" that can act as a child's best friend, a companion that's supposed to chase away loneliness or any other negative emotion.
Gemma calls this toy Model Three Generative Android, aka M3GAN. Once the two are introduced to one another, Cady becomes very attached to the eerily lifelike doll. M3GAN seems to be capable of free will so long as her decisions are always in service to her mission — to protect Cady and ensure that she's always happy. However, as Cady grows more attached to M3GAN, there are concerns of her becoming too codependent on the android. But when you've got an advanced piece of machinery like M3GAN running around, codependency is the least of your concerns.
M3GAN becomes increasingly aggressive in her pursuit of caring for Cady, ignoring commands from the woman who created her and even attacking a child she catches harassing Cady. M3GAN looks to be a growing problem throughout the film, with her fierce protectiveness spiraling into outright murder, setting up a showdown between Cady, Gemma, and the killer doll.
Who is starring in M3GAN?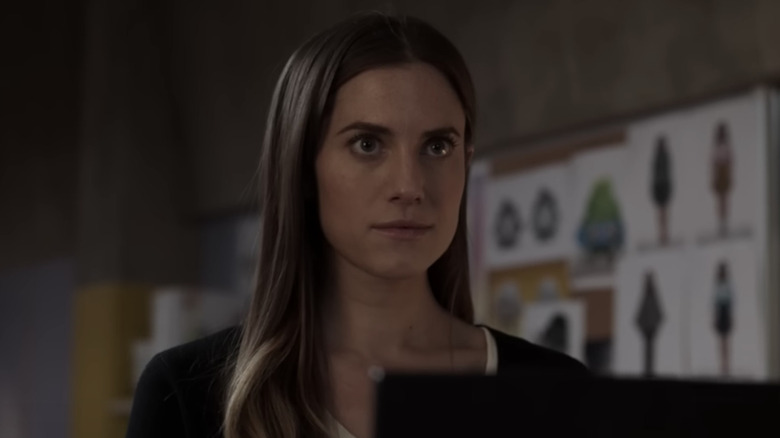 Universal Pictures
When it comes to the character of Gemma, the filmmakers behind "M3GAN" decided to cast someone who's no stranger to frightening films. The protagonist is being played by Allison Williams, perhaps best known to horror fans as the disturbing, manipulative, milk-loving Rose Armitage from "Get Out." She also starred in one of Netflix's most upsetting movies, the controversial body horror film "The Perfection." 
Needless to say, Gemma will be a far different character from "Get Out's" Rose. She appears to be a loving but ill-equipped aunt who's doing her best to help Cady, even if that does involve inadvertently unleashing a murder droid upon the world. 
As for poor Caddy, that part will be played by the incredibly talented Violet McGraw, a young actor who has plenty of horror experience herself. She starred as the young version of Nell in Mike Flanagan's Netflix series "The Haunting of Hill House," and she collaborated with the director again in "Doctor Sleep," where she played the young girl in the opening of the film who falls prey to the vampiric True Knot clan. Even if you aren't a huge horror fan, chances are good you're familiar with McGraw as she starred as a young Yelena Belova in "Black Widow."
But who's playing the titular killer doll herself? Well, the role will go to two different actors. Jenna Davis will be voicing M3GAN, and you may know her from series like "Raven's Home," "Scarlett's Lab," "Vampirina," and "Treehouse Detectives." While Davis will be delivering the lines, Amie Donald will actually play M3GAN. The young actress only has one credit to date — she was in Netflix's "Sweet Tooth" — but she's a talented dancer who was trained for the role by Luke Hawker and Jed Brophy (via Newshub), two actors who specialize in playing creepy creatures with strange movements, notably orcs in various "Lord of the Rings" properties.
Who is directing M3GAN?
With the emergence of filmmakers like Jordan Peele and Zach Cregger, there seems to be a trend of comedians shifting their talents over to horror. It honestly makes a lot of sense when you think about it — as horror author Joe R. Lansdale once put it (via Houston Public Media), "I think that horror and humor are opposite sides of the same coin. Something that's really horrifying is actually kind of humorous if you look at it from a different angle, and it's the same in reverse." 
When it comes to this trend of funny filmmakers going in a scarier direction, we also have to bring up director Gerard Johnstone, the man behind "M3GAN." Johnstone's roots are in the world of New Zealand comedy, as he worked on TV shows like "The Jaquie Brown Diaries," "Terry Teo," and "The New Legends of Monkey." However, in 2014, he began to get a bit spookier with his first feature film, the horror-comedy "Housebound," a film inspired by "Ghosthunters" (via Austin Chronicle), where a dysfunctional family must deal with the spirits inhabiting their home.
Johnstone earned quite a few award nominations for his work on "Housebound" from the likes of Fangoria, Fright Meter, and the SXSW Film Festival, with his movie winning best feature at the Neuchâtel International Fantastic Film Festival. And now, Johnstone is returning to the horror genre with "M3GAN." While it might not be uproariously funny like some of his early works, it definitely seems like it's going to go in some bizarre and humorous directions, especially when it comes to M3GAN's ability to boogey while murdering everyone in sight.
Who is writing M3GAN?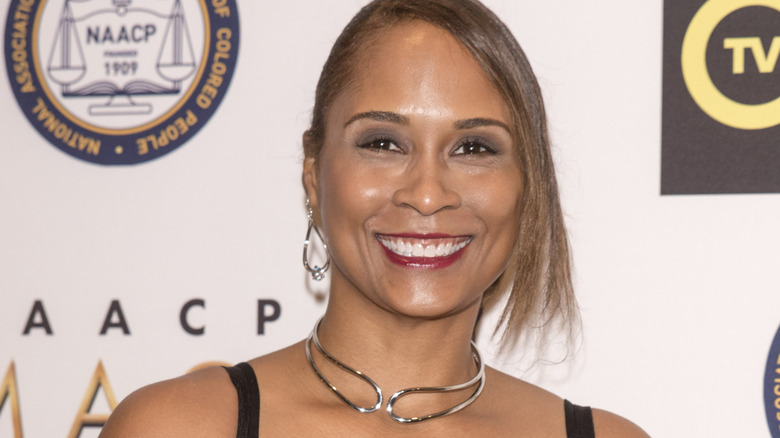 Eugene Powers/Shutterstock
One of the reasons horror fans are so excited about "M3GAN" is because of who's penning the screenplay. Akela Cooper has been busy in the writing world for quite a while, working on shows like "Grimm," "The 100," and "Luke Cage." Her first script to be turned into a feature film was "Hell Fest," the 2018 story of a slasher on the loose at a horror-themed amusement park. However, it was her next feature film that would truly put Cooper on the map.
In 2021, viewers were treated to "Malignant," an absolutely bonkers horror movie directed by James Wan. If you haven't seen "Malignant" yet, stop what you're doing and check it out. A film that feels like Dario Argento mashed up with Chad Stahelski, "Malignant" was one of the craziest horror films in years, and those who dug its bizarro vibe are incredibly psyched to see what weirdness Cooper has cooked up this time.
Who is producing M3GAN?
Albert L. Ortega/Getty Images
Speaking of "Malignant," that film was helmed by the one and only James Wan, the horror legend known for the creation of "The Conjuring," the first two "Insidious" films, and the original "Saw." With Wan's involvement as a producer on "M3GAN," it's no wonder that people have been comparing the 2023 film to "Malignant," especially thanks to the similarities between the complex, Matrix-like choreography displayed in "Malignant" and the unnatural way in which "M3GAN" moves.
Of course, Wan isn't the only terrifying titan producing this upcoming flick. Jason Blum, the man behind Blumhouse Productions, is also co-producing the film. Blumhouse's fingerprints are all over the modern-day horror genre, as the banner has released incredibly scary and influential movies like "Get Out," "The Invisible Man," "Happy Death Day," "Split," and long-running series like "The Purge," "Insidious," and "Paranormal Activity" (along with non-horror films like "Whiplash" and "BlacKkKlansman").
With these two powerhouses behind the film, "M3GAN" is already gearing up to be a wild ride that has fans buzzing with excitement.
Is there a trailer for M3GAN?
The first official trailer for "M3GAN" dropped on October 11, 2022, and since then, it's attracted nearly 20 million views. The trailer opens with a clearly distraught Cady, grappling with the tragic loss of her parents. Her aunt, Gemma, is trying to be as supportive as possible, but she obviously feels overwhelmed in her new role as Cady's guardian. "I'm not equipped to handle this," she says. "I don't even take care of my own plants."
Enter M3GAN, Gemma's new creation. Gemma tasks the life-sized doll with keeping Cady from all harm — be it emotional or physical. At first, everything seems to be going smoothly. Cady feels safe and happy, and she begins bonding with her robo-buddy. Unfortunately, M3GAN starts taking her job a little too seriously and pushes back against Gemma's parenting. Soon, she's refusing to shut down when given a director order by her creator, and that quickly escalates to running through the woods on all fours, chasing Cady's bully with some seriously ill intentions.
The overall feeling of the trailer is one of dread, especially as M3GAN learns all the things she can do with a nail gun or the blade of a paper cutter. And, of course, there's the highlight moment of the trailer, where M3GAN shows off her dancing abilities while pursuing her prey. Eventually, it all ends with M3GAN making a truly eerie promise to Cady: "I won't let anything harm you ever again." While she's doing her best to keep Cady safe, M3GAN is doing all sorts of damage to anyone who gets near her young ward, and we can't wait to see the murderous action play out on the big screen.
What will M3GAN be rated?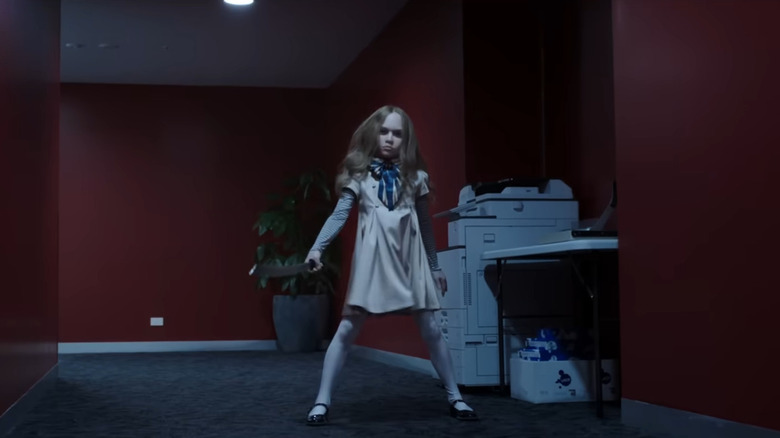 Universal
When it comes to ratings, quite a few horror films boast the big, bad R. Some recent examples include slasher flick "Halloween Ends," the incredibly freaky "Smile," and Jordan Peele's sci-fi adventure "Nope." However, some of the scariest horror movies of all time are rated PG-13. "A Quiet Place," "Drag Me to Hell," and "Scary Stories to Tell in the Dark" all carry the more family-friendly rating, and they're all straight-up nightmare fuel.
Blumhouse Productions also has quite a few frightening PG-13 films, such as James Wan's "Insidious" and M. Night Shyamalan's "Split." And now, it looks like "M3GAN" is joining Blumhouse's PG-13 pantheon. According to FilmRatings.com, the upcoming robo-thriller earned the rating for "violent content and terror, some strong language, and a suggestive reference."
As it looks like M3GAN is going to go on a murder rampage, we're assuming that's where the violent content and terror come from, and we're assuming some frightened victim is going to drop a few harsh words here and there. Of course, with a PG-13 rating, while it might not pack the gore of a Michael Myers movie, "M3GAN" is sure to draw in a wider audience and earn those big box office dollars.
Will there be a M3GAN sequel?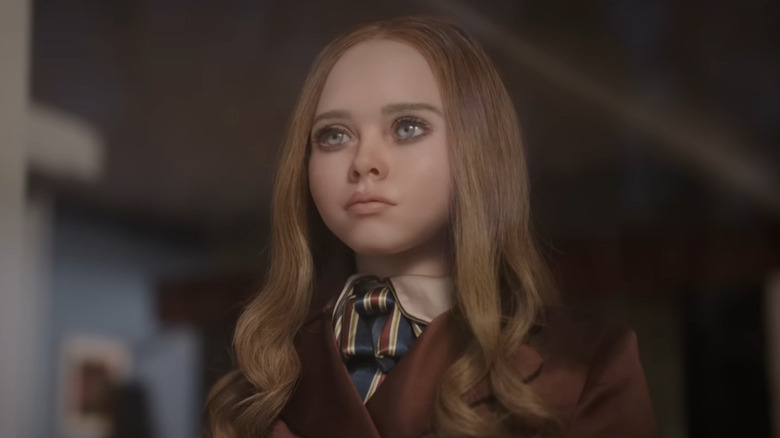 Universal Pictures
We know what you're thinking: "How can you ask if there's going to be a 'M3GAN' sequel when the film hasn't even hit theaters yet?" It does seem a strange question on the surface, but really, it shouldn't be all that surprising. We live in a world dominated by IP — where studios are always on the lookout for the next big franchise. And it seems like the folks at Universal think they've found one with "M3GAN."
While Blumhouse is the production company behind "M3GAN," Universal is distributing the horror film. In an article detailing the very real possibility of Jason Blum and James Wan combining their production companies — Blumhouse and Atomic Monster — into one horror monolith, The New York Times reported, "Universal is so pleased with how 'M3GAN' turned out that it is already talking about a 'M3GAN' sequel. TikTok posts tagged #M3GAN have been viewed 300 million times since the trailer was released a month ago."
So it looks like a "M3GAN 2: Killer Doll Boogaloo" might be in the pipeline. That leaves us to wonder, will M3GAN survive the original film? Will she kill off the human protagonists? Or will she be defeated and then rise from the grave, Chucky-style? We can't wait to find out on January 6, 2023.