Finding A Mayor To Replace Adam West Was A Huge Challenge For Family Guy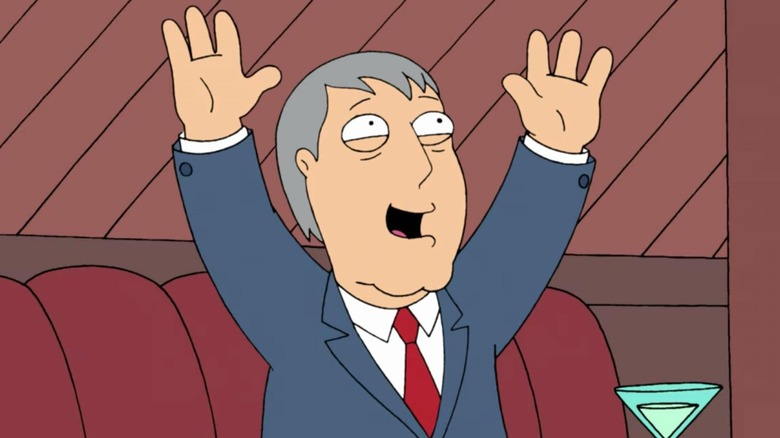 20th Television
Adam West is best known for suiting up as television's Caped Crusader in the 1960s. Over the years, West reprised the role of the Dark Knight several times in different productions, including "The New Adventures of Batman," "Legends of the Superheroes," and "Batman: Return of the Caped Crusaders." The "Batman" star also amassed an impressive and eclectic resume during a career spanning over 60 years in showbusiness, and he spent quite a bit of time as Mayor West on "Family Guy."
Richard Appel served as a co-executive producer on "Family Guy" from Seasons 6 through 8 and as an executive producer from Seasons 12 to 21. Following West's death in 2017, Appel spoke at the San Diego Comic-Con about the late actor and what he meant to him. "What I always thought of Adam West was, for a man who played irony so brilliantly on the screen, he was off-screen just the kindest and most sincere guy," Appel said during the panel interview (via AniDom).
Mike Henry, who played Cleveland and continues to voice others on "Family Guy," also chimed in on what it was like to work with West. "He had this way of making you feel important when you talked to him," Henry said. During the same discussion, Appel also mentioned that West was someone who couldn't be replaced, but the city of Quahog did have to hire a new mayor. And in 2019, "Family Guy" introduced audiences to a wilder West.
Sam Elliott's Wild Wild West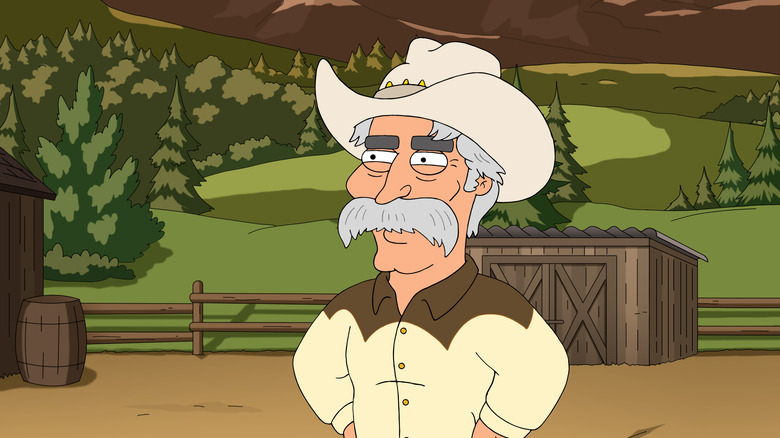 20th Television
Replacing an iconic actor like Adam West isn't easy, but after the star of the 1960s "Batman" television series died in 2017, the team at "Family Guy" faced the daunting task of coming up with someone to take the place of Quahog's beloved and hilariously infectious Mayor West. Casting director Christine Terry brought in Hollywood heavyweight Sam Elliott to fill the void.
"They wanted to find someone who is as special as Adam West," Terry said during an exclusive interview with AwardsWatch. "But, really, how do you replace Adam West? It's such a hard task to do. And they wanted to find someone who was iconic and incredible. And because they had a relationship with him [Elliott], they thought this could really work. This can be genius. Let's see if Sam wants to do it. And you know, the rest is history."
In Season 19, Episode 7 ("Wild Wild West"), Peter (Seth MacFarlane) persuades Mayor West's cousin Wild West (Elliott) to run for office. The rugged outdoorsman wins over the citizens of Quahog with his door-to-door downhome approach and sexy baritone voice. But even with many fans voting favorably for the new mayor's debut storyline on IMDb, Elliott's take on "Family Guy's" leading city official didn't show up again as a recurring character until Season 20.