Tulsa King: 10 Behind-The-Scenes Facts About Taylor Sheridan's Hit Crime Drama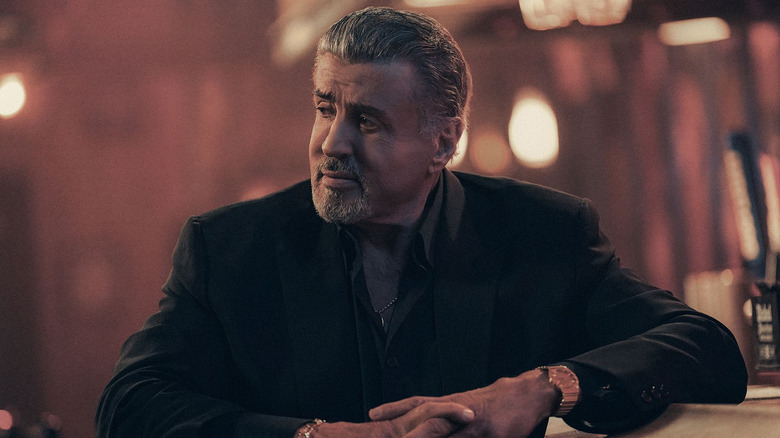 Brian Douglas/Paramount+
Watching Taylor Sheridan build his empire of television shows during the last few years has been awe-inspiring. It doesn't often happen in Hollywood — or in show business in general — that a failed actor becomes an overnight success as a writer and showrunner. But that's what Sheridan accomplished. He was in his mid-40s when he penned the screenplay of "Sicario," which was nominated for the Writers Guild of America Award. Since then, he forayed into the world of television, and his first series, "Yellowstone," became an absolute phenomenon, going strong to this day. In fact, the triumph of the Dutton family's story allowed the creator to expand his macho Montana universe and make two prequels –"1883" and "1923." And yet, despite so much work, Sheridan had the time and energy to make another hit show with last year's "Tulsa King."
The series follows Dwight Manfredi (Sylvester Stallone), a New York mobster who's just been released from prison after a 25-year-long sentence. After keeping his mouth shut for the Invernizzi family for two and a half decades, Dwight expects a warm welcome, but doesn't get one. As soon as he shows up, his boss, Pete Invernizzi (A.C. Peterson), tells him that he's sending him off to Tulsa, Oklahoma, to establish some operations for him. Needless to say, Dwight isn't happy about this in the slightest, but he goes and begins to build his new empire in the middle of nowhere with the help of a bunch of misfits.
Here, we gathered 11 little-known facts about the show that viewers might appreciate.
Taylor Sheridan wrote the pilot in one day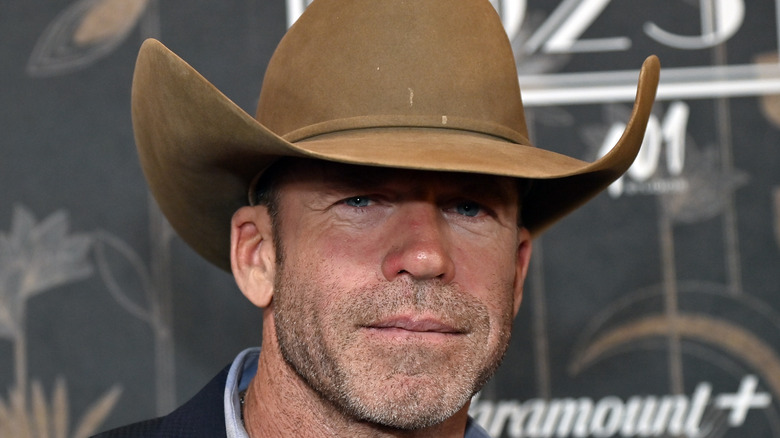 David Becker/Getty Images
According to The Hollywood Reporter, Taylor Sheridan's producing partner David Glasser claims the showrunner wrote the pilot script for "Tulsa King" within a day. Even by Sheridan's prolific, relentless standards, that's pretty fast. And apparently, the main reason he decided to make "Tulsa King" in the first place was Glasser casually mentioned to him how eager Sylvester Stallone has always been to play a gangster on the big screen. (Technically, Stallone starred as a mob hit man in the 2000 flop "Get Carter," but since hardly anyone saw that movie, it doesn't count.)
Stallone even told an interviewer that he was turned down in an attempt to play an extra in "The Godfather." Apparently, he was told that "he didn't look Italian enough." He joked about it, saying, "The only thing that looks more Italian than me is a f****** pizza." After hearing that, Sheridan wrote the pilot script within 24 hours and sent it to Glasser the next day. The following Monday, they pitched the idea to Stallone, who immediately said yes to the role without hesitation. The rest is history.
Tulsa King is the hardest work Stallone has ever done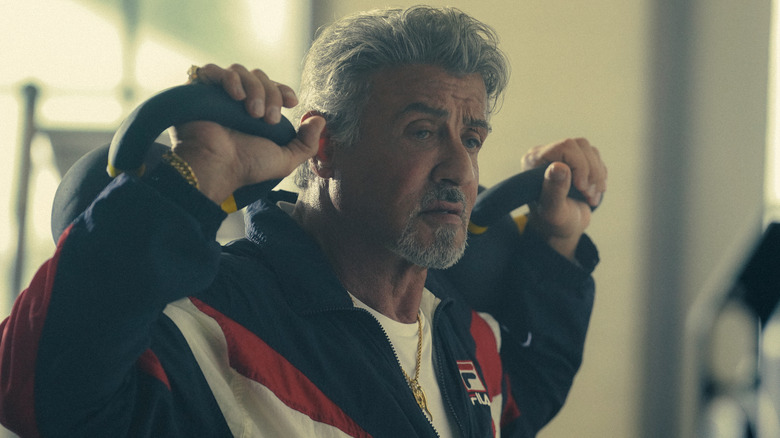 Brian Douglas/Paramount+
Although Sylvester Stallone pined for playing a mobster like Dwight Manfredi in a successful project throughout his whole career, he didn't actually know how much work this requires in a nine-episode-long television series. It was a significant transition from the big screen, because he had to learn over 400 pages of dialogue since his character is in almost every scene. According to an Instagram post the actor shared after Season 1 wrapped, even though he's extremely proud of what they achieved, he was also exhausted as a result. He wrote, "This was a very long, difficult, exciting, [and] mind-blowing production. It was a long time to be away, [but] it was worth it to work with [such] fantastic talent in front and behind the camera."
Stallone is 76 years old now, and despite how much he works out to keep in shape, no doubt the making of "Tulsa King" must have been tiring for him, both physically and mentally. However, he explained in an interview with Outsider that what helped him make the work easier was that he was given some creative freedom when it came to his lines and delivery. Understanding that Stallone is a writer as well as an actor, creator Taylor Sheridan and showrunner Terence Winter let him use his sense of humor to convey the character in his own words at times, which worked out the best for everyone. He understood Dwight's nature, demeanor, and specific traits but interpreted him in his own way, and the final result speaks for itself.
Tulsa King is Stallone's first-ever leading role in a TV show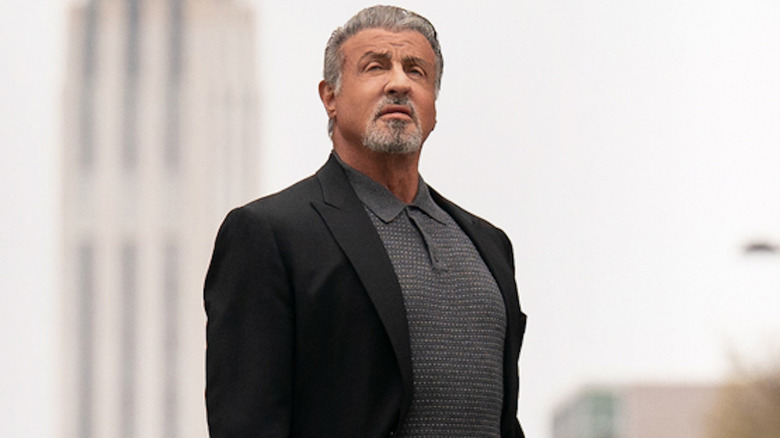 Cr: Brian Douglas/Paramount+
Believe it or not, in his six-decade-long career, Sylvester Stallone has never starred in a television show. He appeared in series including "Police Story," "Kojak," and "Las Vegas," but those were all short guest performances. He also did a cameo in David Crane and Marta Kauffman's sitcom "Dream On" in 1991, where he played himself. But due to how much the landscape of television and cinema evolved in the last decade, the trajectory and the outlook of big stars doing TV have changed substantially. Today, starring in hit shows like "Yellowstone" or "1923" is a prestigious endeavor.
In an interview with CBS News, Stallone admitted that it feels rather strange to be on television. He further explained, "At one time, when you were on TV, you were like, 'Oh, boy, I guess I'm genetically flawed.' Things have changed now. Now, it's just the opposite. Your best actors are streaming." And he is right, indeed. Legendary movie stars like him, Kevin Costner, or Harrison Ford, for instance, are taking roles in shows like "Shrinking," "Yellowstone," and "Tulsa King." Considering how much the quality of writing and production developed in recent years, it's not a surprise that these iconic actors seek opportunities to appear on the small screen.
Tulsa King's premiere was the most-watched debut episode in 2022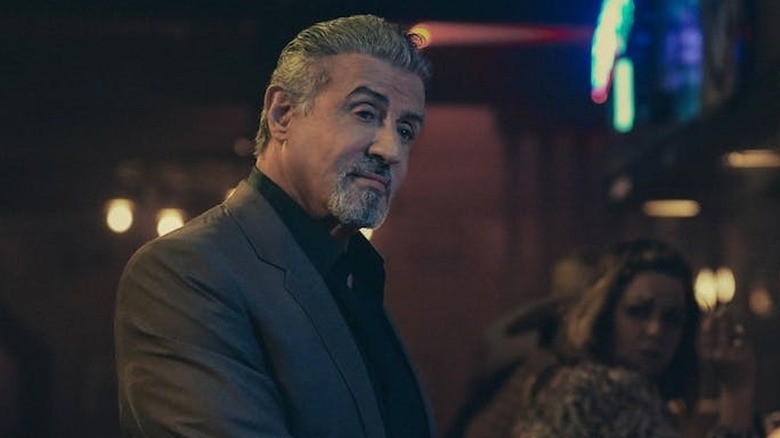 Brian Douglas/Paramount+
The amount of viewers Taylor Sheridan was able to pursue and bring in with his television shows in the last five years is unparalleled. He tapped into a viewership that became obsessed with his narratives about outlaws, and "Tulsa King" is no exception. Of course, he didn't do it alone. Sylvester Stallone's reputation certainly helped to seduce an audience, but more than that, it's the fish out of water story that appeals to people at home the most. It's a familiar narrative with a special spin, which must be one of the main reasons the series found great success.
The debut episode of "Tulsa King," "Go West, Old Man," was the most-watched premiere of a cable TV show in 2022. In fact, it beat the previous record holder — "House of the Dragon," HBO's first "Game of Thrones" spin-off fantasy series. The "Tulsa King" pilot was watched by 3.7 million viewers (delayed viewing included). This might've been the case due to an excellent marketing campaign and the decision to air the pilot right after the "Yellowstone" Season 5 premiere, but that doesn't make this achievement less extraordinary. Sheridan simply knows what people want and repeatedly comes up with new productions to prove that time and again.
Stallone is a lot more like Dwight than Rocky or Rambo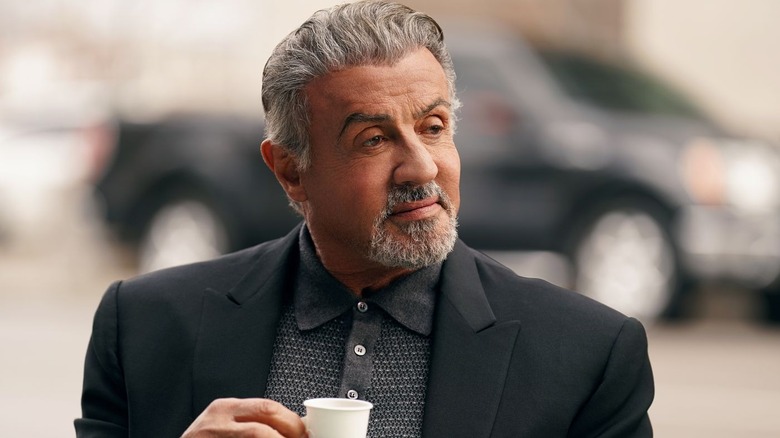 Brian Douglas/Paramount+
Undoubtedly, two of Sylvester Stallone's most beloved roles are Rocky Balboa and John Rambo. He put a lot of effort into creating and portraying those characters, which certainly shows in each of his performances, especially in the original films. He delivered two portrayals for the ages that he's very proud of. That's why it must be surprising for his fans to hear that he believes he actually has more in common with Dwight Manfredi than he does with Rocky and Rambo.
In an interview with Brooklyn Magazine, Stallone talked about the newfound freedom in playing a character that's close to his real personality for a change. "I used to have to tell people that Rambo is a performance," he explained. "I'm not really that monosyllabic, dark and petulant. I really don't talk like Rocky either. People always assumed that's who I am." It's definitely refreshing to see a lighter and goofier side to Stallone that aligns more with his real-life persona. He thinks so, too. "This one [Dwight Manfredi], finally, is liberating because it is who I am," he said. "Dwight talks how I talk. This is how I roll. And I thought, let me just see if this works. If it bombs, then I know I have a sh–ty personality. If it works, great, because I've been a class clown my whole life, believe me."
Stallone wasn't sure if he wanted to return for Season 2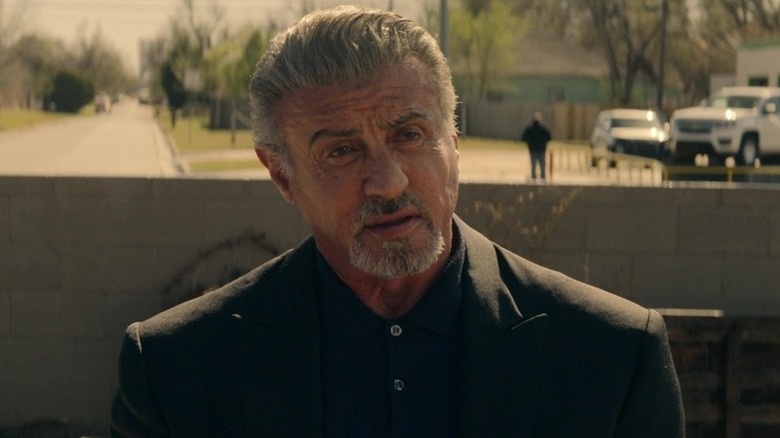 Paramount+
Sylvester Stallone was a little overwhelmed by the workload of the lead of "Tulsa King." Since he had no previous experience as a star of a TV show, he didn't really know how time consuming and tiring an ongoing production like this could be. Thus, it's not entirely unexpected to hear that he wasn't quite sure whether he would want to continue working on it if the crime drama was picked up for another season.
During an interview with Variety, after the first episode of "Tulsa King" officially aired, the actor shared some of his thoughts about the experience of making the series. He said, "It's beyond tough. I can't believe some people have done this for four, five, or six seasons. It's brutal, compared to filmmaking. I'll never say, 'This is a hard shoot' again on a feature. It's a vacation compared to this! It really is... ." Given his age and heavy involvement, his feelings about the shoot are pretty understandable. Stallone also added, jokingly, "Can they shoot it in my home in Palm Beach? That'd be nice. I talked to my wife about it. If she comes along with the kids to the set to visit, perhaps. But it's a big decision, it really is." Nevertheless, "Tulsa King" was renewed for Season 2, and Stallone is set to return to Oklahoma as Dwight Manfredi.
Stallone was intrigued by playing a not-so-typical gangster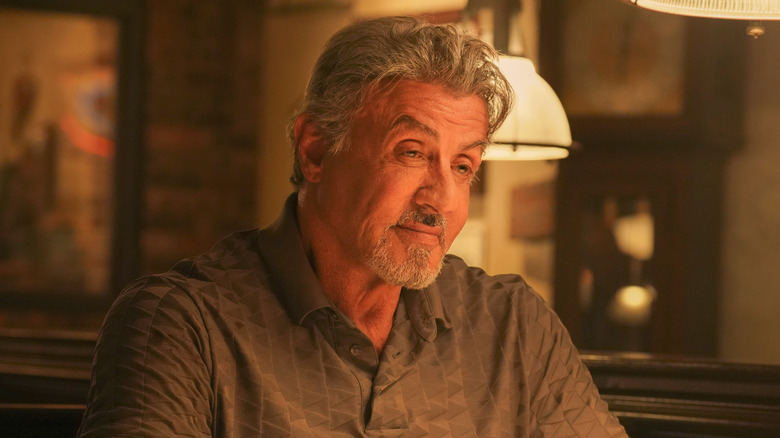 Paramount+
Sylvester Stallone was able to bring his trademark mannerisms to the role of Dwight because he doesn't play the ruthless, cruel, and sociopathic gangster type we know from Martin Scorsese's "Goodfellas" or David Chase's "The Sopranos." Stallone's character isn't a vicious killing machine, even though he uses violence whenever he needs to in order to execute his plans and protect the people he cares about. On the surface, though, Dwight is a reasonable fellow (jolly even) who tends to get what he wants by using his brain rather than his fist. And he's not without deep and tender feelings, either. This is what compelled Stallone the most when he accepted the role.
In an interview with Tom Power for Q, Stallone talked about bringing his character to life and filling it with heart and relatability. The actor said, "I'm not a killer. Never have been. I'm more of an organizer. They call me The General." Then he further explained how Dwight has feelings that eat at him deep down. "There's a regret and a heartbreak to him. And that's gonna drive a great deal of this show. It makes it more relatable to anyone who has a family." It's easy to see how this aspect of the role has appealed to Stallone and why he felt so connected to it.
Terence Winter has a keen understanding of the gangster genre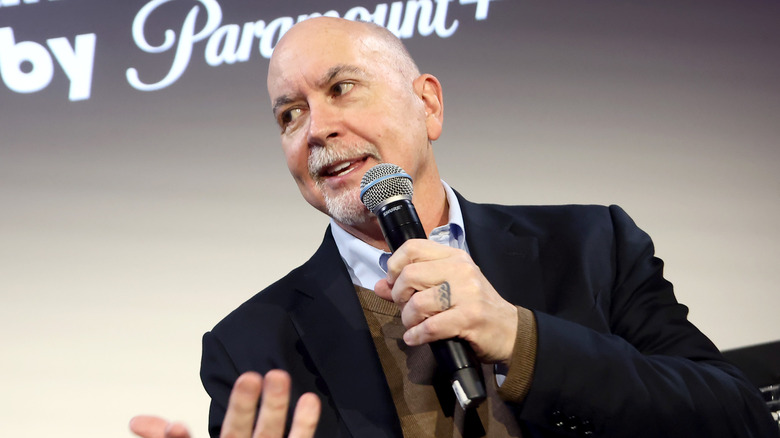 Tommaso Boddi/Getty Images
Taylor Sheridan was never intended to be at the wheel of "Tulsa King." He came up with the concept, wrote the pilot, and then handed the production over to the veteran TV writer-producer Terence Winter. Winter is mainly known for writing more than two dozen episodes of "The Sopranos" and creating another gangster epic series called "Boardwalk Empire." He also wrote the screenplay for Martin Scorsese's "The Wolf of Wall Street," based on Jordan Belfort's memoir, for which he was nominated for an Oscar. Clearly, Sheridan knew his background and extraordinary talent when it came to this particular genre of depicting mobsters on the big and small screen.
In a "Tulsa King" promotional video, Sheridan said, "Terence is someone whose work I admired, and I felt that he had a real keen understanding of this world and would appreciate a real fresh look at it." Winter certainly injected his craft into "Tulsa King," helping it to become a hit. Sadly, however, after the first season wrapped, he announced that he was leaving the series and won't be serving as showrunner in Season 2. According to Deadline, he said the reason for his departure is a matter of creative differences between him and Sheridan.
Stallone built an easy-going rapport with his co-stars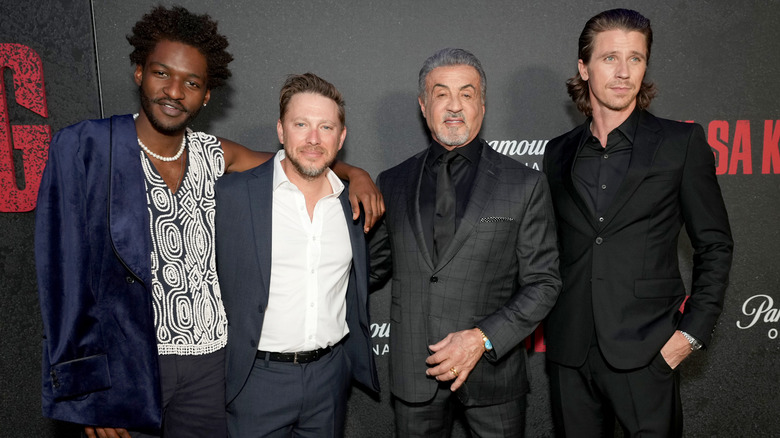 Kevin Mazur/Getty Images for Paramount+
Without question, it must be intimidating for any young or upcoming actor to act alongside a legend like Sylvester Stallone. No matter how confident you are in your own abilities, there must be a voice in your head making you at least a little nervous in a situation like that. However, interestingly, Stallone has his own method to release tension and turn a shoot into fun when he's working with a cast he has never worked with before. In an interview with ABC Audio, Stallone shared this approach. He said, "Actually, I joke around with them a lot between [takes]. I don't go off and mood up, you know. If anything, I'm constantly joking with them. So I talk to everybody ... I'm not standoffish at all, and right away they start joking with me, and I go, 'OK, we're ready to move.'"
His "Tulsa King" co-stars confirmed that the atmosphere Stallone creates while working is definitely a smooth, relaxed, and easy-going experience. In an interview with JoBlo, Andrea Savage, Garrett Hedlund, Dana Delany, and others praised the "Rocky" star for his nonchalant demeanor on set and said they've built a dynamic rapport with him throughout the many months working together. In a social climate where the news is riddled with how badly big Hollywood names treat their co-stars sometimes, this is a pretty pleasant and comforting thing to hear about an actor the caliber of Stallone.
Stallone identified with Taylor Sheridan as a struggling actor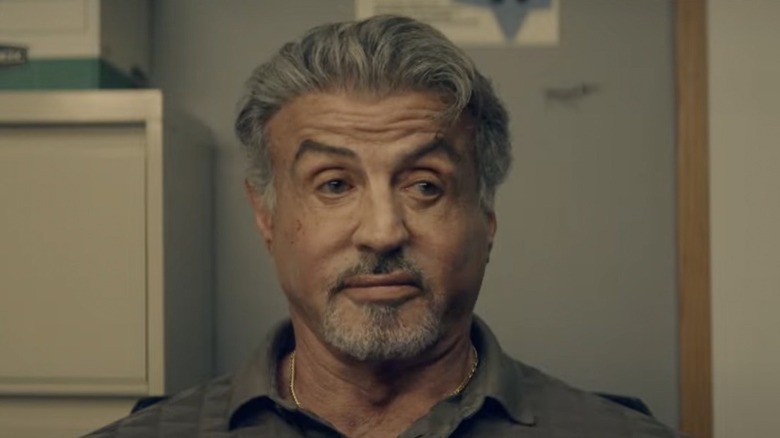 Paramount+
During an interview with Outsider, Sylvester Stallone shared an anecdote about the first time he ever met Taylor Sheridan. The encounter happened in 2015, a little before the writer-director broke into the Hollywood writing scene with his "Sicario" screenplay and took place in a barn at the Los Angeles Equestrian Center. As they got to talk, Stallone said that he deeply identified with Sheridan's situation (as an actor and writer) because, at the beginning of his career, he also struggled to find work and make it in the film business as a performer. In fact, that was the very reason he veered a little off of his acting path and penned "Rocky" in 1976. The two had a lot in common, and Stallone had a pretty good understanding of what the Texan might have been going through.
Little did he know that a few years later, the same guy would call him up and offer him the role he wanted to do his whole life but never exactly had the chance. Well, their pairing was a perfect match.