That's The Real Eiffel Tower In John Wick 4 (& The Scene's Secret Is Symmetry)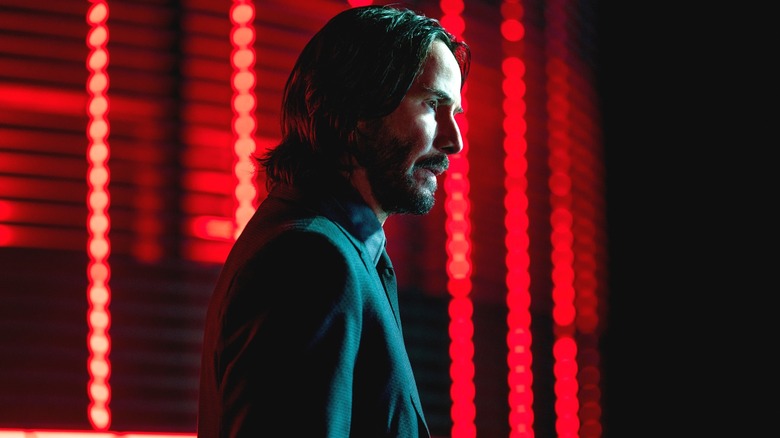 Lionsgate
The eagerly anticipated action bloodbath "John Wick: Chapter 4" hits theaters on March 24, and fans have been picking apart every detail of the trailers, searching for clues of what's to come, since they first dropped. The Chad Stahelski-directed film once again stars Keanu Reeves as the assassin on the run, John Wick, as he tries to defeat the High Table, which is chasing him down because he broke one of their cardinal rules. In order to escape and finally be free, Wick must face off against former friends and new foes.
Being a globe-trotting epic, the film employs some truly remarkable locations to take audiences' breath away, including Aqaba, Berlin, Osaka, Paris, and Tokyo. And as Stahelski describes it, the Eiffel Tower, a piece of Paris architecture so iconic that it's almost a character itself, may steal a scene in which a lot of big-name actors share the frame.
Stanley Kubrick influenced the movie's symmetrical shots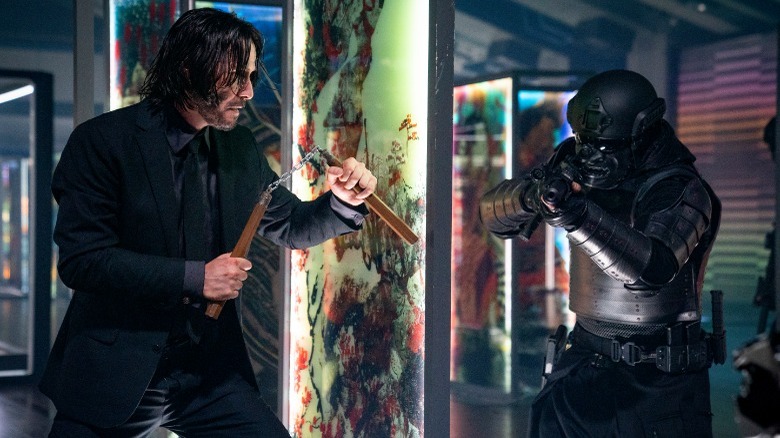 Lionsgate
In reference to a star-studded scene in "John Wick: Chapter 4" in which the Marquis de Gramont (Bill Skarsgård), Caine (Donnie Yen), the Bowery King (Laurence Fishburne), and John Wick discuss whether the High Table will honor its word, Chad Stahelski confirmed in an interview with Collider, "Real deal. That's the Eiffel Tower."
The director revealed that he often doesn't tell his cast that they're going to be on location in circumstances like these, letting it be a surprise for the performers. He set the scene for what it's like to arrive for a shoot like this, saying, "There's nothing like it's 5:00 AM, we're just setting up the lights. It's still dark out. They get out of the car. We're going to do our read-through, and then they get out of the SUV, and it's the f***ing Eiffel Tower right there at this great table."
Stahelski compared filming at the actual Eiffel Tower to "Barry Lyndon," which is known for its ultra-precise symmetrical shots. He is a huge fan of Stanley Kubrick's work on that film and wanted to pay tribute to the auteur in his blocking. "We placed everybody in this really, really renaissance kind of way," he said. "When you explain that in a room, in an office, it's one thing, but when you see it with the Eiffel Tower and the symmetry, they all started to get the symmetry and the artistic nature of what we're trying to do when they get there."