John Wick 4's Final Trailer Promises A Total Bloodbath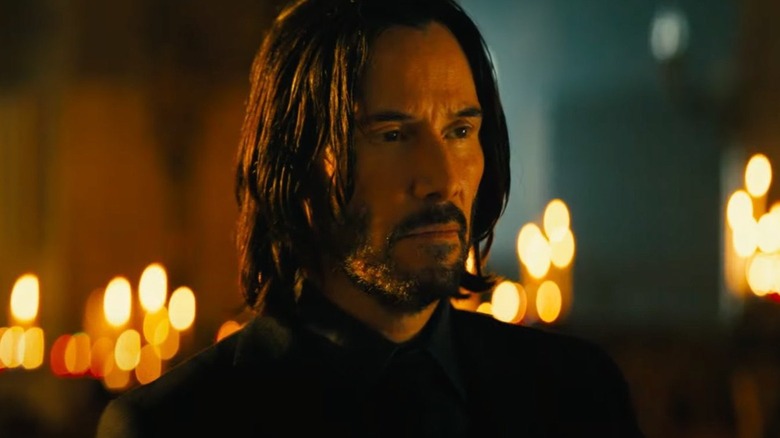 Lionsgate
In 2014, moviegoers witnessed the launch of what would become one of the most popular action-thriller franchises of the early 21st century: "John Wick." Though it was a hard sell on paper, with John Wick played by Keanu Reeves, up-and-coming creator Derek Kolstad behind it, and a fairly modest budget by modern standards, 2014's "John Wick" became nothing short of a hit. As a result, the powers that be got to work on a sequel, "John Wick: Chapter 2," which arrived in 2017 to strong box office returns and praise from all sides.
Since audiences made it clear that they wanted to see more of Reeves' master assassin, a third "John Wick" film came to fruition. "John Wick: Chapter 3 – Parabellum" premiered in 2019, and sure enough, Reeves, director Chad Stahelski, and everyone else involved in its development had yet another banger on their hands. As the old saying goes, if it ain't broke, don't fix it, so plans were put in place for a fourth "John Wick" flick that has since taken on the incredibly fitting title of "John Wick: Chapter 4."
Following a hard-hitting, small detail-packed first trailer, "John Wick: Chapter 4" debuted it's final trailer on February 16.
John Wick 4 is shaping up to be another big win
As one would hope and expect, the final trailer for "John Wick: Chapter 4" certainly didn't pull its punches. It brings the action and drama, in addition to giving us a better look at some franchise newcomers and getting us up to speed on where Wick is at this point in time. If you recall, the events of "John Wick: Chapter 3 – Parabellum" left him in a rough spot. Horribly injured and on the run from innumerable assassins, he has no choice but to team up with the Bowery King (Laurence Fishburne) to take on the mysterious High Table — the very same faction he'd worked for previously that's now overseeing his downfall.
Unsurprisingly, the High Table is going to throw everything it has at Wick and the Bowery King. They'll have to contend with a bevy of new characters, including the Marquis de Gramont (Bill Skarsgård), a friend of Wick's who is still aligned with the High Table named Caine (Donnie Yen), and the Harbinger, as portrayed by Clancy Brown. Along the way, Wick will also run into old allies like Winston (Ian McShane) and Charon (Lance Reddick), who seem to have their own parts to play in this highly-anticipated sequel. It's no stretch to say that "John Wick: Chapter 4" is shaping up to be yet another home run.
At long last, the fourth chapter in the "John Wick" saga (which will supposedly have a longer runtime than usual) hits the big screen on March 24, 2023.