Whatever Happened To CATEapp After Shark Tank?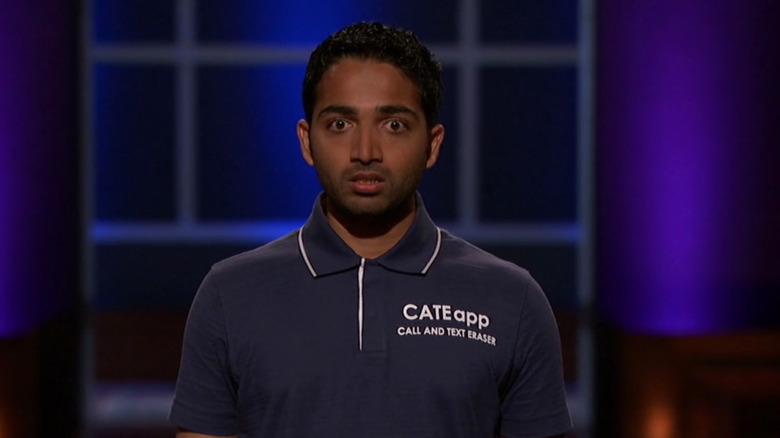 ABC/Hulu
Technology pitches tend to go over well on "Shark Tank." It's why Mark Cuban invested in the Hater app and the Sworkit workout app, and why he teamed up with Lori Greiner to invest in the Cycloramic panorama photo app. Even apps with dubious moral purposes have a good shot at landing some seed money, like the CATEapp. 
To be fair, isn't just meant to facilitate adultery–that's only one of its many useful purposes. Simply put, the CATEapp is an application that hides certain text and voice messages on a smartphone. "CATE" stands for "Call And Test Eraser." By adding certain contacts to a blacklist, messages from those contacts would automatically be uploaded to a hidden server, to be accessed at the user's discretion. 
Entrepreneur Neal Desai tried to insist that the CATEapp is really just a privacy app, but the sharks weren't having it. Robert Herjavec insisted on calling it what it was: a cheating app. Desai went into the tank to pitch the CATEapp in 2012. He asked for $50,000 in exchange for a 5% equity stake in his company. Herjavec and Cuban bowed out of the bidding due to moral concerns. Kevin O'Leary and Daymond John teamed up to offer $50,000 for a 50% stake. Barbara Corcoran then offered $50,000 for 30%, provided Desai rebrand the app for law enforcement purposes–more on that below. Desai managed to talk O'Leary and John into $70,000 for a 35% stake. They agreed on the show, but the deal later fell apart–not a great omen.  
CATEapp couldn't maintain the Shark Tank bump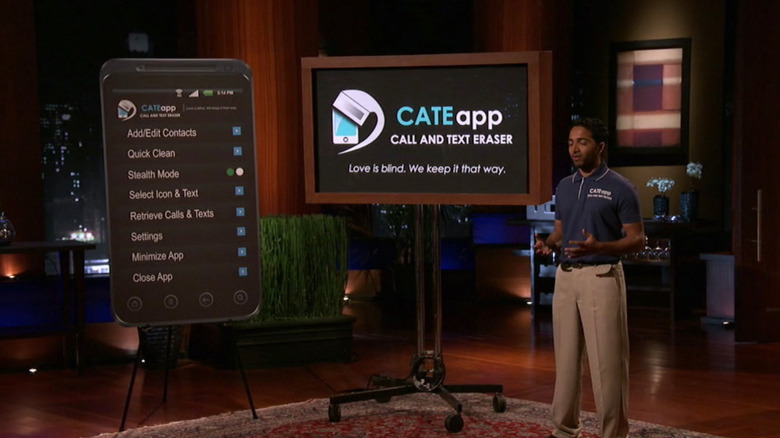 ABC/Hulu
First, some context. West Palm Beach police officer Phil Immler created the CATEapp in June 2011. He was inspired to create it after seeing a friend go through a divorce when their spouse found incriminating texts. Immler also realized that a message-erasing app could potentially help protect victims of domestic violence. As a former police officer, he responded to many domestic violence calls that began with someone going through their partner's phones. Barbara Corcoran also saw the app's potential to aid undercover informants who don't want texts from law enforcement to appear on their phones.
Neal Desai purchased the app from Immler for $17,500. He saw its potential as an app to aid cheaters. At the time of his "Shark Tank" appearance, the CATEapp had 5,500 paying customers and another 4,000 free customers. It was available for $4.99 on iPhone and Android, and $9.99 on Blackberry.
Despite the lack of a deal, the CATEapp attracted 10,000 new users shortly after the segment aired, 70% of them women. Unfortunately, Desai was unable to maintain the momentum. As of 2013, the app was only available on Android, and today it's unavailable on any platform. Its website is defunct and its social media hasn't been updated in a decade. However, today there are dozens of apps that hide text messages for privacy purposes, or to facilitate cheating, or for other reasons, so Neal Desai and CATEapp were definitely onto something.