Whatever Happened To Sworkit After Shark Tank?
In 2014, the year before co-founders Gregory Coleman and Ben Young pitched their exercise app Sworkit to the team of investors on "Shark Tank," Gartner Inc. reported that a mere .01% of consumer apps (just one in every 10,000) would result in financial success. This number hasn't changed much in the years since (via Fyre), for reasons ranging from a saturated market, to start-up costs, to the fact that most people simply don't want to pay for apps (via Startup Grind). Subsequently, despite Coleman's and Young's app having already brought in an impressive revenue stream by the time they appeared on the series, the developers knew they had plenty to gain from an influx of "Shark Tank" tender — and plenty to lose should the team tell viewers the app wasn't worth their investment. 
Luckily, the duo managed to convince two of the sharks to the take the bait. The contestants were seeking $1.5 million for an 8% stake in the app in order to grow their engineer team and increase speed. From the outset, it was clear Mark Cuban was interested in both the app itself, and in its potentially profitable ad stream. After dismissing Kevin O'Leary's bid as lacking strategy, the Dallas Mavericks owner met their record-setting ask (per PR Web) in exchange for a 10% stake and $1.5 million in credit of Sworkit's unsold ad inventory. Coleman and Young accepted, the trio shook hands, and the sharks moved on. But what became of Sworkit after its series appearance? 
Sworkit has done well since its time in the tank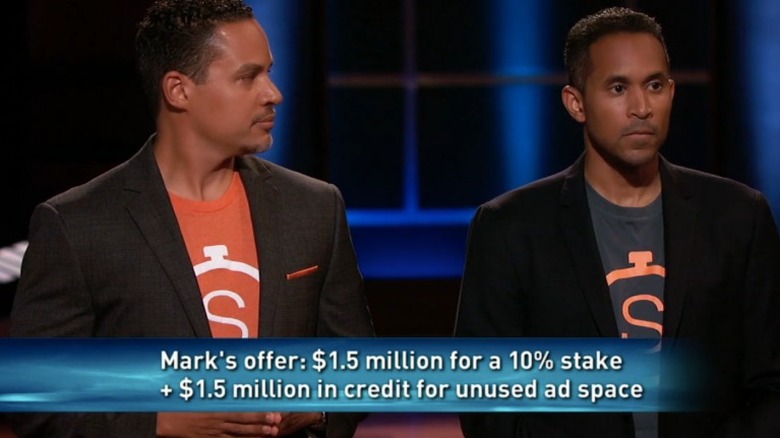 ABC/Hulu
Today, fitness fledglings and cardio connoisseurs alike can download the app — described by Young as "Spotify, but for workouts" — from the iTunes App Store or Google Play, and choose from three different subscription plans offered on Sworkit's wesbite. The site also reveals that the company has, since its "Shark Tank" appearance, launched both the Sworkit Youth Initiative in 2018 to help reduce childhood obesity, and Sworkit for Business in 2020 to address the wellness needs of corporations. Sworkit could have gone the way of so many other companies promising to rid users of excuses not to workout (as if such a thing could be done), but it appears the start up has done pretty well for itself in the years since its time in the spotlight.   
As the Shark Tank Blog reports, the Covid-19 pandemic created a boom for the workout app market, and a 2020 partnership with Blink Fitness allowed the company to diversify its content. "As of December, 2021," the blog notes, "the app [had] over 30 million downloads and ten million registered users [resulting in] around $60 million in annual sales." What's more, Sworkit was one of three companies to join digital health platform Solera Health's new Musculoskeletal network (per PR News), and in 2021, both Medical News Today and Phanrdriod listed it as one of their top workout and fitness app picks. There's just one thing missing from this success story's complex equation: Mark Cuban. 
Sworkit's Shark Tank deal tanked, but the company didn't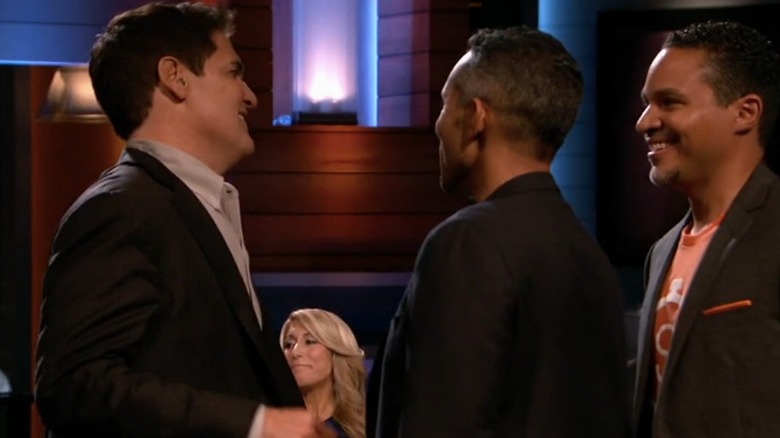 ABC/Hulu
Unfortunately, Cuban's deal with the company fell through during the due diligence process — that pesky little effort not shown on "Shark Tank" (because it's not the exciting part, obviously) by which an investor collects more information on a company in order to assess their risk and make a final decision (via Shark Tank Blog). As The Washington Business Journal reports, Young felt that Cuban's desired $15 million post-money valuation of the company (aka, how much Sworkit would be worth after his investment) would interfere with the stakes of other investors. 
Young offered his take on the situation, saying "[Cuban] didn't like some of the things we wanted, we didn't like some of the things that he wanted, but at that point neither party wanted to give in on those things." Young didn't appear to be particularly upset by Cuban's decision to withdraw — after all, the free press alone undoubtedly worked to the company's advantage, and Sworkit has evidently found success anyway — but he did tell the outlet that his views of the process are still positive. In his words, "I just have a more realistic understanding of [the process]."
As Jonathan Aberman, the managing director for Amplifier Ventures, explained to the outlet in a context-providing commentary, "There's a big difference between shaking hands and saying that sounds good, and actually sitting down and structuring the deal...Many of those fall apart, and there's no shame in it. Nobody's bad, nobody's evil."