Small Details And References You Missed In Creed III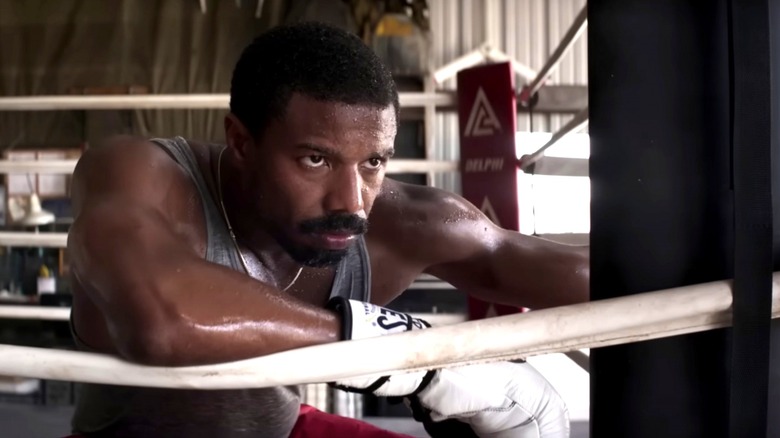 MGM
After five years of fans anticipating another round in the ring, "Creed III" has arrived and is just as powerful as ever. The "Rocky" spin-off series first launched in 2015 with the Ryan Coogler-directed "Creed," which introduced Michael B. Jordan's Adonis "Donnie" Johnson, the illegitimate son of boxing legend Apollo Creed (played in the "Rocky" series by Carl Weathers). Trained by Rocky Balboa himself (with Sylvester Stallone reprising his iconic role) Donnie fights to become an even better boxer than his father and establish his own legacy as Adonis Creed.
The first two films in the "Creed" series serve as a sort of epilogue to Rocky's saga — which effectively concluded in the 2006 film "Rocky Balboa" — and also a launching point for Donnie's own story. As it happens, "Creed III" is the first of the bunch to center entirely on Adonis' journey, this time directed by Jordan himself. The latest installment focuses on the relationship between Donnie, who has recently retired from boxing, and Damian "Dame" Anderson (Jonathan Majors), two childhood friends who reconnect after Dame's 18 years in prison. As their bond begins to break, Donnie and Dame have no choice but to settle their differences in the ring.
It's easy to get caught up in the adrenaline rush that is the world of boxing and miss some of the small details peppered throughout. Never fear — we've got you covered. Here are some of those little Easter eggs that you may have missed while watching "Creed III."
No longer Adonis Johnson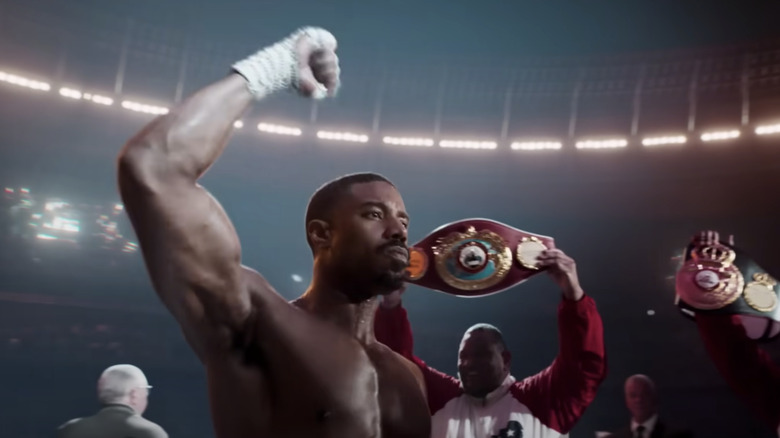 MGM
In the first "Creed" movie, Adonis is torn between wanting to make a name for himself all on his own and using Apollo Creed's legacy as a springboard for his own career. After being deemed "untrainable" at every turn, he moves from Los Angeles to Philadelphia to train with his father's friend and former rival, Rocky Balboa. As Rocky trains the young Creed, Donnie becomes a powerful force to be reckoned with, following in both Rocky and Apollo's footsteps. 
By the time Donnie finally steps into the ring to face "Pretty" Ricky Conlan (Tony Bellew), "Hollywood" Adonis Johnson trades his biological mother's name for his fathers and reintroduces himself to the boxing world as Adonis Creed. In honor of his past, Donnie sports the Johnson name on the back of his red, white, and blue boxing shorts with Creed displayed prominently on the front as to not forget where he came from. This remains consistent throughout all of "Creed II" also.
Taking place years after the second installment, when we catch up with Adonis at the start of "Creed III," he's completely shed the Johnson name and identity in favor of the Creed title and legacy. His new red shorts signify that Donnie has finally come to terms with who he is and where he comes from, and as the film suggests, he finally acknowledges that his career was built on the shoulders of those who came before, namely his mentor Rocky and his father Apollo.
The Rumble in the Jungle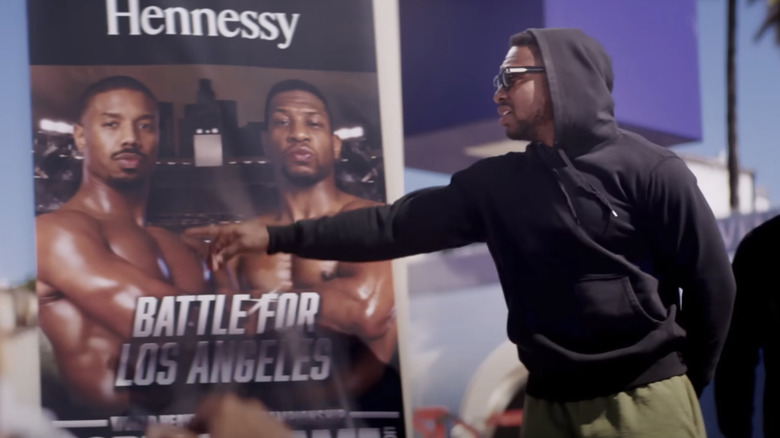 MGM
"Creed III" opens with a flashback to Donnie's childhood spent with his best friend and "older brother" figure Dame Anderson. After infiltrating an boxing underground ring, Donnie and Dame head back home only to get in trouble along the way. But before Donnie picks a fight with the abusive man who ran their old group home, he gifts Dame something from his father's personal collection: a "Rumble in the Jungle" ticket.
On the surface, there's nothing incredibly special about this, other than it came from Apollo Creed himself, but fans may remember what makes the event in question so special. In "Creed II," promoter Buddy Marcell (Russell Hornsby) mentions that a battle between Donnie and Viktor Drago (Florian Munteanu) would be as big as "Rumble in the Jungle." Though the fight between the sons of Creed and Drago was a long time coming, it's the battle between Creed and Anderson that's most like the actual event.
In reality, the "Rumble in the Jungle" was a 1974 boxing event that featured Muhammad Ali and George Foreman in a battle that reclaimed the former's reputation as the greatest boxer of all time. Held in what is now the Congo, Ali beat Foreman in order to reclaim his worldwide heavyweight title. No doubt, the "Battle for Los Angeles" at the end of "Creed III" serves as Donnie's own "Rumble in the Jungle," cementing him as the best of his generation. Well, at least fictionally.
Old Enemies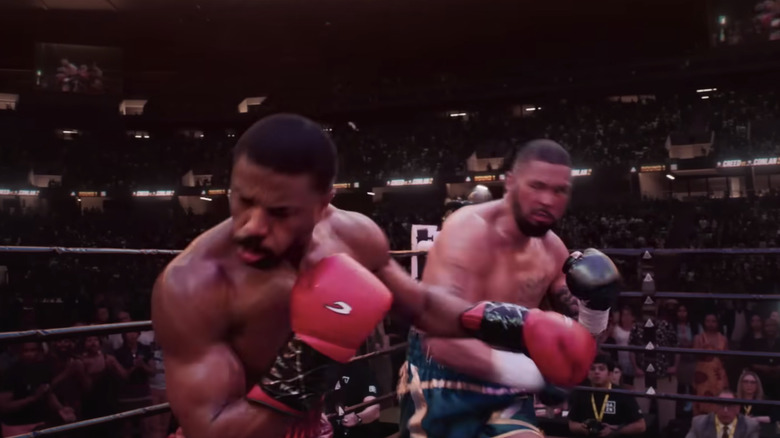 MGM
In the original "Rocky" movies, Rocky Balboa duked it out with Apollo Creed twice before the pair became good friends. By the time "Rocky III" came around, these two-time rivals were as thick as thieves, and after Apollo died in the ring in "Rocky IV," the "Italian Stallion" took on his killer Ivan Drago (Dolph Lundgren) for a personal vendetta. If anything, the "Rocky" films know how to bring back former antagonists with a new twist. "Creed II," which was co-written by Sylvester Stallone, brought back Drago, portraying the villain in a more sympathetic light.
Well, just like the "Rocky" films before, the "Creed" series honors its past by bringing back Donnie's old enemies from the ring. In Creed's final retirement fight at the start of the film, he's once again pitted against "Pretty" Ricky Conlan, though this time he beats Conlan, claiming the heavyweight title as his own. The pair having first fought back in 2015, the original Creed/Conlan launched Donnie's career as Adonis Creed, so it's fitting that their final battle would end it — at least temporarily.
But Conlan isn't the only old opponent of Donnie's to show up in "Creed III." Viktor Drago returns as well, this time as Donnie's friend rather than his enemy. Though Donnie's attempts to set up a fight between the younger Drago and star fighter Felix Chavez (Jose Benavidez) are thwarted by Dame, the younger Creed and Drago — names that were once synonymous with rivalry — remain friends. Evidently, time heals all wounds.
Showtime beat out HBO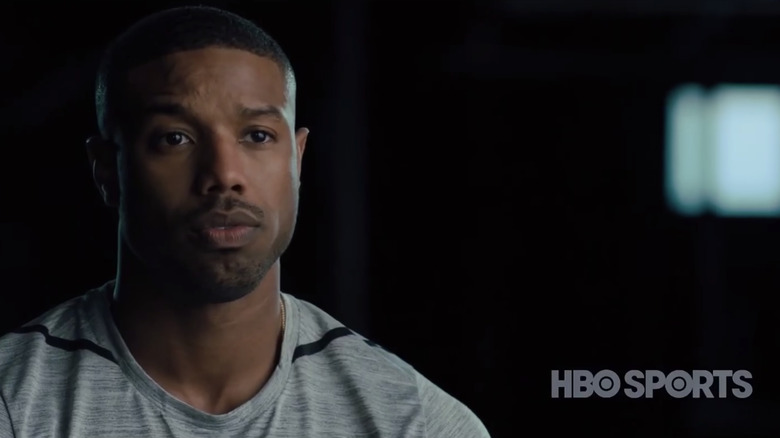 MGM/Warner Bros.
A sort of blink-and-you'll-miss-it detail in the latest "Creed" film is the exclusion of HBO Sports in favor of Showtime Sports. While this small detail doesn't matter much story-wise, it signifies some serious behind-the-scenes changes that occurred between the second and third "Creed" films. While Metro-Goldwyn-Mayer (MGM) is involved with every "Creed" installment — they're in charge of the "Rocky" franchise after all — Warner Bros., specifically their label New Line Cinemas, has been heavily involved in the production and distribution of the series.
New Line Cinema — known best for the "A Nightmare on Elm Street" and "The Lord of the Rings" films — was absorbed into Warner Bros. in 2008, as both studios were owned by the Time Warner Company. Since HBO was also owned by Time Warner, the inclusion of "HBO Sports" in the first two "Creed" pictures made perfect sense. After all, Warner Bros. was significantly involved in the making of the franchise. "Creed III," however, has fewer ties to the studio.
As expected, Metro-Goldwyn-Mayer chose its own label, United Artists Releasing, to distribute "Creed III" domestically, and since Amazon bought MGM for $8.5 billion in 2022, giving it ownership of the "Rocky" brand, the sports highlights and pre-game interludes seen on TV within "Creed III" are hosted by the Amazon-owned Showtime Sports this time around. Though Warner Bros. is involved in the film's international distribution, Amazon has successfully asserted their dominance over the "Creed" and "Rocky" brands.
The other Creed kids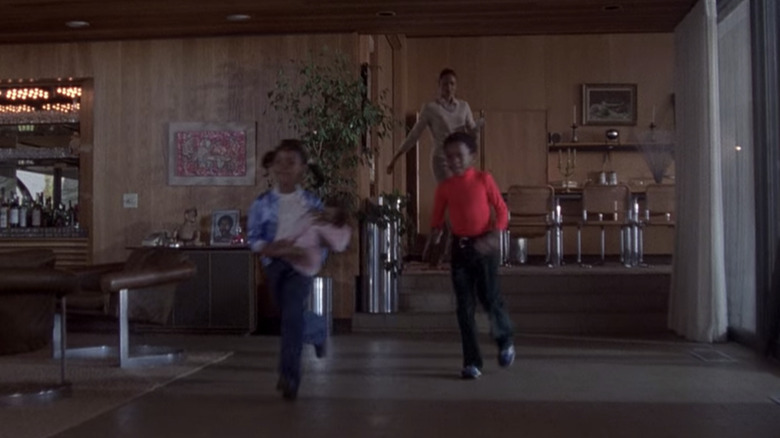 MGM
Aside from a passing reference in the first "Creed," the other children of Apollo Creed — an unnamed son and daughter — are rarely mentioned. Though they appeared briefly in "Rocky II," running away from their frustrated mother (played then by Sylvia Meals), Apollo's other children haven't shown up again in any installment of the "Rocky" franchise, even after Apollo Creed died in "Rocky IV." Since Adonis was born shortly after Apollo's death, the former "Master of Disaster" never knew he had an illegitimate son. 
Because of this, it took Mary Anne Creed years to track Donnie down before adopting him as her own. For years, the question of how they might've responded to having a new sibling was a question we never thought would be answered. "Creed III" changes that with a powerful and heartbreaking moment in which Adonis reminds his adoptive mother that his half-siblings never fully accepted him as their brother, while Dame did.
Of all the Creed kids, Adonis is arguably the closest to his mother, and since Mary Anne took a special liking to Donnie from a young age, it's obvious why his older siblings might not have taken too kindly to another Creed in the house. Donnie going by the surname Johnson probably didn't help things much, either. Even at Mary Anne's funeral, her other children don't seem to show up, and if they do, the film doesn't take any time to highlight their appearance. Still, at least we know they haven't been completely forgotten.
'Baby' Creed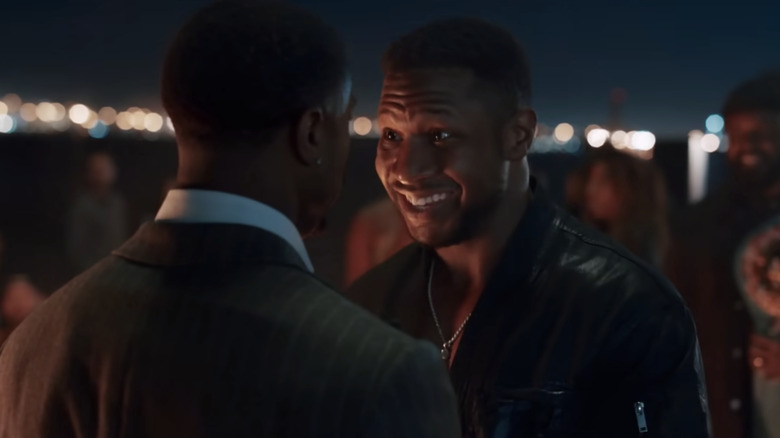 MGM
After "Diamond" Dame Anderson wins the heavyweight title — a belt that once belonged to Adonis himself — Donnie confronts his old friend about his violent behavior and shady tactics in the ring. Unfortunately, this conversation doesn't quite go as planned, and Donnie is ridiculed and even beaten by his former accomplice, who threatens to take everything he has. But there's one insult that Dame hurls at Donnie that the prize fighter can't stand: "Baby Creed."
When the news that Adonis Johnson was actually Apollo Creed's son broke out in the first "Creed," it was without Donnie's involvement. Both he and Rocky were blindsided by the media leak, but they quickly overcame and used it to their advantage. Donnie moved past the Johnson name, taking the Creed title for his own and fighting tooth-and-nail to rise to the top. Of course, with the Creed name came distinct challenges — namely the direct tie to his father's legacy and the imposter syndrome that spawned from it.
In the first "Creed," when he's called "Baby Creed" by the headliner at Bianca's (Tessa Thompson) performance, Donnie loses his temper and nearly beats the guy up. The nickname is tied to Donnie's lack of self-control and the chip on his shoulder. By the time Dame calls him the same thing in "Creed III," Donnie's restraint shows just how much he's grown, and that fighting isn't about some childish need to prove himself worthy of the Creed name any longer.
Remembering Rocky's lessons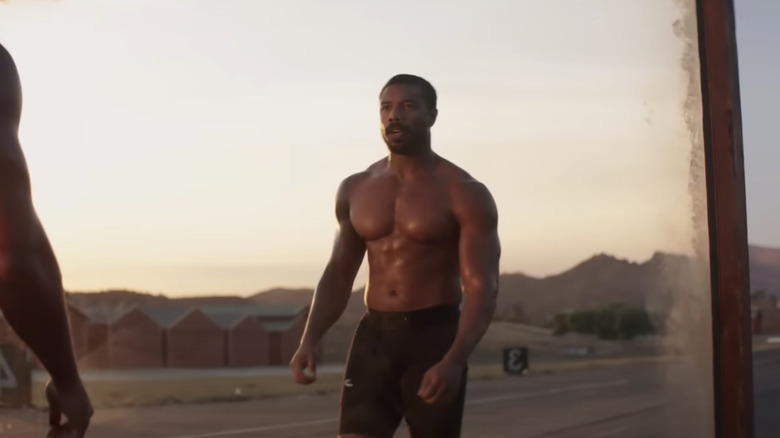 MGM
It's no secret that Sylvester Stallone didn't return as Rocky Balboa for "Creed III," despite remaining on as a producer. After some serious feuds with longtime "Rocky" producer Irwin Winkler, the star claimed that there wasn't much room in the flick for him anyway. While that's mostly true — despite the fact that it would've been nice to see Rocky at Mary Anne Creed's funeral — the character's legacy is still a vibrant part of "Creed III." No, he doesn't get many mentions, but after his send off in "Creed II," Rocky seems to have made peace with boxing.
Rather, instead of calling up his old mentor for advice on how to deal with Dame (something Rocky would know all about after "Rocky V"), Adonis decides to take Rocky's teachings to heart, applying them faithfully to his fighting style and rigorous training techniques. During the unorthodox nature of his training montage, Donnie remembers one of his "Unc's" most important lessons, that no matter who he's fighting, his toughest opponent will always be himself.
Near the end of his training montage, Donnie is seen sparring on a runway with no one around for miles, and the only thing with him is a giant mirror. This gives him full view of himself and his surroundings as he studies his own technique. Rocky's wisdom continues bless Adonis as he goes into the "Battle for Los Angeles," helping to secure his victory.
The 'Hollywood' of it all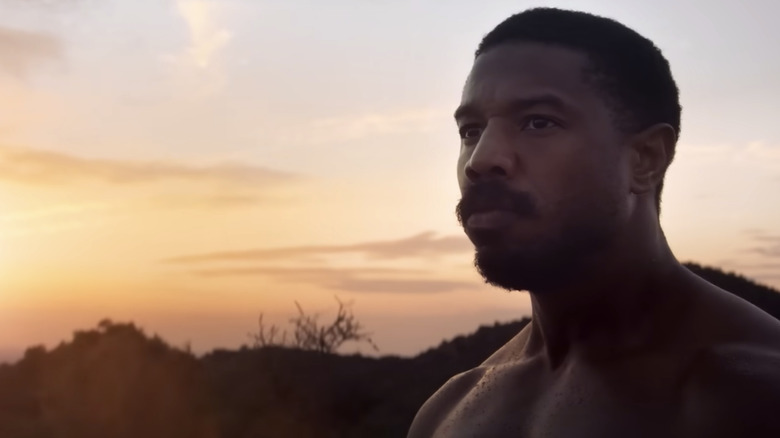 MGM
Though he was born and raised in Los Angeles, Adonis Creed didn't become a household name until after he'd moved to Philly, trained with Rocky, and fully embraced the Creed legacy. After becoming a champion and starting a family, Donnie relocated across the country back to LA to be closer to his mom. Able to afford a new life of luxury, the Creed family embraced the Southern California lifestyle with ease. "Creed III" even takes the time to further explore their life in LA, namely through their relationship with their daughter Amara (Mila Davis-Kent).
As Adonis trains to reclaim his heavyweight title from Dame, he follows Rocky's unorthodox training techniques and the advice of his longtime trainer Tony "Little Duke" Evers (Wood Evans). Though he put his own spin on Rocky's famous climb up the steps of the Philadelphia Museum of Art in "Creed," Adonis carves his own path forward in "Creed III," replacing the iconic steps with the hilltop above the Hollywood sign. While this is no doubt a nod to Rocky's steps, it's also a reflection of where Donnie came from. 
When he first began his career as a fighter, the young Creed was originally known as "Hollywood" Adonis Johnson. As he climbs towards the Hollywood sign, Donnie proves that he's made peace with his past before stepping back into the ring to take back what's rightfully his own. It might not be as iconic as Rocky's climb, but it's just as meaningful.
That double-punch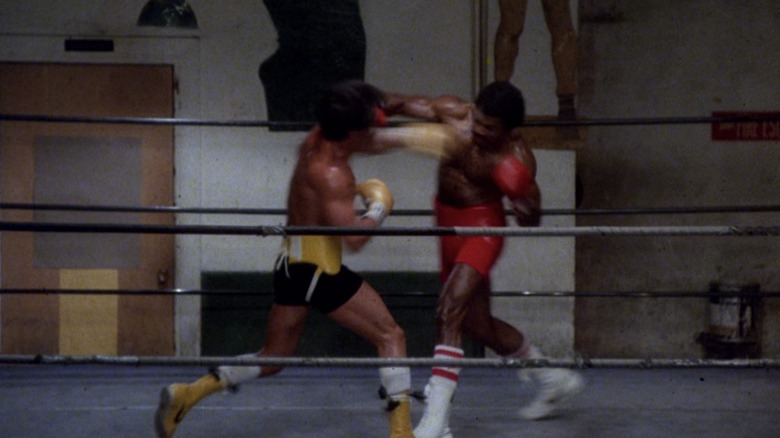 MGM
During the title fight between Creed and "Diamond," Donnie and Dame share a brief moment in the ring where they each slug the other right in the face. This epic shot reminds us that these two are possibly the most evenly matched fighters in the "Rocky"-verse, and while plenty of others have duked it out in the ring, few fights are as personal as this one. But this moment is also a nod to another fight — one that we didn't even see unfold on screen.
At the end of "Rocky III," Rocky and Apollo decide to learn once and for all who is the better fighter. After Apollo won in "Rocky" and Rocky won in the sequel, these two needed to settle the score once and for all. Unlike most fights, it took over 30 years before a winner was announced, as Rocky eventually told Adonis that his father won fair and square. So, what does this have to do with that shot from "Creed III?" Well, for starters, "Rocky III" ends with a freeze frame that catches Rocky and Apollo socking the other clear in the jaw.
Yes, the fight between these two happened behind closed doors while Donnie and Dame's battle was broadcast internationally, but "Creed III" actually isolates Creed and Anderson with no outside interference. In the middle of the fight, Adonis only sees himself and Dame as these two brothers settle their differences the old-fashioned way, not unlike the end of "Rocky III."
Making his own name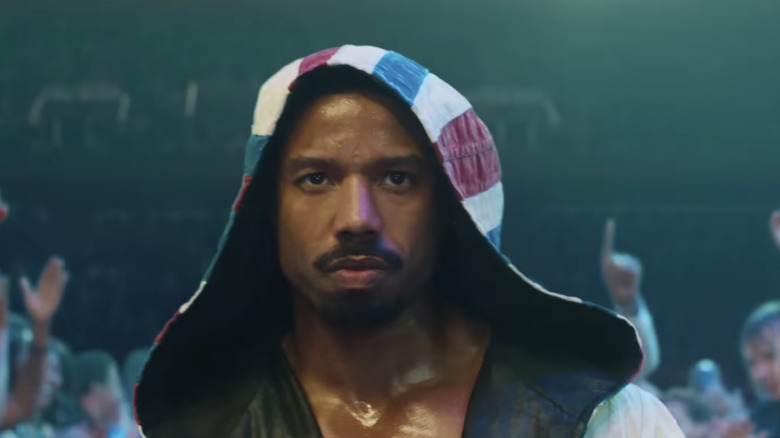 MGM
A huge theme throughout the "Creed" trilogy is that of making a name for yourself. At first, Donnie is afraid of the Apollo Creed comparisons. Then, he embraces the name, honoring both the Johnson title and Apollo's own legacy. But, by the third act of "Creed III," he's moved on past honoring his Johnson name, and even puts the Creed name itself on the backburner. In his comeback match against "Diamond" Dame Anderson, Adonis sports a new pair of fighting shorts, these ones white with the name "Adonis" on the front and "Creed" on the back.
For eight years, Donnie has spent much of his time as a fighter working out his own issues with fatherlessness. But, after becoming a father himself, Adonis has decided that making something of his own name, rather than just his father's, is his new priority. His brand new fighting shorts are a reflection of that, but they aren't the only one. We're also reintroduced to Apollo's old gym, the Delphi Boxing Academy, now run (at least in part) by Donnie himself. The whole gym has been re-designed and not only honors Apollo's past but Adonis' present, while preparing new fighters for the future.
Even Donnie's new company name, Adonis Creed Athletics, proudly sports an "A"-shaped logo with a small "C" in the center, again emphasizing his newfound commitment to his own name and legacy. No doubt, "Creed III" proves that Adonis Creed is a name that won't be taken lightly going forward.