Deadpool Mocks Avengers: Infinity War, Warns Fans To Avoid Spoiling Deadpool 2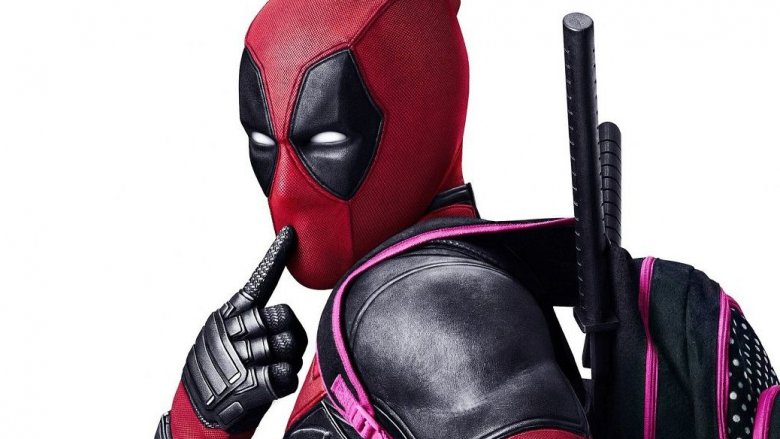 A piece of marketing that also serves as a mockery of another superhero movie? Classic Deadpool. 
Deadpool 2 star Ryan Reynolds took to Instagram on Wednesday to post a note from the Merc with a Mouth himself, who's asking fans to keep their traps shut when it comes to potentially leaking important plot details about the sequel. Just as Thanos demanded your silence ahead of Avengers: Infinity War, Deadpool wants it too — but only if he can poke fun at Infinity War's super-serious no-spoilers-allowed campaign in the process.
"To the greatest fans in the whole universe," Deadpool's message opens, trumping Marvel's note that called its audience the greatest fans in the world. "We have embarked on the 'Deadpool 2: This is Kind of Your Guys' Fault' World Tour. Almost everyone involved in the film has given Maximum Effort the past two years, maintaining the highest level of super secrets, like how David Blaine catches bullets in his mouth. And the secret blend of 11 herbs and spices in Colonel Sanders' delicious moustache." 
The Merc with a Mouth continued, stating that "only a handful of people know the film's true plot," a direct jab at Marvel mentioning that only a lucky few people had seen the full theatrical version of Avengers: Infinity War prior to its worldwide release. Deadpool being Deadpool, he took Marvel's firm but fair "please don't spoil the movie" plea and cranked it into "you better not utter a single word" territory, writing, "We're asking that when you see Deadpool 2, don't say a f***ing word about the fun s*** in the movie."
Everyone's favorite foul-mouthed anti-hero then went against his own warning by spilling a (totally fake, we hope) spoiler for the sequel: "Deadpool dies in this one. Kidding. Not kidding? Kidding." Deadpool wrapped the whole thing up by, once again, parodying Marvel's #ThanosDemandsYourSilence initiative in signing off with #DeadpoolDemandsYourSisterSorryStupidAutocorrectSilence. 
When Reynolds shared the message on Twitter, he wrote that it was "lovingly" from Wade, so there's still some warm fuzzies beneath all this sass and snark.
Directed by David Leitch, who takes over for original Deadpool movie director Tim Miller, Deadpool 2 also stars Julian Dennison as Russell, Zazie Beetz as Domino, Josh Brolin as Cable, Terry Crews as Bedlam, Lewis Tan as Shatterstar, Brianna Hildebrand as Negasonic Teenage Warhead, Morena Baccarin as Vanessa, Stefan Kapičić as Colossus, T.J. Miller as Weasel, Leslie Uggams as Blind Al, Karan Soni as Dopinder, Rob Delaney as Peter, and Bill Skarsgård as Zeitgeist. Shioli Kutsuna and Eddie Marsan will pop up as well, though it's unknown who their characters are.
Until now, studio 20th Century Fox has been quite secretive about the plot of Deadpool 2, revealing this fake synopsis in place of a legitimate one: "After surviving a near fatal bovine attack, a disfigured cafeteria chef (Wade Wilson) struggles to fulfill his dream of becoming Miami's hottest bartender, while also learning to cope with his lost sense of taste. Searching to regain his spice for life, as well as a flux capacitor, Wade must battle ninjas, the yakuza, and a pack of sexually aggressive canines, as he journeys around the world to discover the importance of family, friendship, and flavor – finding a new taste for adventure and earning the coveted coffee mug title of World's Best Lover."
Find out what really happens in Deadpool 2 when the film hits theaters on May 18.