What The Mandalorian's Pirate King Gorian Shard Really Looks Like Out Of Costume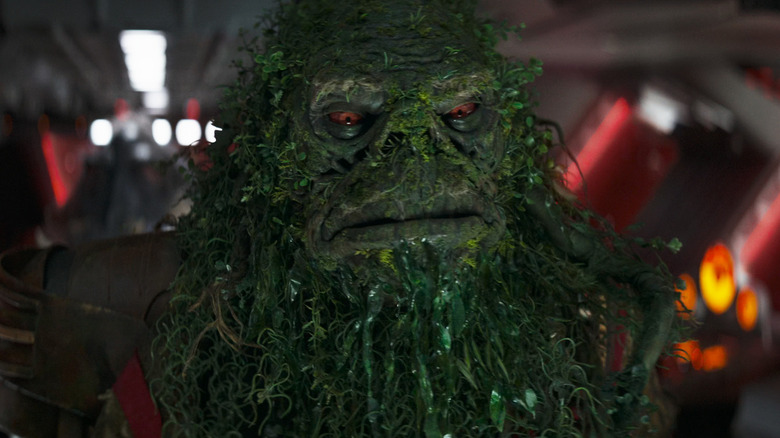 Lucasfilm/Disney+
Season 3 of Disney's acclaimed "Star Wars" TV show "The Mandalorian" premiered on March 1, 2023, picking up its titular character's storyline for the first time since his appearances in the latter half of "The Book of Boba Fett" in early 2022. Ahead of Season 3's start, director Rick Famuyiwa revealed that he wants fans screaming at their TV after the "Mandalorian" Season 3 finale, hinting that something big is in store for viewers by the season's end.
One major change already present as of its premiere is the way that "The Mandalorian" Season 3 handles Gina Carano's absence. As it turns out, her character Cara Dune is still somewhere out in the universe, but simply no longer relevant to protagonist Din Djarin (Pedro Pascal)'s story moving forward.
Season 3's first episode likewise introduces some new plot complications when Din and his beloved companion Grogu arrive on a planet called Nevarro. There, Greef Karga (Carl Weathers) reveals that Nevarro needs a new marshal, which may well lead to a "Mandalorian" fan favorite character's return. Furthermore, shortly after his arrival, Din runs into a hostile pirate group, led by the alien Gorian Shard. Under considerable makeup and effects, the actor who plays Pirate King Gorian Shard is effectively unrecognizable, identifiable only by his name in the credits. With that in mind, here's what the actor who plays Shard looks like out of costume.
Pirate King Gorian Shard is portrayed by Nonso Anozie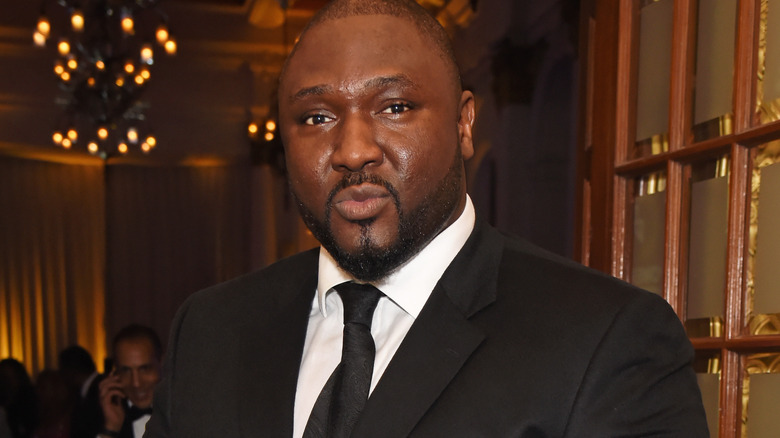 David M. Benett/Getty Images
Pirate King Gorian Shard only briefly appears near "The Mandalorian" Season 3, Episode 1's conclusion, as Din Djarin fights the pirate crew that he leads in space. That said, given his title and distinct look, this character seems primed for a bigger part to play as the season continues. Shard's face, as it appears in this scene, is almost plantlike, likely requiring both makeup and CGI to bring to life. The actor whose visage was so heavily altered to become Shard, the episode's credits reveal, is none other than seasoned genre actor Nonso Anozie.
If his name or face seems familiar, there's a good chance it's from his role in "Game of Thrones." On HBO's flagship fantasy show, Anozie portrays Xaro Xhoan Daxos, the rich merchant who hosts Daenerys Targaryen (Emilia Clarke) upon her arrival to the Eastern city of Qarth. He appears in a total of five "Game of Thrones" episodes.
Anozie also notably plays Tommy Jepperd, one of the two lead characters on Netflix's adaptation of the comic book "Sweet Tooth." Tommy is a physically imposing but gentle companion to young Gus (Christian Convery), a half-human whose post-apocalyptic journey drives the series' narrative.
Anozie is a prolific actor with decades of experience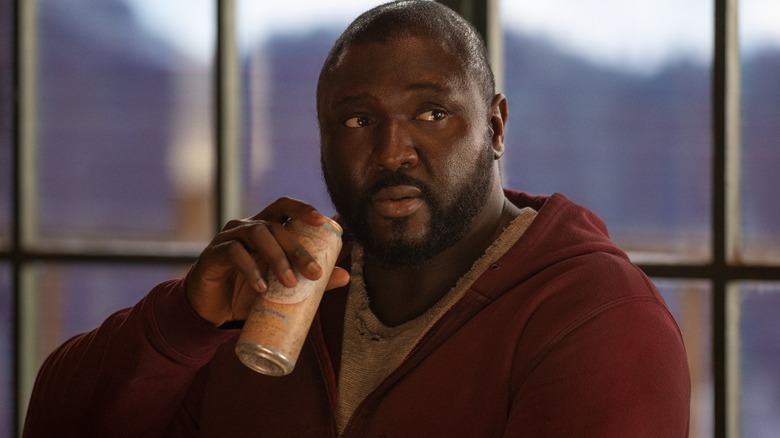 Kirsty Griffin/Netflix
Before he was on "Game of Thrones" or "Sweet Tooth," Anozie's filmography included a number of projects produced in his home country of England. For example, he appears in both the 2008 Mike Leigh dramedy "Happy-Go-Lucky" and Guy Ritchie action movie "RocknRolla," which came out that same year.
Many of his subsequent roles are in projects across a wide range of subgenres. These include appearances in the 2011 "Conan the Barbarian" movie, Liam Neeson survivalist drama "The Grey" from that same year, the 2013 adaptation of "Ender's Game," and "Jack Ryan: Shadow Recruit" from 2014. He also appeared as the Captain of the Guard in Disney's 2015 live action "Cinderella" movie, and worked with Disney again on their 2020 "Artemis Fowl" film.
Meanwhile, on TV, Anozie plays important roles in both a 2013 British "Dracula" show and in all three seasons of CBS sci-fi series "Zoo." Anozie's career, then, encompasses multiple decades and spans a variety of genres, including a now permanent place in "Star Wars" history as Pirate King Gorian Shard on "The Mandalorian."